European Championships - Aragorn - The forgotten test piece
26-Apr-2004
What does the 1991 European Championships in Rotterdam have in common with the British National Championships of 1973? Well the answer is that both contests rejected the original choices of test pieces that were made for them for that year.
---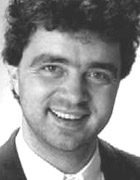 In 1973, the organisers of the National Championships rejected Wilfred Heaton's, Contest Music – a decision that in retrospect looks as bad as the music executive at EMI who rejected the Beatles as being not good enough in the early 1960's, whilst in 1991, the organisers rejected the choice of Aragorn Opus 144a by Hardy Mertens.
This is not to say that the Meartens work was anywhere in the same league as Heaton's master work, but they did suffer the same fate – and in the case of Aragorn the music has yet to re surface. Even stranger as since 1991, anything to do with The Lord of the Rings has sold like a Hobbit's pedicure set.

Merten's is something of a controversial figure whose music has over the years caused heated debate with both conductors and musicians. He was born in 1960 in the Netherlands town of Nieuwenhagen and went on to study at Utrecht University and Utrecht Conservatory, where he studied composition and band conducting. In 1984 he joined the Netherlands Royal Military Band as arranger and clarinet player and since 1990 he has been a regular guest conductor with the Singapore Wind Symphony and since 1995 with the Sardinian symphonic band, "Lao Silesu".

Besides composing he also conducts the Netherlands Police Band, the Philips Symphonic Band and several Dutch community bands.

It is stated in his biography that his compositions are rooted in the European orchestral tradition and are often influenced by folk music from different continents. Traditional tonality, extended melody lines and percussive patterns are often combined with humorous surprises and unusual sounds. This complexity it is stated quite clearly and usually results in a high grade of difficulty and sometimes this causes controversy with conductors and musicians.

Interesting then – especially when you have a look at his musical CV, which includes (and we kid you not) pieces that have titles such as, All the binge bottles for the beat and blow job mob, the nimble naughty thirsty on the loose.

Also – All the mouth watering meals for flashing Flora, the nimble naughty hungry ghost on the loose.

Or what about, Ballroom Bamboozles or Lest we forget (could we ever? - editor) or The Three Storms, U Mundu drentu a ti, Ten romantic moods, Louice and Blue Eyes and Once I was a dreamer.

With this in mind then – what about Aragorn?

Aragorn takes its inspiration from JRR Tolkiens' "Lord of the Rings", which today, post Hollywood blockbuster film is about the most popular form of fantasy literature that has ever been written. For those of you out there who know a little about the book, we won't bore you to death with the details, but essential it's a fable of good overcoming evil in a place called "Middle Earth".

For a disturbing number of teenage boys, fantasy nerds and general sad people who need to think there is something truly great about this type of literature, the tales of Frodo Baggins and his quest to find the Ring is epic stuff. While for many, it's complete tosh. Still, by all accounts, Mr Mertens was a fan and this provided him with his inspiration.

The one thing you realise in 2002 is that if it was written today, then Aragorn would make a fortune, but back in 1991 fantasy literature was more Terry Pratchett and Rambo movies were the ultimate in fantasy films. It seems it was the wrong time, wrong place for Mr Mertens effort.

Still he opens up with a quote from the book, which reads;

"All that is gold does not glitter,
Not all those who wander are lost,
The old that is strong does not wither,
Deep roots are not reached by frost,
From the ashes a fire shall be woken,
A light from the shadows shall spring:
Renewed shall be blade that was broken,
The crownless again shall be Kings."
JRR Tolkien, The Lord of the Rings

This is of course is complete and utter bollocks, and if you can make sense of this elvish rubbish then good luck to you. What of the music itself. Well, the music is strange to say the least, but in this day and age it isn't anything that we haven't heard before – although it does require 5 percussionists and the scoring is a little bonkers in places. It is 13 minutes long and requires a band set up of 1 sop, solo cornet 1, solo cornet 2, 1st cornet, 2nd cornet, 3rd cornet, flugel horn 3 horns, two baritones, three troms, euph, Eb and Bb bass. Nothing unusual there – but the percussion items need five players, all of which need more arms than an octopus - Timps, Glock, Xylophone, Vibraphone, Snare Drum, Tambourine, Bass Drum, Suspended cymbals, pair of cymbals and tam tam.

The work is split into five continuous movements entitled, On the run from the Ringwraiths; The Love of Arwen Evenstar; The Battle of Helm's Deep; The Summoning of the Ghosts and The Feast on the Field of Cormallen. If you haven't read the book then it's a bit hard to fathom out what's going on here, but suffice to say its fairly self explanatory.
The opening movement is a bit of a bugger for the solo cornets (lots of very high running around stuff) whilst the percussion whack out lots of semi quavers and the middle and bottom end thump out the tune. It starts moderato then goes ballistic with some completely bonkers semi quaver work for the basses. It ends with a bang from the tam tam and the timp player hitting hell out of the hobbits. Wow!

The next is just a slow section of 38 bars that is all about sloppy love and all that with the sop part as high as student smoking a spliff, whilst the battle movement is very fast and in sections of alternate straight and compound time. The timp part is completely bling, bling and the solo cornets and sop are required to be technical wizards like Mordon as the writing becomes a little bit surreal. Lots of whack, crack and chaos with the timp player needing resuscitation at the end.

The Ghost bit is slow and mysterious and just 31 bars long with the baritones needing oxygen masks to cope with the altitude of their parts. It ends loudly again.

The final section is the Feast and it starts moderato in tempo – which is just as well as there are sections of demi, semi quavers that would be impossible to play otherwise. All sections have plenty to do, but it is as fiendishly evil as Sauron himself. The solo cornets need rubber fingers to cope with some of the stuff and the percussion section will be going at it hammer and tongs – just think of "Animal" off Sesame Street and you get the picture.

The sop part goes completely peetong towards the end, before it all slows down to a fff finish that will blow the socks off. Even slower in the last two bars as well – just for good measure. Great stuff.

And that's it. A completely brilliant OTT piece the like of which we don't play often enough for our liking. Good job though – for if we did there would be a need for surgical supports, hernia operations and hearing aids. Percussion players would bloody love it though. Still, perhaps Mr Mertens will write another one in time for the second leg of the trilogy of the film. Now that would be worth listening to.
4barsrest Classifieds
Foss Dyke Band
SOP, 2ND EUPHONIUM AND Bb BASS REQUIRED IN TIME FOR AREA! We are a 2nd section band based in Lincolnshire. We rehearse in our...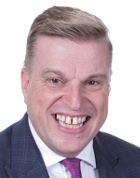 Julian Bright

Conductor, Compere/MC, Cornet Soloist