2004 British Open Championships - Contest Retrospective
23-Sep-2004
4BR looks back at the 19 performances that made up the 152nd British Open and tries to decide why come results time the image of Nicolae Ceaucescu came to mind.
---
Audio

Interview with the adjudicators [WAV 1.71Mb]


Interview with MD Garry Cutt [WAV 686kb]


Interview with Principal Cornet Mark Wilkinson [WAV 543kb]
---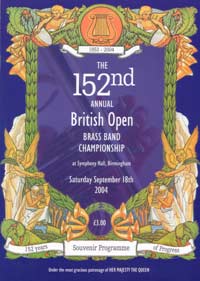 It is not often the image of Nicolae Ceaucescu comes to mind at a brass band contest results ceremony, but at the Symphony Hall on Saturday 18th September, the image of the old Romanian Dictator came readily to mind.
The memory sprang back to the occasion of his last speech to the vast crowds of Bucharest and that imperceptible moment when three quarters the way through an interminable speech about the benefits and glories of the Communist system he held so dear, a lone voice of dissent rose from the vast crowd. Just for a split second there was a stony silence, before other brave souls joined in a chorus of boos and jeers that so shocked the old orgre that he fled the building in a helicopter and his whole rotten regime collapsed around him to such an extent that within days he was shot dead.
I know it sounds a bit rich - but for a mere second or two on Saturday, just after the Black Dyke Band were announced in sixth place at the Open, the whole brass band movement had a collective "Caeucescu" moment. Robert Kerwick, the amiable announcer isn't a Soviet lackey by any means, and the organisers of the Open are no steely eyed Politburo, but just for a few seconds when the collective will of the audience showed its disapproval on mass with booing and jeering, there must have been more than few cold shivers sent up the spines of those in charge. For the first time in recent history, the people who had paid for their tickets to come and hear what their perceived leaders of judgemental opinion had to say about their deliberations decided for themselves that what they were being given was certainly not to their liking.
There will be no revolution just yet, (the British at present don't quite have the stomach to overturn the establishment) but a warning shot of immense proportions was fired across the contesting bows on Saturday that the organisers of the British Open, and our other major competitions will ignore at their peril. The system of deciding the winners that we have been told to hold so sacrosanct like a tenant of the Communist Manifesto, came close to collapse, because for a fleeting moment the audience no longer had any faith in it.
What the outcomes will be, we will have to wait and see, but one thing is for certain; there will be no repeat of the "Choice of Three" contest again. It was an experiment that just didn't work - almost disastrously so.
The day started so brightly though.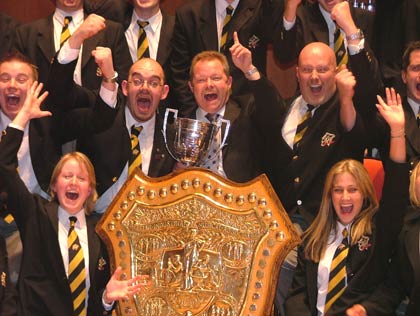 Fodens and Garry Cutt celebrate their win
After David Read, Michael Ball and Philip Sparke were safely ensconced in the box the 152nd British Open started in fine fashion with a rugged and committed performance from the Cwmaman Institute Silver (Tower Colliery) Band under the direction of John Hudson.
Although they eventually came 16th and as a result dropped out of the Open after a three year stint at the contest, they leave with a considerable amount of sympathy and good wishes. A trio of draws that read 2nd, 2nd and 1st in the three years they were here is the type of luck you wouldn't wish on your worst enemy. This year they gave a tremendous account of themselves on "Montage" that featured some very fine solo cornet playing from Tim Malpas and lyrical euph playing from Gareth Maidment, but it wasn't enough to spare them the drop. They are a very decent band though and with a debut at the Royal Albert Hall to come (and we understand a new man at the draw with extra sensitive fingers for the draw bag) they will prosper again for sure.
Following them onto the stage were a band with higher aspirations in mind altogether. Buy As You View were also perhaps cursing their luck at the draw (the first time since their return in 1994 that they were to play in the first five bands), as they faced the task of being the first band since before1962 to win off the second draw slot. They couldn't have come any closer.
Theirs was an immense performance of "St. Magnus" that just about had everything you could have asked for. Robert Childs shuffled his playing cards a touch at the beginning, as the third man down played the opening statement with the soprano, whilst Ian Williams, the bands principal cornet took over from the sop in the first variation for a fleeting moment. Thereafter the detail that was revealed throughout was immense and the confidence of the soloists in the way they performed with a virtuosity that at times took the breath away, was something else indeed. By the end of the huge last chord you sensed that they couldn't have done anything more to win back the Shield for a third time. All they had to do was wait and hope that the curse of the draw would not haunt them come results time - it did.
After such a marker was set so early, the audience must have thought things were only going to get better, especially as the draw revealed that the major players in the pre match predictions were set to line up at 5, 6, 8, 9 and 11. This was Brighouse, Dyke, YBS, Grimethorpe and Fairey territory.
A word about the audience though. Given that the "Sold Out" signs were up in force at the Box Office windows, where on bleeding earth were they when the first four bands played? You can forgive them for possibly missing number 1 as they struggled to get up from their beds and car parks for the 10.15 am start (heaven help them if they ever had to listen to a local Fourth Section contest at the crack of dawn), but even for BAYV it was only two thirds full (and as 4BR sat behind the bands we could see all the empty red seats) and for the likes of YBS and Dyke. Is an over priced cup of tea and a soggy sandwich really a better deal than sitting in and actually listening to a few bands?
Far too often, bands here played to a hall that was barely half full, and that is starting to become the worrying norm both here and at the Nationals. Aren't there any anoraks out there left with the stamina of a Mexican flyweight boxer, a score and a tin of corn beef sandwiches? It appears that given the choice between a cappuccino and a performance of "Contest Music" the result was a walkover for the Italian and that is no good for the bands and no good for the contest either.
Yorkshire Imperial Urquhart Travel under John Hinckley gave as good as they could on "Contest Music" - the first of ten performances of Heaton's "Magnus Opus", that never quite captured the drama in the outer sections or the lyricism of the middle movement and they came home 17th - enough though to secure their future here for another year, before a disappointingly small audience had the chance to support and enjoy the performance of "Montage" by the New Zealanders, Dalewool Auckland.
Nigel Weeks directed the band with a lovely sense of the musical shape of Peter Graham's work right from the start, and although it was a little nervous to begin with, it soon grew in stature and veritably bloomed in the middle movement. There was some wonderful playing from Riki McDonnell on euphonium in particular and by the end of the second section it was sounding a performance that could challenge for a top six place. It wasn't to be though as a scrappy start to the third section robbed them of points and tiredness crept in towards the end. It was however a very committed performance and one that showed that the best of bands in New Zealand are in no way out of place against the very best bands in the UK. They may be a band lighter in tonal depth than the top 10 bands in the rankings (and they must get rid of the left hand tubas, which for whatever reason don't sound "deep" enough in character), but on this evidence they thoroughly deserved their eventual 10th place.
Brighouse were a bit of a mystery: plenty of style, but very little memorable substance to what they tried to bring to "Contest Music" and it was one of those days when things didn't quite gell for them as they would have hoped for. It wasn't until the final movement that things came together to produce a thrilling conclusion, but by then it was too late and our pre match favourites had to be content with 11th place. Watch out in London though.
Then came Black Dyke, and one of those performances that just made you sit back and smirk with a self-satisfied grin of complete satisfaction on your face. Their "Montage" was something special - as special in fact as Fodens "Les Preludes" a few years back, and the correlation between the two didn't end there. It just had a moment of unease towards the end of the first section perhaps, but the second was a glorious exhibition of music making that enthralled the audience. (Those who missed it because they were having a cup of coffee should be hung by the nearest lamppost). Messrs Webster and Thornton were like two operatic tenors from a bygone age.
The third movement was even better, with Alex Kerwin giving the top cornets a rapier like cutting edge and the teleological thrust of the Montage arrow aimed for the bullseye that would surely have given them their first Open victory for nigh on ten years. Not in the judges opinion it wasn't - and in fact it very nearly did a King Harold and killed them off with a shot in the eyeball.
Their sixth place was a travesty - just like Fodens on "Les Preludes". This was a true spinetingler of a moment, but the judges were immune to it; and come the results the audience made sure they gave them the rudest of indications what they thought of their deliberations.
Carlton Main had the difficult task of following Dyke on and under Brian Grant they gave everything they could on "Contest Music" to try and keep themselves in the Open for another year. It wasn't to be, and despite some tremendous cornet playing from Kirsty Abbotts they fell away to 18th place and a return to the Grand Shield once more. Come May next year though, they will by trying to win their place back for sure for a third time in six years.
The contenders were coming thick and fast now, and Yorkshire Building Society took to the stage under the baton of Professor King to try and retain the Open crown for the first time. The surprise for many was that they chose to play "Contest Music" and not "St. Magnus", and in retrospect even the brilliant Australian may give a second thought to his choice, given the outcome.
We are sure he believed it was the correct decision for his band to play, but right from the word go there was something not quite right with his band and his players. Little annoying slips just took the gloss off a performance that had enough musical voltage to light up the Blackpool Mile, and when the usually superb Stuart Lingard just for a moment wobbled on the top C#, you had the feeling it wasn't going to be their day. They ended in brilliant fashion of course, but the body language of both MD and performers gave it away - the penultimate leg of their historic "Grand Slam" had eluded them.
That said though, coming 14th was a bit of a bad joke - no one (except the judges that is) had them anywhere other than in the top six or eight bands. If the audience knew what we knew come the official results the "Caucescu" moment for the organisers would have been very dodgy indeed.
Grimethorpe followed under the baton of Frank Renton and a performance of "Contest Music" that started in blistering fashion and then started to blister as it went along. Even Richard Marshall had a dodgy moment on the top C#, and that signalled the end of their challenge for another year. 1991 was the last time they won here, and you get the feeling that somehow it may be a long time before they triumph again. How they miss Garry Cutt.
Whitburn next up and last years runners-up couldn't recapture the form or excitement of a twelve month ago and their "Contest Music" was a rather bland affair that lacked the vibrancy in the outer movements and the yearning pathos of the middle section. It was all a bit "vanilla" in musical flavour for us (and the judges) especially when you knew they had a lick or two of tutti fruitti in the locker. 13th was their just reward.
With ten bands gone it was time for a an appraisal of our tips for the title and without doubt most of the audience were going for a top three of Dyke, BAYV and YBS with the rest making up the numbers at this stage. What little they knew eh?
Fairey FP Music took to the stage for the first time at a major contest with females in their ranks, and with a band 'make up' that had more changes to personnel than Stan Allardyce could manage with his Bolton Wanderers reserve team. They may have gone through the mill a bit of late, but the spirit is still strong and the direction from Allan Withington on "Contest Music" was excellent. Not quite the Fairey Band of old (or even of a 12 month ago), but there is still a very fine band lurking there awaiting their chance to shine again. 12th this time, but another band to look out for as they go for the hat trick at London.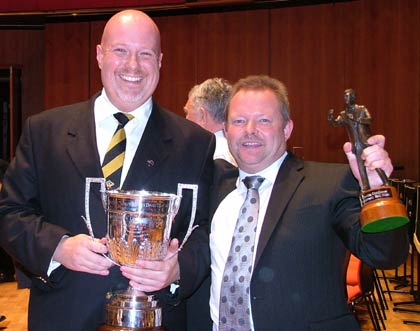 Garry Cutt and Phil Green
How often over the years have Fodens followed Fairey onto the stage to try and beat their longest standing rivals and take a major contesting title? This time perhaps the task was easier than in years gone by, but Fodens too have been a band that has had its troubles of late. Whoever made the decision to pick up the phone and book Garry Cutt as a 10th hour (not quite 11th hour like the Masters) replacement MD, should be awarded a gold bar though, for this was the partnership that this band has been crying out for, for far too long.
This "Contest Music" had the stamp of class written right through it, and the hallmarks of Garry Cutt's direction was evident for all to hear; detailed ensemble, free flowing solo lines and a sense of interpretation that never strayed from the clear intentions of the score. By the time Mark Wilkinson gave a performance of immense artistry in the middle movement it was developing into something that would challenge strongly for the title sure. A equally robust third movement confirmed the feelings that it would be right up there at results time, but for most people in the audience (4BR included) it just fell short of Black Dyke and BAYV. We were wrong though (and so were the vast majority of the audience) but the adjudicators felt it was a performance that had just about everything they could have wished. They awarded it the first prize, and that was all that mattered: Fodens were British Open Champions again. Not that they, or anyone else quite knew that as yet.
Sellers International confirmed that they are the most improved band of the last year or so with another powerful performance that gave them 5th place overall on "Montage". It was certainly going so well for us until a third movement that just went off the rails, but there were real extended moments of top class playing from the band throughout, with Mark Bousie on euph and Raf Van Looveran on solo cornet quite outstanding. Raf was awarded the Best Soloist prize on a day when the standard of cornet playing in particular was considerably high. Philip McCann meanwhile has brought Sellers back to the forefront of top level banding and this result shows that Sellers is a band to fear once more.
Rothwell under David Roberts gave a strong willed performance of "Contest Music" that opened well, but just fell away in the middle sections to leave them playing catch up come the third. This they did well, and with a very strong finish (especially the tam-tam) they rounded off a fine debut to come home in 15th place.
Tredegar meanwhile had a day at the contesting office they would want to forget in a hurry. Theirs was a rarther error-strewn performance that rather mystified the judges and the audience. It was a curates egg of a show of ostrich sized proportions. When it was good it was very very good, but by heck they suffered some moments of unease when things went awry. 19th place was their reward - their worse ever performance at the Open and only made palatable by the fact that they missed relegation to the Grand Shield by the fact that only two bands this year were for the drop. They have a lot of work to do come the Nationals in a few weeks time.
That left a final quartet of Kirkintilloch, Desford, Scottish Co-op and Reg Vardy (Ever Ready) and a play list of one "Montage", one "Contest Music" and two "St. Magnus's". The contest was still theoretically up for grabs at this stage and all four bands put on performances that had real merit about them.
Kirkintilloch were directed by Steve Bastable and his individuality of approach really found favour with the judges. This is an MD with the ability to create very broad and bold musical pictures, and once more that sense of "the whole" was what appealed. Each section of "Montage" linked into each other and also contained some finely structured restrained playing. There were erros all right, but also a sense that the MD fully understood what the composer intended and at the end of the day they were rewarded with 4th place from the judges.
Desford and Peter Parkes chose "Contest Music" and this was a performance that harked back to the glory days of both MD and band. David Smith on solo cornet was quite outstanding and the "Major" created real space and time for the musical picture to unfold around him. It just lacked that edge of class that would have got them into the frame, but 7th place was a fine achievement and further confirmation that you write Desford off at your peril.
Finally, two contrasting performances of "St. Magnus". Scottish Co-op under Ian McElligott started off brilliantly but somehow for us it never lived up to its potential as it progressed. For us, a nasty entry towards the end seemed to end their chances of coming in the top six as strong performance fell away to a disappointing end. We had them out of the frame but in the top 10, the adjudicators had them 3rd. Guess which one the band felt was the most appropriate?
The honour of the final performance of the day fell to Reg Vardy (Ever Ready) and under Ray Farr they, just like Sellers and Philip McCann confirmed that they are one of the most improved top sections bands of the last 12 months or more. This was a broad, sweeping account with some finely structured variations that captured the essence of the music and it came as no surprise to many in the hall that they finished 8th overall. They will be a band full of confidence at the Royal Albert Hall in London in a few weeks time and a top six placing is well within their reach.
So that was that for another year. The experiment didn't work and as an example of this we will honour the confidentiality of a senior personality of the Open who stated in front of witnesses that "The adjudicators will have to be deaf not have put Dyke as winners today!" We could only agree with him (perhaps for the first time), and it was as clear as the posh accent of the bloke who awarded some worthy awards from the Worshipful Company of Musician to Paul Fensom, David Stanley and Professor Wilby that if they did get it wrong, then all hell was going to be let loose.
Michael Ball made a brief speech to explain the simplistic process used in reaching the decision the judges did, before a hush descended the hall. Then it went peetong.
Dyke were announced as sixth to a chorus of boos and cheers last heard at a Variety Hall act at Bolton Hippodrome in 1947. Their representative looked as if he had been poleaxed, whilst the judges looked as if they had just taken cyanide pills. Calm was restored and Sellers, then Kirkintilloch, then Scottish Co-op came forward to accept their prizes. Who would win it though?
Not BAYV, as the dreaded curse of the number 2 draw was too much for even their brilliance to overcome. The winners? YBS, Brighouse, or Fodens? The clever money went for YBS, the sensible money for Fodens, and it was Fodens who took the prize home with them for the first time sine 1964.
Theirs was a worthy win - perhaps not a win that everyone agreed with, but a worthy and deserved win nonetheless. Perhaps not in the minds of everyone, but certainly in the minds and thoughts of the three most important men in Symphony Hall - the judges. We had a top six of Black Dyke, BAYV, Fodens, YBS, Kirkintilloch and Desford, but we weren't in the box were we?

The words of Fred Mortimer never rang truer: "There are only one winners, the rest can make their own arrangements". Foden's Richardson are the 2004 British Open Champions, and nothing can take that away from them.
Iwan Fox
4barsrest Classifieds
Burnham and Highbridge Band
Burnham and Highbridge Band are in search of an enthusiastic Musical Director.. . We are a non contesting band, however looki...
NABBA
Date: 10-Mar-2017
Venue: Embassy Theatre and Grand Wayne Center. 125 W. Jefferson Street . Fort Wayne, Indiana 46802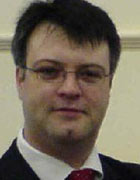 Gary Davies

Conductor, Band Trainer, Adjudicator