2004 Pontins Brass Band Championships - A Pontins Postcard
2-Nov-2004
4BR was not only there for the bands and the music. We also cast our eye around to take in the full Pontins experience as well. Well you would want us to wouldn't you?
---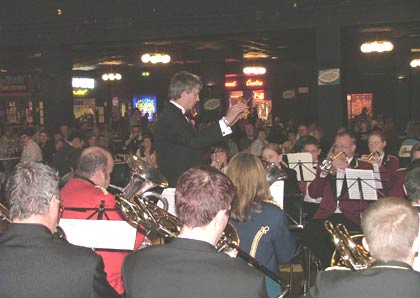 Roger Thorne leads the mouithpiece.com scratch band
This years series of competitions at the Prestatyn Holiday Camp in North Wales proved once more that when it comes to "social" contesting (a lovely wry term coined by James Scott at the conclusion of the Second Section), no one does it better than Pontins.
Despite the cold and the rain, Pontins still generates warmth in the banding spirit that gives it an uniqueness that no other championship can match - and this year was no exception.
One of the reasons is the choice of the music by the banding worlds father figure, James Scott. This year he went for a selection that provided both the bands and the audiences with demanding yet enjoyable test pieces that stretched the performers technically and musically. The audience were therefore able to enjoy the works, as very nearly all the bands were able to give performances that ranged from the adequate to the outstanding with plenty of merit in between. There weren't too many poor ones in over 90+ bands.
That relaxed approach even extends to the rules of the contests as well, with "deps" - or in some cases "brass band stars" making cameo appearances with many bands, especially in the Championship Section. It may be a little unfair on some of the bands who couldn't, or didn't want to strengthen their ranks with a few well chosen imports, but it is always nice to hear quality players - and this year there was a fair old sprinkling playing in unusual uniforms (in both size and colour). Sharp eyed observers would have seen the likes of Neil Hewson of Fairey's and even Tracey Redfern now making a fine orchestral career for herself (apologies for not knowing her married name though) who for many years was the star soprano player at Fodens.
The management of Pontins are also clever enough to acknowledge that they have a duty to encourage a family atmosphere, yet give enough free range to those who have decided to stay on the large camp, plenty of license to enjoy themselves to the full. Therefore there was plenty for the younger kids to do, whilst those old enough to enjoy a responsible drink (and some who didn't quite meet that criteria) had plenty of "adult" entertainment on offer as well.
Great therefore to see the usual mix of pushchairs and prams, fancy dress, poor dress (and in some female cases, next to no dress), players remaining in band uniform well after they have played, young men over dressed (and over doing the after shave) to impress the opposite sex and more solid men of note and girth dressed to imbibe as never before.
The annual tradition that is the "Bavarian Stompers" once more brought the house down with their mix of the absurd (although why some band hasn't signed up the star little plump guy who can play more instruments than Roy Castle could even manage) is a mystery. The tradition of men and women dressing up in a manner that would on any other occasion get them arrested or propositioned also continues - although some of the fancy dress men look like they enjoy it a bit too much!
It was also nice to see our friends at themouthpiece.com provide entertainment on both the Saturday and the Sunday under the baton of Roger Thorne in the main ballroom, with an eclectic mix of pieces that during the recess before the Championship Section results even brought a brass band version of the Mexican Wave. It was a great effort from real enthusiasts and we wish them further success for their next performance.
The judges were also on good form as well - with Malcolm Brownbill inadvertently awarding Edward Gregson a knighthood in his remarks off the stage at the end of the top section. He is still "only" a professor, but possibly Malcolm knew something we didn't?
In the lower sections Raymond Tennant proved himself to be a very perceptive and entertaining judge (both with his oral and written remarks), whilst Christopher Wormald proved himself to be as fit as a butcher's dog in making the mad dash from the judges box at the end of the Fourth Section, to the warm up area for the Third Section in time to conduct Hoover (Bolton) to second place off a number 1 draw!
All this, and the weather wasn't too bad at all (by Prestatyn standards that is), the beer was palatable, although the fish and chips need an upgrade and the organisation from Frank Hodges and his team was first class as usual - even with such a full list of bands and a Championship Section that took close on 8 hours to complete.
It all added up to yet another enjoyable experience, and that is what Pontins is all about. All that and they are reintroducing the Youth Championships in June 2005 and plans are underway for the 32nd event next October as well. As Fred Pontin used to say with his thumb pointed to the sky like a latter day Nero - "Book Early".
Iwan Fox
4barsrest Classifieds
Mossley Band
Mossley Band (MD Duncan Byers) are looking to recruit committed Front Row cornet, Solo Trombone and Tuned Percussion players ...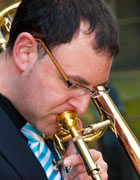 Brett Baker
BSc (Hons), ARCM, PG Dip
Rath clinician, conductor, teacher, adjudicator, editor