2004 Spennymoor Brass in Concert - Introduction and dodgy predictions
17-Nov-2004
We look at this years 28th running of the premier brass band entertainment contest in the UK, where 10 top class bands line up to showcase their talents.

---
Sunday 21 November
Spennymoor Leisure Centre, High Street, Spennymoor, DL16 6DB
Commences: 9.30am
Although not all the top bands in the country are in attendance, the Spennymoor Brass in Concert Championship remains the premier brass band entertainment contest in the UK. Now in its 28th year, the contest has survived through the sheer hard work of the excellent organizers and the ongoing appetite for good quality brass entertainment.

Although there are no ticks in the attendance register this year for some of the top ranked bands in the country there is still more than enough quality on stage to ensure the standards which have been so brilliantly maintained since 1977 will continue for yet another year at least. In fact there are none of the top 8 ranked 4BR bands on show, but that certainly doesn't dilute the strength of this field.
It says a lot for the contest that it is still a sell out (and we mean a sell out in the best possible way - no empty seats even for the so called lesser bands) and even though there was some concern that the contest was in some financial trouble after losing long term sponsorship, the intervention of financial help from SP&S Ltd and the Trade Unions in particular and many others have made certain that the contest has a secure future and with a change of venue next year to the fantastic Sage Centre in Gateshead which is just 20 minutes down the road that can accommodate even more spectators, the future is looking rosy. Congratulations to Jacqueline Beere and her team for ensuring the contest continues.

This year sees a line up of (in playing order) of Leyland, Carlton Main, Flowers, Kirkintilloch, Sellers International, Ransome, Grimethorpe, Mount Charles, Reg Vardy Ever Ready and Whitburn - pretty good value in anyone's book and bands that all can show off in all sorts of ways to try and catch the ears of the adjudicators John Berryman and Goff Richards, whilst the soloists will have to try and impress Alan Morrison - a fine choice from the organizers.
The entertainment factor - worth 60 points to add to the possible 200 for performance - and one that can effect have a direct effect on the result will this year be judged by Alan Fernie and John Maines - two experienced older heads who we think will put musical intelligence ahead of Music Hall antics.

Plenty of prizes on offer, from a trophy for the youngest player on the day to one for the best new arrangement or composition to one for the neatest package of musical scores and notes. That's entertainment folks, and ensures that everyone on the day can be in with a shout of going home with something - if they have put in the graft.

The usual points will be up for grabs with 200 points on offer for the music itself and 60 for entertainment and presentation to give a winning score out of 260. As usual there will be plenty of debate about the latter as in 2000 Grimethorpe won the music section by 2 clear points from eventual winners Fodens and by 4 from second placed Leyland and still came 3rd. In the last two years though Grimethorpe haven't had to worry so much about the anomaly in the system, as last year both Sellers and Ever Ready beat them in the entertainment stakes but still came behind them in the playing - and that is surely what it is all about?

The quality of the soloists on offer will be an undoubted highlight, whilst the number of new arrangements of fairly obscure orchestral pieces will again show the poverty of our own brass band repertoire. Alan Morrison knows exactly what it takes to produce a top class solo performance (he was a three time winner of the solo prize here), but we still think he may be spoilt for choice this time - all of the bands have top raters in the stand up stakes.
As for the predilection for arrangements of the latest film music - then just like the films themselves, they should receive mixed reviews. Just because lots of people have gone to see the latest Harry Potter or I, Robot doesn't mean the music will sound as magical when played by even a fine brass band. You can count the number of cracking "Big Finishers" on one hand in recent years.

There will hopefully be some interesting choices in the March selection (some musky smelling old yellow at the edges stuff has been brilliantly used by some bands in recent years), whilst we would really love to see one of the bands go for broke and try something right out of left field (a bit like what happened in the recent US open). Will anyone be that brave we wonder?

Lets hope it's a cracking day and it all starts at 9.30am!
4BR Prediction:

As we have said time and time again - entertainment contests are notoriously hard to predict accurately as on their day any of the bands could literally draw a white rabbit out of the hat and give the audience and judges a feast of entertainment last bettered only on "Opportunity Knocks" when The Great Osvaldo performed with his amazing frog xylophone.

What we will get is hard to say as the novelty items change year by year - although the garish, Bravo TV Channel inspired efforts of yesteryear have by and large been replaced by intelligent performances from nearly all the bands. It is always best to remember - the best bands always sound the best bands whatever they play. It's in the quality of the sound, the production, and the musicianship - not in the tutu's and red noses (or even bare thighs!).

There will be some brilliant solo playing that will entertain the audience and some arrangements and compositions that will do the same, whilst the amateur dramatics will be either brilliant or just downright embarrassing.

It should be a great day out and the winners will certainly have deserved it. Who will it be then? The masters are of course Grimethorpe and they will be going for an unprecedented four in a row this year. No Garry Cutt at the helm, but with Richard Evans you will surely get your money's worth and they should once more be the band to beat.
Close behind them though could well be last years runners up and third placed bands, Sellers International and Reg Vardy (Ever Ready). Sellers have just released a fine CD with plenty of new arrangements on and with a solid team of performers right around the stand they should do very well again under Philip McCann, although they may be hard pushed by others this time. Reg Vardy (Ever Ready) and Ray Farr though could well push for the title itself - they are chock-full of confidence after the results they have gained in 2004 and they do have an old master at this sort of thing at the helm.
We also think Leyland should feature if they really recapture the form of early 2004, whilst Whitburn should put in a very strong showing if they capitalize on the Andy Duncan arrangement factory. The two West of England bands should also prove popular as well, with Flowers another band with an MD with a magic box of arrangements to call on and Mount Charles always worth a few bob or two at the bookies with their very individual blend of entertainment (if last year was anything to go by).

4BR Prediction:
1. Grimethorpe Colliery UK Coal
2. Reg Vardy Ever Ready
3. Whitburn
4. Sellers International
5. Leyland
6. Mount Charles
Dark Horse: Flowers
4barsrest Classifieds
Mossley Band
Mossley Band (MD Duncan Byers) are looking to recruit committed Front Row cornet, Solo Trombone and Tuned Percussion players ...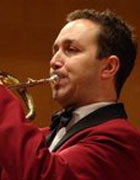 James Chamberlain
BMus (Hons) PGCE
Conductor, Teacher