2005 BBC Radio 2 Young Brass Soloist - Restrospective
22-Feb-2005
Malcolm Wood looks back at the final of the BBC Radio 2 Young Brass Soloist Final held at the RNCM on Saturday 19th February
---
Featuring:
Vicki Reynolds, Sophie Rhodes, Nick Walkley & Brenden Wheeler
Accompanied by Black Dyke Band, Dr Nicholas J Childs
Presented by Frank Renton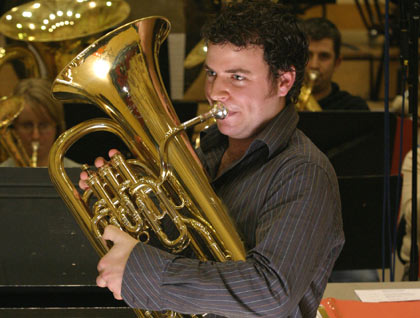 Brenden Wheeler: Winner
The English cricket team has had an upturn in form in the test match arena of late. Undefeated in test cricket in the whole of 2004, the team (and a large part of the cricketing media) is optimistic of success for the first time since the 1986/87 series against the Australians this summer. The result of the series could be very close and it is guaranteed to be very competitive.
Should Ricky Ponting's team perform anything like fellow Australian Brenden Wheeler did during the final of this competition, then (sadly for the English) Australia will retain the Ashes with ease.
Brenden Wheeler was in a class of his own during this final, and the other three competitors played very well indeed, and hopefully none of them will have woken up on Sunday morning kicking themselves for any slips. Brenden was just too good on the night.
Brenden is currently studying music under Professor David King at Salford University and occupies the principal euphonium seat in the university band and at Hepworth (Persimmon Homes) Band. Those who know him are aware of his musical qualities, and for those that didn't before Saturday evening, certainly do now.
Heralding from Cairns, Queensland, Brenden first made an impact on British soil, when he was awarded the 'Best Soloist' prize with Hepworth at the Scottish Open last November.
Before his performance, Brenden seemed calm and relaxed, happy to chat and with a smile on his face as always. Any nerves that were on show were not apparent and the quality of his performance was quite exceptional.
Playing first of the four contenders, Brenden chose 'New Order Flight to Sparta' from Peter Meechan's 'Three Stories – Three Worlds' and 'The Holy Well' by Peter Graham for his title challenge. You only have to listen to Brenden for a few minutes to realise that he has enormous natural talent, and plenty of self belief in his ability. The performance of Pete Meechan's work was terrific but the real jaw-dropper was 'The Holy Well', which originates from Graham's 'On Alderley Edge'.
The communication between both the band and audience proved to be a real winner for judges Andrew Berryman and Sheona White. Brenden's execution of this work was top draw, and in total contrast to his first piece.
Speaking to 4BR afterwards, Brenden described the whole experience as awesome. 'It is great to be here, the BBC giving the opportunity to perform in a competition and play with Black Dyke 'it's awesome'. In addition, Brenden commented on the amount of work he done in preparation for the final.
Brenden's reward for winning the competition (apart from the specially designed winner's trophy) is the opportunity to feature as a guest soloist with a top (as yet unannounced) Championship band at BBC Radio 2's 'Music Live' Festival in October.
One of the key ingredients to winning this competition is choice of repertoire and communication with band, audience and most importantly, the judges. To be able to demonstrate a contrast in style whilst maintaining the same high level in performance is very important. The choice of repertoire is flexible for the finalists as long as it doesn't go over eight and a half minutes.
The other three contenders also gave great accounts of themselves. Vicki Reynolds was the youngest finalist at 14 years old and is another player who has plenty of natural talent. Whilst performing 'Variations on a Welsh Theme' (Watching the Wheat) what was most impressive about the tenor horn player was the quality of sound and projection of the instrument. As with everybody else, Vicki revelled in the experience and is someone to keep your eye on, as a bright future surely beckons. Already a member of the NYBBGB, Vicki hopes to come to the RNCM to study in a few years time.
Nick Walkley chose Simon Kerwin's arrangement of Hohne's 'Slavische Fantasie' for his crack at the title. A touch disappointed afterwards, Nick knew it would 'be tough', but the newly appointed soprano cornet player for YBS put on a fine show. As with Brenden and Vicki, Nick impressed with his quality of sound and control of the instrument. The little slips were minute and never detracted from the overall standard of performance.
The final competitor was nineteen year old euphonium player, Sophie Rhodes, who also gave a fine account of herself in the first movement of Horowitz's 'Euphonium Concerto' and in the classic 'Softly As I Leave You' made famous (in euphonium circles) by Robert & Nicholas Childs.
Sophie is another talented euphonium player to look out for, with the performances of her chosen works clearly demonstrating why she was a worthy finalist at this year's event. Currently studying medicine at Cambridge, the nineteen year old plays with Soham Comrades Band, come from a musical family and like Vicki, is a member of the NYBBGB.
Black Dyke were in good form as the accompanying band and whilst the judges made their minds up on the winner, the current National Champions entertained the audience with 'Opus One', 'I Only Have Eyes For You' and 'Mack the Knife' (all from their recent Golden Swing CD) and finally the march 'Shield of Liberty' by J J Richards that is featured on the band's latest CD 'World Famous Marches', that is due for release very soon.
BBC Radio 2 Listen to the Band producer Al Booth and presenter Frank Renton were full of praise for all of the soloists on the night and those who had competed in the semi finals. Thanks were given to Fodens Richardson Band, Black Dyke and MDs Richard Evans and Nicholas Childs for all of their help and encouragement in the semi-finals and final.
Al Booth also confirmed that details of the 2006 competition are to be announced soon, so keep your eye out for details. The complete broadcast will be aired on BBC Radio 2 on Friday 4th March at 9.30pm and afterwards via http://www.bbc.co.uk/radio2/events/brasssoloistcomp/
This competition is certainly an event worth entering. The hall was full, (aided by the fact that two of the competitors were from the Manchester area and had huge support) and the atmosphere inspired the participants.
The night though belonged to Brenden Wheeler. This is a young man who has won many friends and admirers since arriving in the UK and not only is he a thoroughly nice guy, but he is a talented musician and has a great future in front of him. Such talent will be nurtured at Salford, but one thing is certain: the British banding movement can consider itself very lucky to have Brenden Wheeler within its ranks for the time being.
Malcolm Wood
4barsrest Classifieds
Deepcar Brass Band
Deepcar Brass Band are looking for solo cornets and Bb bass to join their friendly team. We rehearse 7.15pm - 9.15pm Monday a...
NABBA
Date: 10-Mar-2017
Venue: Embassy Theatre and Grand Wayne Center. 125 W. Jefferson Street . Fort Wayne, Indiana 46802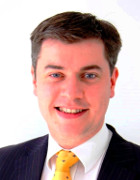 Darren R. Hawken
PGdip, BMus(hons) PGCE, dipABRSM, LRSM
Conductor, Arranger, Teacher, Adjudicator, Band Trainer