2005 Regionals: North West - Retrospective: Third Section
20-Mar-2005
John James got there in planty of time to hear the Third Cection bands playing Tam O'Shanter. Ultimately it was Stuart Barton directing Trinity Girls that took 1st prize and claimed their ticket to Harrogate.
---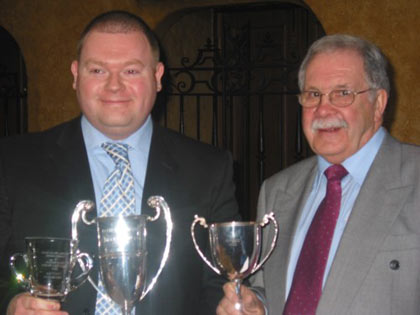 Trinity Girls: Winners
4BR approached this contest with a real sense of anticipation and took to their seats in, should we say, 'plenty of time' for the start of the contest. The clock on the church opposite the Winter Gardens showed a time one hour ahead of the actual time though, but it meant we were there, ready and primed for what was to come. You can't say we weren't prepared can you?
With the draws going ahead as scheduled all was set up for a fine few hours of banding – or so we thought.
There were some very well matched bands due to perform at this contest with no 'make weights' and that's exactly what unfolded, although what we got to hear at times wasn't really top quality playing. Close, yes, but we didn't leave disappointed – and given what we have heard around the country on this piece that in itself was something for the bands to be very proud of indeed.
In the final analysis we had bands separated by a margin of half a point between each other let alone full ones, all the way down the final placings list – that's how close it was in our opinion. Maurice Priestley called it right when he said: "I can only send three bands to the final. I wish it could be more".
Come results time any one of nine bands could have had the Finals call, it was that close. No complaints from 4BR about that; just a pat on the back to all the bands for so many commendable interpretations of the test piece.
One or two bands down the field might wonder why they weren't placed higher, but in a section that grew stronger and stronger as the day went by the final placings were always going to be interesting.
Overall the section was noted for the quality of its dynamics that were apparent in so many performances, and in truth every band looked for the contrasts within the score.
Bb Bass players rarely get their moments of glory but on this day each and every one of those musicians sat behind their mass of coiled tubing deserves a mention, as there were plenty of quality playing in their individual solo spots and as an ensemble team.
Once again the North West Third Section had shown itself to be an exceptionally strong one, and the qualifiers will be up there with the short priced favourites come results time.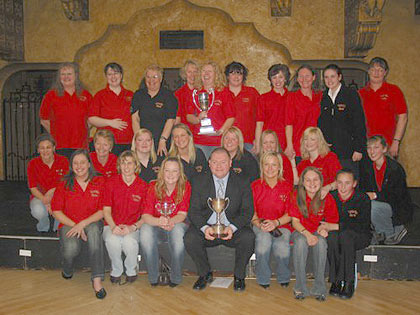 Trinity Girls: Winners
Trinity Girls under Stuart Barton gave a colourful and exiting performance, which on the day took the top honours. The pacing through the andante was absolutely right with the overall shape of the performance by the MD being well judged and with a nice pulse.
The allegro was highly exhilarating and if one were to look for the odd chink that may have left the door open (but didn't) it may have been in a slightly unsettled piu agitato and strepitoso where the other wise immaculate bass line lacked some definition.
Talking to 4BR at the conclusion of the performance, Stuart Barton acknowledged that the test piece had been the hardest test the band had faced together in their three year 'marriage' as he called it. And a bit of a marriage it is too, as the name suggests, there is not one other boy or man on stage with him. It must be wonderful.
The piece had come together noticeably in the immediate build up to the contest, he confided, but that was as may be, because on the day it was, very good, and they go on to Harrogate for 2005 with a settled and confident ensemble.
Before concluding our conversation Stuart asked that this performance be dedicated to their late treasurer Sybil Haselden, a founder member of the band who passed away recently. It was a fitting musical memorial.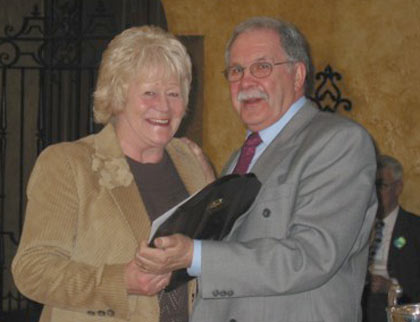 United Norwest 2000 Brass: Second place
Runners-up were the United Norwest 2000 Brass conducted by Jamie Meredith who generated real intensity and excitement from the atmospheric score. A very bright opening contrasted with quite marked rubato style in the slower pictures and although a little untidy through figure 10, there was enough confidence throughout and no lack of direct playing to capture a Finals place.
We heard this band perform very well in Pontins late last year, and once more here they were compact and secure, and very well led from the front.

Eccleston Brass: Third place
Ian Bateson directed Eccleston Brass and captured the third Harrogate place with a well-paced performance that had no lack of thrust. There was a curious momentary broadening (it barely lasted a bar) in the 3/8 section but overall the performance had an engaging colour and texture and deservedly took its place on the podium.
Following them on stage was the Middleton Band. Carl Whiteoak who conveyed obvious encouragement to his band, took them to within a whisker of a Finals place in a performance that flowed with conviction. The band control and dynamic shape helped balance warmth with exhilarating vigour and we had them just to pip Eccleston in our final mix.
"Let's go on and show em" filtered the voice from the registration area as Wardle & District Anderson Brass took the stage and they certainly gave the music full value. MD S. Conway achieved freely fluctuating tempi but the structure held together well and in particular the closing pages matched composure with weight to give a performance of real merit. Just the little amounts of uncertainty in places perhaps sealed their fate, but it was still a good performance.
Whitworth Vale & Healey revelled in dramatic contrast and produced a performance hall-marked by clean articulation and direct playing, which really did capture the essence of the score. The band certainly responded alertly and sensitively to their MD, J. Binns and it was another performance that could have on another day found itself placed higher. Not this time, but perhaps next.
Dave Ashworth and the BMP Europe Ltd Goodshaw Band took seventh place, but this was again a splendidly bold and clear performance. The faster sections swept forward and the band coped well when asked to give a very fast forward momentum. The 'Doppio' had genuine sparkle and impact and as a bonus their kilted percussionist took the stage aptly attired for this tale of alcohol excess. Just the little blips and blobs again robbed them of valuable points, but it plenty to admire.
Rainford under Neil Samuel taking the stage last in the draw gave a performance that had undoubted insight. The MD induced the players to convey rhythmic spring that had plenty of the necessary jaunty Scottish mood and they too might, like many in this section, wonder what else was required to gain a Finals place.
Brian Harper and the Pilling Jubilee Silver Band shaped a performance that had a warm sound that combined spontaneity and discipline exceptionally well. Although a couple of linking figures were less convincing overall, they gave another in a number persuasive performances.
Only now, from this point, position ten in the results did the term acceptable rather than memorable begin to colour our impressions.
Escaping an early cornet entry Douglas Town with the legendary Gordon Higginbottom in charge gave a generally well-conceived reading. Perhaps some of the genial high spirits of the main allegro section were missing with perhaps a little less ambience than those before in the Strepitoso but the band did produce a steady andante with care for detail.
Hazel Grove conducted by N. Bowden gave a performance that was well-made and captured some glowing colours in the middle section of the piece. Those distinguished elements didn't however carry through and the band didn't quite catch the soberly sinister warnings as others did in their musical pictures.
The andante was nicely constructed in the playing of City of Chester directed by P. Mottershead, and its mood caught the spirit of its subject very well. The allegro however was not so striking and as such probably cost them in the final analysis
Thirteenth in the results order were Nelson Brass under their recent MD appointment R. Holt. The band produced quite a hard tone but this projection led to a quite exhilarating ending. The central slower ensemble melody line was less delicate and could have been the factor in the final placing.
Meanwhile, Ken Rollins brought to Lostock Hall Memorial Band an atmospheric and well-played opening section, but unfortunately the impact was lost as the band just failed to gel in the unfolding music. The band played with just a little less lyrical impulse in the melodramas that come out in the body of the piece and as such it just didn't quite keep the attention of the listener all the way through to the end.
Flixton Band under the leadership of Kevin Gibbs delivered a real mixed bag. At times taken at tornado speed with sparkling articulation the middle section had less compulsion where balance became an issue - particularly a heavy bass drum. The band certainly played with strength of feeling and could have been a touch higher in the frame but not one would feel quite enough to command qualification to the Finals and against some high class opposition, it just fell away.
There was no want of urgency in the performance from Friezland with Lana Clough at the helm. The performance unfortunately though didn't seem to convey genuine authority and grip with the work despite hard work and commitment from around the stands and it became a little overblown and suffered in comparison to the quality that it was up against.
The North West Region bands certainly produced at Blackpool the finest of musical malt whiskies here, and not some dodgy cheap musical blend of Scotch and will head for Harrogate once more with a pretty formidable line-up to take on the rest of the country.
John James
4barsrest Classifieds
Stannington Brass Band
Stannington Brass Band, Sheffield. 2nd Section National Champions, and now 1st section. Ambitious, sociable band. MD Derek Re...
Unibrass 2017
Date: 18-Feb-2017
Venue: King's Rd, Harrogate HG1 5LA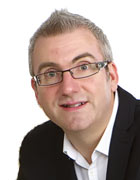 Ian Porthouse

Cornet soloist, clinician, conductor and adjudicator