2005 European Championships - Groningen and the Martiniplaza
24-Apr-2005
For those of you with a bent for a bit of culture, 4BR gives a pocket history of the city of Groningen and some info on the Martiniplaza venue where it will all take place.
---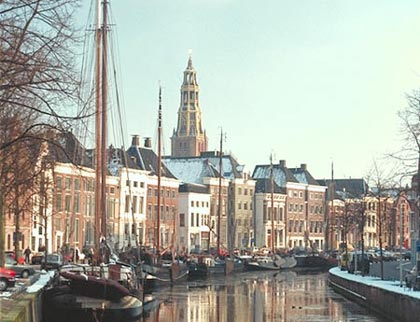 Groningen, Netherlands
The city of Groningen is situated in the northeast province of the Netherlands of the same name. It has a population of around 170,000 and is bordered on its eastern side by the German region of Niedersachsen. To its south is the Drenthe region of the Netherlands and to the North, the Wadden Sea.
The people of the region speak a dialect called Gronings – which by all accounts is like a mix between Geordie and Welsh. Nice! The people themselves are colloquially known as Stadjers and are very proud of their long and rather interesting history.
People have been here in the area since the early Iron Age where they tried to eek out a living of sorts from the low lying land. The Romans came and conquered (as they had a tendency to do around this time) and subdued what were called the Frisians (not quite pre milking cow days, but you get the picture). They were however a revolting lot, and after a few pitch battles they sent the Romans packing back across the Rhine.
The Germans then invaded (the first of many to come!) and the place became the Middle Empire of Lotharius (Lotharius Matheus of early German football fame perhaps?) of the East Frankish Empire. Even he couldn't quell their passion for a good scrap though and over time they had to get the Bishops in to prevent any more trouble.
No use! Bishop Otto II started a civil war in 1227 against a bloke called Rudolph who was the local lad done good. He tricked the Bishop and his many knights into a boggy meadow and killed them all, although the whole caboodle of blood and guts took until 1258 to sort out. (that's nearly a good half hour!)
The Bishops returned soon after and for the next few hundred years all was peace, goodwill and people making lots of money as Groningen developed into an important trading centre. All was going well until Martin Luther bought a bag of nails and went sticking up his brand of Protestantism on the odd church door and the whole area became something of a melting pot of political and religious intrigue and persecution up to 1566.
This was the so-called 'Golden Year' when the Catholics were booted out and the Rangers supporters took over the helm and which has lasted until today.
There was a further rebellion or two thereafter and the Orangemen of Holland became more and more prominent, whilst in later times the area underwent great changes as influences from the rest of central Europe came to the city.
The Germans came back a few more times (including a bit of a stay in the 1940s), but after the War the city developed even further into being the most important city of the region.
Today it is a flourishing urban area that derives much of its wealth from agriculture and dairy farming as well as a large natural gas field. It has a major University that is world renowned (and has over 35,000 students getting up late, enjoying themselves and getting an education without the hassle of student loans) and also other educational establishments that are leaders in their fields. There is the Academie Minerva and the amazing Sea Aquarium, whilst for those with a slightly different bent on entertainment there is a weekly Groningen Harmonica Group.
The city has a football team that isn't doing too bad in the Dutch league – a bit of a Birmingham City and there is also a huge Casino called Casino Holland, which will happily take all your Euros off you with a smile. Architecturally there are some super places to visit such as the recently restored Railway Station and the very modern Groningen Museum. There is something called Monkey Donky though, which we didn't go into any further, but may be well worth checking out if you are feeling adventurous.
The churches are excellent and historic and the main one is referred to as "The Old Grey One" is called the Martini Tower with its church, the Martinikerk. Which leads us nicely to the Martiniplaza where this years contest will take place.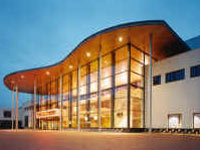 This is one of those huge multi purpose venues so beloved of the Europeans - a building that is a cross between a theatre, conference hall and sports complex. In Britain we would build a Leisure Centre with a few extra rooms for aerobics and a Kids Nursery, but the Dutch have gone for a huge state of the art building that incorporates accommodation for business functions, conferences, trade fairs, sports events and shows. It is sleek and urbane, built of glass and steel and good sensible taste which can accommodate up to 5000 people.
The sports complex part has a capacity of 4,000 and 2,700m2 of floor space and has held huge trader fairs and tennis tournaments. The Martiniplaza Theatre is where the contest itself will take place and can seat 1,600 people in some comfort. It has held some major productions in its time and benefits from up to date audiovisual equipment and an internet café. It also offers a theatre foyer with four permanent buffets as well as a Theatre café.
The facilities for the players are excellent, with plenty of places to have a drink and something to eat as well as get changed, whilst accessibility is also top notch.
You can get to the hall easily by car and there are more than 2,000 parking spaces around the complex, whilst buses take you from the Central Station straight to the Martiniplaza which isn't that far from the centre of the city itself.
4BR will be there with our team and we are looking forward to the event immensely. We will try and keep you up to date with all that is happening with our live updates of the main competition and reviews and retrospectives of what else has been going on.
4barsrest Classifieds
Severn Tunnel Band
We are a friendly and welcoming third section band based in the Caldicot area only a short drive from the Severn Bridge,and a...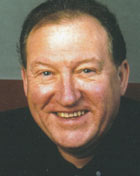 John Maines
BA (Hons)
Presenter, compere and conductor