2005 Spring Festival - Retrospective: Senior Trophy
11-May-2005
John James was on hand to listen to a whole hatful of quality performances on Edward Gregson's test piece. In the end though it was the Alliance movement that pipped the Temperance brigade to top spot.
---
The Senior Trophy is both a kind and cruel mistress: To the bands finishing in the frame she is the good friend who opens doors to greater riches and the potential of the ultimate prize – The British Open. To the bands finishing in the lower places she is the one who shuts the door in your face and leaves you out in the cold for at least a year.
With the Senior Cup and Grand Shield you have a safety net and the opportunity to redeem lost ground – not so with the Senior Trophy where the cruel mistress is truly but understandably cut throat in order to give the number of other bands keen to get into the fray their chance.
And there are a lot of other bands out there who wish to take the first steps to the British Open, with the organisers all too aware that they could more than easily fill a fourth section here at the Winter Gardens if they so wished. That may or may not be the case in the future, but one thing is for certain, four bands left here very happy, and six bands left really disappointed.
We had no illusions on approaching this contest that all the bands here could more than play the notes. What we were interested in was who would make the music, and it would appear that that was borne out in the minds of the adjudicators also. 'Connotations' proved to be a well thought out choice; technically it was well within the scope of all the bands here, whilst musically it left the MDs and players with the chance to express themselves – especially in the extended slower sections and the cadenzas.
The adjudicators, Brian Buckley and Chris Wormald seemed reasonably happy at what they as heard as well, with Brian making some pertinent remarks prior to the announcement of the results in the main Ballroom.
"It was an enjoyable day for us both, as the bands tried to resolve the technical and musical challenges of the piece," he said. "We were looking for consistency, control and clarity in the ensemble, and whilst the top bands had this in abundance, the ones lower down in merit had more problems which were not resolved either in the rehearsal room or subsequently, the contest stage."
It was as an assessment pretty bang on the money, and Brian wasn't too far wrong either with his observation that there were three outstanding bands, with the four behind them also giving enjoyable performances that were difficult to separate.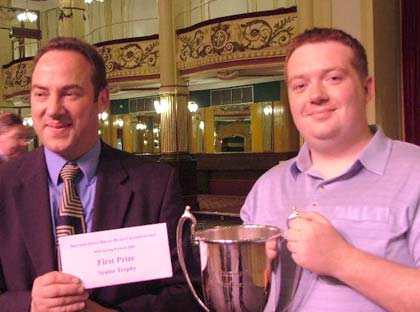 Alliance Brass: Winners - Senior Trophy
Alliance Brass has had a very good 2005 so far, and they followed up their recent fine win at Brass at the Guild in Preston to take their first major title in their short but spectacular existence. John Clarke has fashioned a very compact brass ensemble under his wing (and we say brass ensemble, as they really do play as such rather than just a brass band) that displays a rich and balanced orchestral brass tone, which led on this occasion to a robust musical picture.
There was much to appreciate in their performance here; none more than the sparkling playing from their soprano cornet player Bill Cooper and trombonist turned euphonium star, Becky Smith. Both were on quite excellent form throughout, and allied to the solid bass foundation (played with three Eb tubas and one Bb tuba), sharp troms and balanced top end, the MD had fine resources that he allowed time and space to express themselves to the full.
After they had played off the number 2 draw (usually the kiss of death in most contests) there was little doubt that they were the band to beat – and so it proved, right to the end of the contest. It was classy playing led in very classy style by the MD, and it confirmed that this is a band of very fine talents. We had them as runners up – but only by a very short neck.
It wasn't until over halfway through the contest that the next performance of real merit raised itself from the bands that had battled well, but not really captured the imagination.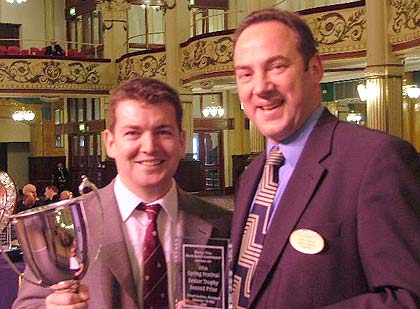 Tongwynlais: Second place
Gareth Pritchard brought a wonderfully controlled performance from Tongwynlais Temperance that we had in the top spot. The playing was very polished and it was the euphonium playing of Martyn Patterson that really caught our ear. Although it is not perhaps the hardest euphonium part in current top banding repertoire, but the cadenza and extended solo spots are still a test for top line players.
On the day, there were not too many who failed to play the part, but Martyn really did shine and fully deserved to take the 'Best Soloist' award for his efforts. Gareth Pritchard also deserves a mention as well, as in recent times his elegant readings haven't caught the ears of adjudicators and his long term association with the EYMS came to an end. He is a talented MD though – as this has been proved here. We had them in top spot, just ahead of Alliance, but in the end we think they will more than be happy with their promotion, and will give their recovering regular MD, Bryn James a further boost on his road to recovery.

The third promotion place went to Aldbourne who were most impressive. Steven Sykes was always in control as he conveyed and drew from the players the vitality and stylish moments that impressed both the judges and us at 4BR. It had a fine compact feel the MD, and was one that we felt would come up and around there come results time. The judges had them third, and so did we, and we think if they play to this type of form come the Lower Section National Finals in Harrogate they could be strong contenders for victory there as well.
With the exception of Tongwynlais, it wasn't until the last four bands in the draw (numbers 17 through 20) who figured in the judges placings.
Pemberton Old Wigan JJB, like their home football counterparts gained promotion this weekend, and they too are able to take a prize back to show Mr. Whelan. Just like their footballing counterparts, they also had a bit of a narrow squeak too, as we had them in 5th place, just behind BHK (UK) Horden who eventually came 6th.
What a good weekend for the town though and even though Pemberton had to wait till last in the draw to play, this performance certainly had great style and an understanding construction from Mark Peacock. It had little moments of scratchiness, but it was certainly committed playing, and we noted that it would get the judges thinking come results time. Not quite in the same league as the top three, but nonetheless, a very good account, and the MD continues to impress us each time we see him in action.
Kingdom Brass was the one for us that was a bit of a surprise, as theirs was a performance of distinctive style and which was helped by the MD Alan Duguid who stayed very true to his beat and to the tempo markings. We didn't have them figured quite as high as the judges (we had them 10th) but nevertheless this was a performance of distinction during which the trombones played with real purpose.
Meanwhile BHK (UK) Horden did not give the cleanest performance of the day, but there was graduation in the dynamics and pure exhilaration in the 9th variation and coda especially. The euphonium contributed in fine style and we had them to come in the frame – although just outside the podium places. We thought that they may have done just enough under Major Parkes to take the fourth promotion place, and it was certainly further confirmation that they are a rising band with a resurgent MD at the helm. At times it was like watching the Major in his best 'Dyke' days. What is his secret eh?
Camborne playing from number 17 in the draw impressed the adjudicators and without question they caught some of the composers engaging ideas extremely well (particularly in the final 9th variation). Their euphonium team had a cracking day but elsewhere a few intonation spots and a slightly high error count meant we didn't have them to figure quite as prominently, but the Cornish band admirably responded to their MD Capt. Curtis. They will have headed for home more than a little disappointed though, as it did have the feel of a band perhaps trying too hard to impress, when all they had to do was relax a bit more.
We, like the judges, favoured the Thoresby Colliery performance, ear-marking it for a place in the upper end of the results. (We had them down for 6th – the judges had them 8th) The band's Principal Cornet led the ensemble very well and the Midlands outfit under Martin Heartfield produced some very convincing musical substance and a powerful atmosphere.
Lynda Nicholson has the knack of often bringing out a little extra definition from her bands and this performance with the Haydock Band had moments of true quality, particularly from her "corner men". Perhaps a little too much bite and thrust in some sections might have cost a few vital points, and a touch of uncertainty in places was noted, but it was a performance of merit and 9th place from the judges complimented our 8th place.
David Lancaster is also another MD who brings a great deal of vitality to his readings and he and the Harrogate Band certainly went for a performance with an optimistic exuberance. We thought that perhaps it had a few too many untidy bars that caught the ear rather than the musical listening experience that the MD had obviously prepared, and the intonation at times just robbed what promised to be a most musical account.
Ratby Co-operative was the band we felt could have easily figured higher up the prize list than the eventual 11th they did come. We had them down for 7th as Dr. Roy Newsome, just like Major Parkes, rolled back the years with his customary virtuosity, musicianship and polish. Perhaps like Harrogate Band it may have been some unsettled moments early in the piece that caught the attention, but when it was good, it was very good.
Yeovil Town and Dave Hayward gave a performance that came over as a quite safe and cautious rather than a dramatic and purposeful. They had an elegance of phrasing in the Fugue (var.8) and it was a performance that grew in stature as it went along, but it may have been those less natural and persuasive variations that denied them a higher position.
Aided with lovely principal cornet tone the Mossley Band avoided some of the expressive bulges that tripped up some of the bands behind them, and they too gave a performance with lots of control that posed little listening problems but didn't grab you by the scruff of the neck either. A decent effort indeed, as we noted in our overall summing up – but on the day, there were a lot of these, and it just needed a stamp of expression to have made more of a mark than its eventual 13th place, although we had them down for 9th.
A spirit of fun certainly came over in the Welwyn Garden City performance and probably the 'happiest' performance of the day. That though could have been its downside also as one felt that the players may have tried too hard on an individual basis rather than working throughout as a unit, and as everyone tried to give 110% to the cause the overall ensemble suffered too many times.
Riddings Band looked to produce the tonal finesse and rhythmic freedom contained within the score and at times produced just that aim. That however was also offset with some costly slips and a forced sound especially in the final variation 9. Perhaps we were just a little more forgiving in our placing than the adjudicators (we had them 11th to their 15th), but the tendency to overblow when it wasn't needed may have been their undoing.
Resilient and imaginative playing in the latter variations produced some well sprung rhythms from the Kidlington Concert Band but their playing too took time to settle and as a result the early variations were not quite as well captured and they fell away to claim 16th place, whilst Soham Comrades may feel disappointed to miss out on a return to the Senior Trophy in 2006. The later variations in their performance offered playing of genuine breadth and eloquence but these unfortunately probably didn't offset the troubles encountered in the early variations and probably cost them the points in the final analysis.
Wrexham Brass ensemble tone was as good as any we heard all day but at time there was abrasiveness in the playing and the piece didn't quite come to life until the latter third. Again the earlier variations may have been the undoing where they didn't come off as well as those in the higher positions. Meanwhile, Thomas Coaches Mid-Rhondda and the Longridge Band both set decent standards but couldn't raise their game as the piece went along. Both had their moments, but both sounded rather flat and monochrome performances in relation to others and they couldn't really have too many complaints that they found themselves in the relegation places on the day.
Overall this was a contest that we enjoyed tremendously. The piece was just what was needed here – a fine test piece that all the bands made a good fist of – and many made a very good handful of.
Alliance, Tongwynlais and Aldbourne fully justified their podium positions, whilst Pemberton just got the nod from our choice Horden for the final promotion place. The bands that dropped out won't be too happy of course, but overall it was a fair result from two experienced judges – top to bottom.
John James
4barsrest Classifieds
Dronfield Genquip Band
We are a Yorkshire 3rd Section Band conducted by Rob Straw and require the following players:. . Front Row Cornet. Trombone. ...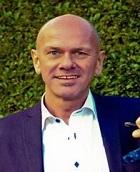 Paul Andrews

Conductor, Band trainer, Adjudicator, Instrument Repairer - Brasstoff