2005 All England Masters International Championship - Postcard from Cambridge
5-Jun-2005
4BR looks back at the day in the hot and humid atmosphere of the Corn Exchange and wonders if it was all worth it?
---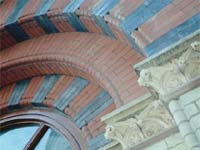 The Masters Contest has always been a bit different.
For instance, it takes place in a part of the country that has no real great heritage of brass banding, whilst it also occurs at a time of the year when most bandsmen tend only to look forward to their annual physical examination (walking, playing and drinking – although not necessarily in that order) at the Whit Friday contests.
The organisers have also played their part too: over the years the contest has actively sought the opinions of the bands (although that is in temporary abeyance we are told by Messers Biggs and Franklin) and many of the innovations they have encouraged have proved popular with players and audience alike.
This year those innovations came under pretty close scrutiny, and overall proved to be a reserved success.
The decision of the organisers to accept the Kapitol/Besson invitation to the winners to take part in their version of the European Championships, was a misjudgement, although to be fair, hindsight is a real luxury.
Why accept something that didn't really exist? Forget the recent decision by Besson to put their contest on ice (will it ever return?), but putting your support behind an event that never had a date, venue or any competitors other than the winners here and possibly Wales, wasn't one that would have had the bands drooling at the mouth to compete here was it? Would Scottish Co-op, Fodens or Buy AsYou View really have said 'whoppee da' to this one after they had won? We think not.
The good news though is that at present it won't be an additional prize for the winners that will be severely missed, as it was not in 2005, really a great enough prize in itself anyway.
Meanwhile the opening up of the field to incorporate 'international' bands was a success. Having a line-up that included the likes of BAYV, Fodens, Willebroek and Scottish Co-op as well as other top notch outfits has given the contest a fresh feel, although on the evidence of the 'bums on seats' test, it is still in balance to whether or not it has really captured the appetite of the general contest going public.
It is still a contest that can do with less bands taking to the stage – 18 (even after Ransome dropped out) is still at least 3 too many, especially when the Corn Exchange Hall isn't the most conducive venue for an audience to listen for long periods of time when the organisers have to knock off the air conditioning because it makes more noise than a 1974 diesel engine Ford Transit van.
The 2006 English Championships will specifically cater for English bands and should prove to be a great success, so the new format here must show that it is 'different' enough to attract top line bands (English included) to be seen as a contest of real stature.
With good prize money (the £1000 for the winning conductor was a great idea – just think how many of the MDs here would have had a pang of philanthropy and pooled it with the bands winnings eh?), a high ranking field and good test pieces that is surely the case – let's hope it continues.
Back to the hall though. Something must be done with the air flow, and subsequent temperatures that the bands have to play in here. This year it wasn't really a scorcher outside, but inside it was as humid as a Turkish bath.
You can understand the need to turn the air conditioning off if it makes a racket like a team of Ritalin free hyperactive kids let loose on a Cozy Powell's drum kit, but only occasionally getting the emergency doors open between bands was an oversight.
Even if it is pouring down outside someone needs to get a bit of air flow going before someone in the top tier of the audience or on stage will topple over. There was more liquid intake on stage than there was in the Red Cow pub over the road from the hall at times.
The judging here has come in for a fair bit of criticism over the past few years, but ever since the ABBA decided that they could no longer support the system voted on by the bands to have three separate judges in three separate boxes, this year the system employed was the traditional three men in a box who judge, but do not explain their choices to the audience!
This may have been an oversight, but it is one that cannot be allowed to happen again. Having judges of the quality of David Read, William Relton and John Miller in the box and not hearing what they thought about what they heard was a step back to the dark ages of brass band adjudication. Let's hope next year will be different.
This year though did give us a few memorable moments to savour. The playing was of a high standard, although not one band came through the 'Cloudcatcher Fells' test unscathed and it once again showed that the most difficult aspect of brass band playing remains the art of playing quietly.
The composer was on hand to listen to just about every performance, and given the little nods of appreciation and the applause he certainly looked as if he enjoyed it. He also gave a very interesting short talk with the fragrant and professional Joanna Pinnock before the announcement of the results, which only confirmed what many felt on listening to some performances: that many MDs think Berghaus and Crampon are the two new midfield players for Chelsea next season and that mountains are places only the Scots, Welsh, goats and sheep really feel at home on - and so it proved.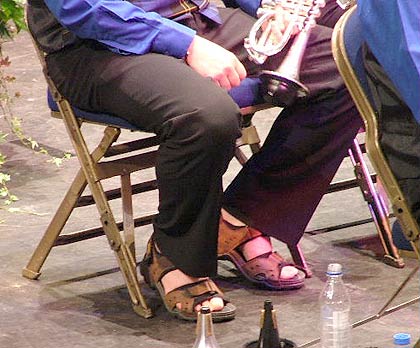 Gordon Jenkings resplendent in sandals
Given that, Gordon Jenkins, the former British Open 'Best Instrumentalist' and the fine soprano player with Scottish Co-op was actually kitted out in a pair of open toed sandals the type ill prepared Londoners usually wear on their summer holidays when they decide a brisk walk to the top of Ben Nevis is well within their capabilities.
Not that he was preparing for an assault on the mountainous terrain of Cambridgeshire though, as he was suffering from the after effects of a bout of gout and so was wearing them for medicinal purposes – he looked suspiciously like a lost hippie/Social Worker though!
Meanwhile, we are sure members of the Willebreok band are not regular hikers up the north face of the Ardennes either, but their fine efforts in trying to win here were undermined by a slightly more prosaic problem than a lack of high altitude orienteering training. The band were missing five regular cornet players due to examinations, but instead of dropping out, they bravely came here at their own expense and fiddled with their resources to such an extent that they could count themselves a little unlucky to come 9th in the final results.
They also fielded two of the youngest players ever to take to the stage in the history of the contest, when Frans Violet's two sons (who looked no more than 8 years of age) played on the back row with a sense of insouciance that gave time for them both to enjoy the sights as well as the sounds of a top class brass band contest. Good on them all.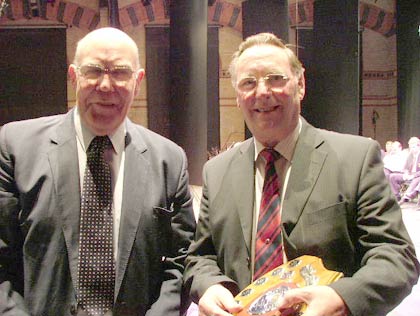 Geoff Whitham [right] with Ted Griffiths
It was also nice to see a great servant of the banding world getting just recognition for his work in producing new generations of brass players. Ted Griffiths is a lovely man and was the deserved recipient of the All England Masters Dedicated Service Award. His acceptance speech was the man writ large – thoughtful, reserved and understated – with all credit going to others rather than himself. Thank goodness the old stager Geoffrey Whitham was on hand to make sure his fine achievements were given the appropriate air time for the audience to show their appreciation to. Congratulations Ted.
Finally, what of the future here?
The Masters has reinvented itself more times than Kylie Minogue and just as successfully it seems. There are still things wrong here, but they are out numbered by the many things that are right.
Philip Biggs and Richard Franklin took the brave step (and unpopular) step of reorganising their contest and found they lost the support of a number of top ranked bands in the process. It was a painful experience, but one in retrospect they had to go through if the contest was to continue to flourish.
Given the evidence of the contest this weekend - it seems they may have made the right decision after all.
Iwan Fox
4barsrest Classifieds
Stannington Brass Band
Stannington Brass Band, Sheffield. 2nd Section National Champions, and now 1st section. Ambitious, sociable band. MD Derek Re...
Unibrass 2017
Date: 18-Feb-2017
Venue: King's Rd, Harrogate HG1 5LA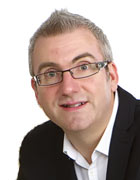 Ian Porthouse

Cornet soloist, clinician, conductor and adjudicator