2006 North West Regional Championships - Third Section retrospective
16-Mar-2006
On a cold day everyone in the Empress Ballroom was in need of warming up - and Rainford and Flixton certainly turned up the heat.
---
The North West Third Section bands converged on one very chilly location, The Empress Ballroom on Sunday to pit themselves against, on paper at least, a very competitive field of rivals and a very difficult test piece. In the event the bands didn't quite put on as close a battle for the trophies as in previous years.
'Entertainments' was always likely to test a bands strength, stamina, musicality, tone, and technique. And so it proved.
The weather outside was very poor - all snow and ice, and the hall was not the warmest, but with all the all draw numbers posted the contest got underway only a fraction behind time.
Rainford Silver, conducted by Neil Samuel, ex-principal trombone with Leyland, steered the band to victory in a performance that managed to overcome the stiff challenge of this difficult test piece. A draw at number 11 worked in their favour and 186 points was not ungenerous.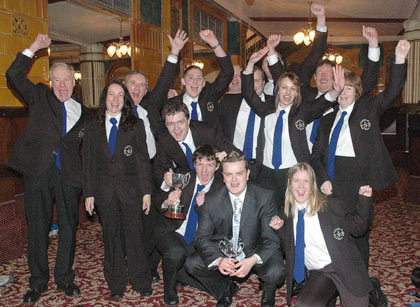 Rainford entertain - The winners enjoy that warm feeling of success - indoors!
Picture: John Stirzaker

With light textures and generally fast tempos than marked this was a performance that was sharply focused but never in the least bit sounded muddled in the vastness of the auditorium. The highlight was certainly the warmth of the ensemble in the main theme of the second movement that had tenderness and natural lovely balanced tone.
Jane Hogan (cornet) and Steve Singleton (euphonium) led the solo lines with clean direct playing and this can also be said of all the solo lines in the flugel, baritone, horn and percussion. All can be proud of their efforts. Rainford were sporting new walking-out uniforms and the superstitious amongst them will now have a ready made lucky mascot. Some won't change their shirts for the next contest we are sure! In truth there was no luck on Sunday, either good or bad, just a worthy performance and a worthy result.
Runners-up were the in-form Flixton Band with equally well known principal trombone player Kevin Gibbs in the middle. Drawn in 8th their performance unquestionably went into the lead at this stage and the 185 points given by Roy Roe was justly deserved.
They ran Rainford a very close second with their strong and purposeful performance and there were some remarkable similarities where the two MD's had obviously similar thoughts on how to approach this piece. Like peas in a pod you could say.
Flixton produced a finesse in their tone and a rhythmic freedom that has been a hallmark of their most impressive contest performances over the past year, and it must have been a very close call for Roy Roe to choose between them both here. If they can reproduce this standard in Harrogate, then these two North West Bands will truly serve their Region well at the National Finals.
After the two qualifying bands, the good quality contest was pretty much about which other bands would figure in the prizes, as they were by some distance ahead of the rest of the field.

In third place came the Whitworth Vale and Healey Band. John Binns encouraged quite quick and lightly sprung outer movements that were really pleasing on the ear but the slower movement did occasionally lack a little flow. Drawn at number 4 they were awarded 184 points and which was a worthy return for a very encouraging performance.
Wardle and District Anderson Brass (S. Conway) came fourth. With phrasing that was quite well shaped there was a bright tonal quality to their outer movements but some slips and intonation just interrupted the performance at critical times. These unfortunately distracted not only the ear but also the flow of the music and the 182 points they received was about right.
The two point gap that had opened up between this performance and the bands above was not unkind. Adjudicator Roy Roe gave a very clear and accurate summation and few bandsmen who listened objectively to his comments could have left the hall without understanding just what he was looking for in the performances from all of the bands. Pointing to particular moments in the score and opportunities both taken and missed by the MD's and bands, he came away from this day having clearly enjoyed his time in the box.
Middleton Band playing off a number 1 draw produced at times a subtly coloured and nicely focused account, but it had a few splits that unfortunately were quite abrasive at crucial points in the musical development. Carl Whiteoak and the band received 180 points for the performance that led off the contest quite well and set the scene for what it appeared was going to be a close contest.
In 6th place came the City of Chester Band (P. Mottershead) The hallmark of their performance was the good playing of the soloists but all too often the ensemble became loose and lacked a little technical security that undoubtedly cost valuable points. Drawn number 5 and gaining 179 points they figured in a number of performances that found the test piece stretching the band just over the edge. There is a lot of promise on show here though.
With a real mix and match performance Pemberton Old Wigan JJB B under Peter Ashley were awarded 178 points and 7th place. A purposeful opening was contrasted with some insecurity, with the third movement being perhaps the less convincing of their overall reading which as with others on the day just lacked consistency throughout all the three movements to have pushed it further up the prize table.
Eccleston Brass will probably be a little disappointed with 8th place and 177 points. We thought perhaps that this was the one performance outside of the top three that could have seen markings a little kinder. Ian Bateson and the band played straight after Flixton at 9th in the draw and they had to follow a very good preceding performance. Their own performance was quite straight and safe and perhaps that was its undoing.

Whilst the tempos and main melodic line were very clear, and if marked on these alone would have been clearly on track for a prize, Roy Roe spoke of the music needing a presence in the overall performance. That is perhaps what cost them as there was perhaps less contrast in their performance than those of the winning bands. Hard luck though.
Drawn number 2 were the BMP Europe Ltd. Goodshaw Band who gave a very workmanlike performance under the direction of Dave Ashworth. The piece took a little time to settle and overall had perhaps a few too many little cracks and splits to make a real impression on the day, finishing perhaps rightly in mid table (176points and 9th).
The same thoughts could probably be applied to Morecambe Band (C. Larder) as well who came 10th with 175 points. They opened confidently but the overall balance became quickly suspect. The first movement saw some nice solo lines but these did not follow suit in the Elegy or March and it became a little imbalanced and harsh to end.
Douglas Town (Gordon Higginbottom) making their charge on the Third Section this year came 11th with 174 points. Although it was abundantly clear that a lot of work had been done in rehearsal, the piece perhaps just asked a few too many questions of them at present. The impression though is that they will, as time goes on, raise their game and certainly hold their own in this section for sure.
John Roberts took Nelson onto the stage 12th in the draw and finished 12th overall with 173 points. They too had to follow a band that had really delivered a classy performance and like Eccleston, needed just to sparkle and shine to make an impression. They never quite got to grips with all the technical questions asked in the piece but the solo lines went well it was just the ensemble work that perhaps came over a little less secure.
Lana Clough fronted the Friezland Band drawn 10th and gaining 172 points. 13th place was their reward for a performance that was in fairness troubled on its journey. The solo euphonium work was well handled but there was unfortunately a lot of edgy playing around the stands that gave the whole a feeling of insecurity.
In 14th place came Hazel Grove with Neil Bowden in the middle. 7th in the draw and 171 points but real credit to the band for trying so hard against quite a handicap in the make up of the band. A thin bass line and a single trombone player always presented difficulties with balance and tone but the players worked hard on the stage, so whilst not an unkind result in view of the situation it was undeniably a worthy attempt.
A surprising result for Valley Brass (Haydock) in finishing in the 15th and the final position with 170 points. Dave Chadwick will feel for his players who so often raise their level of performance on the contest stage. Given that we made the band our dark horses, Sunday did not see them at the best. Their performance was a real mixed bag whilst good in parts, especially a confident solo euphonium soloist, the musical picture was often at odds with the scoring. It was a touch pointed when a more relaxed approach was required and a bit heavy instead of lilting and light and so on. No surprise then at Roy Roe's discomfort with the performance and the final position. They will return though we are more than sure.
Before the contest Flixton appeared to be the band to beat given recent results and they certainly matched their recent form. The same could not be said of Eccleston whose performance was just off the mark when examined overall and for us was very unlucky not to have come in the top three. We took them to battle it out for the top honours, but Rainford Band raised their game and together with Flixton, they fully deserved to take the top honours.
The result of course made this correspondent happy, but even though I have been involved with the Rainford Band over the years, there was little doubt in the vast majority of people's minds (not just my own and that of the judge) that they deserved their victory. It was very close though with Flixton and could have gone either way.

With four of our predictions in the top six we didn't disgrace ourselves but we didn't heed the signals being sent up the East Lancashire Road that the Rainford Band results earlier in the contest season, namely winners at Fleetwood and 3rd at Pontins, should have alerted us to the potential that they certainly delivered on Sunday.
Now we know we won't make the same mistake again and both Rainford and Flixton will have short priced odds come the Harrogate Finals on this form
John James
4barsrest Classifieds
Harrogate Band
Cornet & 2nd Horn players required to join a thriving, dynamic and exciting 1st section band based in Harrogate, North Yo...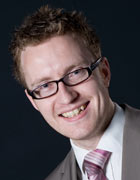 John Ward

Conductor, Adjudicator