2006 Scottish Regional Championships - First Section retrospective
17-Mar-2006
There was only one winner here in the First Section - not even the weather could stop Dalmellington here so what hope the English and Welsh in Harrogate. .
---
There really was a clear winner in the First Section here – no doubt in anyone's mind about that.
Saying that though, there was a real doubt that Dalmellington were going to make it to the contest in the first place because of the heavy snow. The local bus company refused to put on the snow chains and make their way up to the pick up point, and so the band, after weeks of rehearsal and high hopes of winning, were faced with the real possibility of being left stranded whilst others battled it out for the First Section title.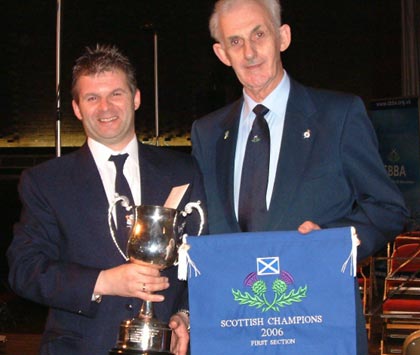 Now to think abut getting home - Dalmellington take top honours amid the bleak midspring snow

That would have been a catastrophe for the band and a great disappointment not only to the contest here, but for Scottish chances at Harrogate. Thankfully they were given a very generous helping hand by their rivals Dunaskin Doon who provided joint transport for them (the health and safety regulations were given a blind eye) and they made the trip from the deep confines of Aryshire to the hall in Motherwell in time to take part in the contest.
Once they were there they certainly made sure it wasn't going to be a wasted trip.
Dalmellington produced a quite outstanding performance of 'Voyage of Discovery' that quite rightly gained a winning three point margin (it could and should perhaps have been more) and which saw both judges Stephen Roberts and Alan Morrison wax lyrical about what they had heard in their remarks.
Playing off the number 6 draw, Archie Hutchison produced a vivid yet controlled performance that had a stamp of top section class about it from the opening semi quaver runs right through the tricky last few bars. They produced a wonderfully balanced, full throated sound when required, but also had the ability to keep that balance and quality of tone when the dynamics were at the other end of the spectrum.
Eleanor Ferguson who has recently returned back to the band after a period with Whitburn was class personified, whilst the other soloists (mostly youngsters) also came up to the mark and produced top notch efforts in the band cause. Nothing was left untouched, from that opening statement of intent through to the soprano top C, neat euphoniums and lovely lilting 9/8 section. Event the Presto was 168 plus and had a marked difference from the opening which is marked 144. The ending too had controlled power and the timp and perc team were just about perfect in the complicated last bar.
There was no doubt in anyone's mind that they had heard the winning performance here, and there will be little doubt that if they take this type of form to Harrogate they have a very good chance of coming back home with the title itself. Snow permitting of course.
They will be joined there by Broxburn and Livingston who were very much the best of the rest on the day from the number 3 draw under the direction of Kevin Price. He brought a touch of military precision to their performance, especially at the opening where you could really hear the 4s of the semi quaver work.
It didn't quite have the class of Dalmellington (it would be difficult to be fair for just about any band around the country to match them on this form), but there was much to commend with a great deal of their playing, especially as they had to borrow two percussionists, a soprano and and solo trombone due to their own players being snowed in!
The bands resident conductor Mark Bell had to in fact swap from percussion to trombone to ensure the part went in, whilst congratulations should be very much in order for the players from the Bathgate band who really did themselves proud in their emergency dep roles. We hope there were a few wee drams lined up on the bar for them after the contest from a grateful band!
All in all theirs was a well directed perforance that made the most of the strengths of the band – a good solid bass section and warm horns, whilst the players responded to their adversity in fine style
Just missing out this year was Bathgate under Charles Keenan who have responded so well in the past few months after a troublesome time for the band as a whole.
This was a very decent performance and one that really pushed Broxburn to the limit. There was a lack of clarity in the semi work to start, whilst some of the solo lines were a bit scratchy in places, but overall the MD allowed the music to flow and there were some neat touches in some of the pick ups in the 9/8 section in particular and in the presto cornet feature that just run away from itself a tad. A big finish rounded off a commendable performance and third place was well deserved.
Below these bands the standard did drop away somewhat, although that was to be expected on a piece such as this.
Newmilns and Galston came in fourth, just ahead of Clackmannan District, and we would have put them around the other way – although it was nip and tuck.
Craig Anderson allowed his band the time and space to show off their qualities – qualities that last year were shown in the Championship Section. There were times when the experience of the higher level did shine through, especially in the solo lines and the soprano work of Douglas Cameron in particular who was superb. It was just in the ensemble where the weaknesses were exposed and there was an untidiness to many of the starts and ends of phrases that just robbed the effect that the MD was trying to create. It wasn't a bad show though, but one that could have just been better if more effort had been taken to make it a touch neater in execution.
We had Clackmannan just a point ahead, mainly on the basis of a lovely understated approach by James Scott to the score. This was an expansive account full of good intentions, but just when it seemed everything was going so well, little clips and annoying errors crept into play and it took the gloss off what had the promise of a qualification performance.
Lochgelly in contrast gave a real robust account of the test piece that at times was exciting and thrilling but also spilt over on too many occasions into untidiness and sloppy errors. Alan Fernie certainly gave his all with the baton, and his players for the most part responded in kind, but it just needed a touch more control and a bit more finesse to have made it all work. There was plenty to be encouraged about though.
Below Lochgelly came the final four performances that were a mixture of the good, the bad and the unfortunate. Perhaps the test piece wasn't to their liking or they found it too difficult, but the performances of Arbroath down to Kilmarnock Concert didn't really come close to mastering the music.
Arbroath were the best of the bunch with a brave attempt that had its moments. This was a young band trying very hard indeed, and you have to take your hat off to them for their efforts. The piece just about defeated them though – although they did put up a brave fight and there is a lot for Michael Robertson to be pleased about with this outing – the experience gained will be invaluable for certain.
The good Samaritans of Dunaskin Doon were last band on, and possibly had one eye on the weather conditions outside to ensure they made it home. This was a disappointing show though as it never got off the ground after a very messy start. Perhaps the travails of the day played a part in this, but they seemed flat and lacked energy of purpose. When they did click it sounded neat and tidy, but there were too many individual errors and the ensemble was out of tune quite badly at times. By the end they seemed to raise themselves, but by then it was too late.
Much the same could also be said of Granite City who never really got to grips with the piece on the day under Tom Paulin, however hard he tried. Right from the word go it sounded uneasy and at odds with itself as different sections of the band either played to form or out of form. That lack of consistency was most apparent in the lilting 9/8 section and the final presto with the cornet lead and all in all it was one of those performances where the players themselves knew they hadn't done themselves justice on a difficult piece.
Finally, Kilmarnock Concert conducted by James Smith who would have had sympathy with many of his solo players in particular after they seemed to be afflicted by nerves on stage. As a former Scottish solo champion he possibly wouldn't have suffered quite so badly as some, but for whatever reason this was an error strewn performance from the word go. 10th place was we are afraid bang on the money.
On a day when the weather threatened the favourites with disaster, Dalmellington returned home triumphant. If the snow can't stop them here, what chance English and Welsh bands in Harrogate?
David Crookston
4barsrest Classifieds
Deepcar Brass Band
Deepcar Brass Band are looking for solo cornets and Bb bass to join their friendly team. We rehearse 7.15pm - 9.15pm Monday a...
NABBA
Date: 10-Mar-2017
Venue: Embassy Theatre and Grand Wayne Center. 125 W. Jefferson Street . Fort Wayne, Indiana 46802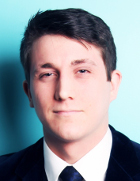 Jack Capstaff
Bmus (Hons)
Conductor | Composer