2006 National Youth Brass Band Championships - Preview
4-Apr-2006
This weekend sees the fantastic talents of the best youth bands in the country take to the stage at the RNCM, for the National Youth Brass Band Championships. 4BR will be there to report on the event.
---
The spotlight this Sunday will be on Manchester. From a football point of view, all eyes will be on Old Trafford, as Manchester United go head-to-head against Arsenal in the Premiership. However, just down the road at the Royal Northern College of Music, thirty-one of the UK's very best youth brass bands will compete across five sections in this years National Youth Brass Band Championships.
The Championships coincide with the start of the National Youth Brass Band of Great Britain's Easter Course in Taunton and it is good to see that common sense has prevailed and anyone involved in Manchester has been allowed to join up with the course after they have finished their commitments at the contest. Both occassions will therefore benefit, even if some of the young players won't be getting much sleep!

Another challenge over the weekend is a Wind Band competition up in Scotland which means that (brass) players from Rochdale (citing just one) will play at two different events - hoping of course for no traffic problems en route, especially up the M6.
As we have said previously, these Championships are a little different in their own unique way. Bands are required to play a set work and an own choice programme in four of the sections, and the decisions will be made by some of our leading adjudicators. Much like the Europeans in fact, but possibly without the polyglot accents and languages and with more texting on the de riguer state of the art mobile phones each youngster will have glued to their ears!
Besson Musical Instruments has supported this event through prize money and covering running costs but with its demise this year the British Federation for Brass Bands (BFBB) will underpin costs with support from the Pontins Brass Band Committee for programme and printing costs – a magnificent gesture.
Despite the loss of Besson's support, the prize funds to the winners are anticipated to be the same at £300 with £200 for runners-up and £100 for third. There will also be Best Instrumentalist awards once again.
Reigning Premier Section championships West Lothian have opted out this year and don't make the trip whilst West Glamorgan Youth are absent for a second year running. Hampshire County Youth return this time, and keep an eye out for some of the well-known banding personalities who'll be conducting this Sunday. Black Dyke's Richard Marshall will lead Mount Charles' defence of the Community Section, Mark Bousie conducts Sellers Youth Band, Chris Jeans with Youth Brass 2000, and not forgetting Lee Rigg with Wardle and Ian Porthouse taking Rochdale Borough Youth Band in his first contest with them. What a battle that promises to be then.
Valley Youth (Haydock) will be hoping that the success of their senior band taking the National title last year will rub-off on them. Some of the juniors are actually part of the senior set-up so know about how to win and they'll be led by David Chadwick who oversees all the bands at Valley Brass.

Once again, the popularity of the RNCM means that the contest has to be held on a Sunday this year, but as is the norm at this event, the day starts early, with Wigan Youth getting the action underway at 9.00am.

Gary Walczak and his huge team of helpers including Lancashire Contests Ltd, run an efficient and tight ship here with plenty of help and encouragement to all concerned, and with the last band due on stage at 5.30pm, everything should be wrapped up at a decent hour.

Tickets are £6 with £4 for concessions and anyone who attends is guaranteed an entertaining day of music playing.

4BR will be present on the day soaking up the atmosphere of the event and will be bringing you our post contests views.

---
Premier Section:

Bruntwood Theatre
Start: 4.00pm
Test Piece: Sinfonietta, Thomas Wilson
Adjudicators: John Berryman & James Scott

Greater Gwent Youth
Rochdale Borough Youth - Bronze Certificate in Premier Section, 2005

This section is down by 50% this year which is a real shame as in previous years it has been a fascinating contest. It still promises to be intriguing of course with Greater Gwent up against the reigning Action Medical Research Entertainment Champions who will be led by Ian Porthouse. Having finished in third place last year, the Lancastrian's will be looking to put things right this time around. Greater Gwent didn't compete last year but are renowned for their quality of performance and so it promises to be a cracker.
4BR Prediction:

This could be very close indeed with not much to choose between the two bands on the day and it could come down to who holds their nerve most on the day but our hunch is that Rochdale will make it an Entertainment and National Youth double
1. Rochdale Borough Youth
2. Greater Gwent
---
Community Section:

Haden Freeman Concert Hall
Start: 12 Noon
Test Piece: A Caledonian Journey and Own Choice Programme
Adjudicators: David Horsfield & John Roberts
Cwmtawe Youth – Bronze Certificate in Junior Section, 2005
Chalford Youth – Bronxe Certificate in Community Section, 2005
Dobcross Youth – Silver Certificate in Junior Section, 2005
Horbury Victoria Youth – Silver Certificate in Community Section, 2005
Lions Youth – Runners-up & Gold Certificate in Community Section 2005
Mount Charles Youth – Winners & Gold Certificate in Community Section 2005
Northop Youth – Silver Certificate in Community Section, 2005
Poynton Youth – Third Place & Gold Certificate in Community Section, 2005
Sellers International - Silver Certificate in Community Section, 2005
Tewit Youth - Silver Certificate in Community Section, 2005
Towneley - Bronze Certificate in Community Section, 2005
Youth Brass 2000 – Gold Certificate in Community Section, 2005

The largest section on the day and if last year is anything to go by, it promises to be a cracking contest for David Horsfield and John Roberts to enjoy. Eleven bands line up this year with defending champions, Mount Charles led by Mr Marshall looking to retain their title. The set work, Alan Fernie's Caledonian Journey promises to challenge the bands. Mr Fernie's fine piece might not be the most technically challenging the bands could have faced, but the links between sections, change in tempo's and the requirement of some fine soloists on show guarantee's an interesting afternoon's listening.

With the set work lasting around 13 minutes, it also means that the bands will have to box clever with their own choice selections as they only have around 7 minutes of playing time thereafter.

Mount Charles were in a different league here last year led by Bryan Hurdley finishing their programme with the choreographed 'Kongolela' and we suspect they'll be tough to beat this time around; Lions Youth & Poynton came in second and third last year and they'll be looking for sweet revenge, and strong representation will be given by Youth Brass 2000, Horbury Voctoria, Northop and Sellers.

4BR Prediction:

We sort of gave it away a little bit didn't we? If the form guide goes according to plan, then we are expecting Mount Charles to be crowned champions on Sunday afternoon. Then again, it wouldn't be the first time we've predicted wrongly but we think with the winners coming from Cornwall, it could be fascinating seeing who takes the other podium prizes on the day with Lions Youth, Poynton, Youth Brass 2000 scrapping it out again for places two and three.

1. Mount Charles
2. Lions Youth
3. Youth Brass 2000
---
County Section:

Bruntwood Theatre
Start: 9.00am
Test Piece: Lydian Pictures, Simon Dobson and own choice programme
Adjudicators: Major Peter Parkes & Goff Richards

Aberystwyth Youth School
Birmingham Schools – Bronze Certificate in County Section, 2005
Bolton Youth – Winners & Gold Certificate in County Section, 2005
Gloucestershire Youth
Gwynedd Mon Senior Youth
Hampshire County Youth
Milton Keynes Inter – Bronze Certificate in County Section, 2005
Oldham Music Centre – Runners-up & Silver Certificate in County Section, 2005
Stockport Schools Senior – Bronze Certificate in County Section, 2005
Wigan Youth

Ten bands compete in the opening section of the day (as opposed to be closing contest last year) with the reigning champions Bolton Youth defending their title. As with the other sections, it promises to be interesting listening with plenty of thought being given to their own choice programmes. Hampshire County Youth return this time around and we're expecting a challenge from them, but we also anticipate that the four bands who come to Manchester from the North West will have a say in where the title goes this year.

4BR Prediction:

Last year we went Oldham, Stockport and Bolton Youth as our top three with Bolton proving us wrong and taking the title. They've been drawn to play last band of the section and that could work in their favour and they may just have enough on the day to take the title once again. Hampshire County and Oldham Music Centre will have different views of course and don't rule out Stockport.

1. Bolton Youth
2. Hampshire County Youth
3. Oldham Music Centre
---
Schools Section:

Bruntwood Theatre
Start: 2.30pm
Test Piece: Partita, Gregson and own choice programme
Adjudicators: John Berryman & Major Peter Parkes

Abraham Darby
Smithills School
Only two bands contesting here as opposed to three last year, but what a fascinating contest this promises to be. The friendship between the respective conductors Chris Wormald & Wayne Ruston will be put on hold whilst the contest is in progress and whoever comes out on top, they'll both be hoping its 3 points for Manchester United later in the day.

Chris Wormald knows all about winning here though. Victories have come in 1996, 98, 2001, 2004 and last year and they're going for the hat-trick this time around.

Wayne Ruston's Abraham Darby are a very competent outfit though and they pushed Smithills very close indeed with both bands picking up Gold Certificates for their performances.

4BR Prediction:

Both schools are proactive when it comes to emailing 4BR with press releases about their latest activities but which band will be sending in that celebratory press release after the contest?

As with the Premier Section, we expect another close call on the day with the Bolton-based school coming out on top when the result is announced.

1. Smithills School
2. Abraham Darby
---
Junior Section:

Haden Freeman Concert Hall
Start:9,30
Test Piece: Own Choice Programme that must include an original work for brass band
Adjudicators: John Roberts & Geoffrey Whitham

Cambourne Youth – Winners & Gold Certificate in Junior Section, 2005
Gwynedd Mon Junior
Macclesfield Youth
Valley Youth- Runners-up & Gold Certificate in Junior Section, 2005
Wardle High – Silver Certificate in Schools Section, 2005

The opening contest in the Haden Freeman Concert Hall sees five bands involved this year instead of nine last; once again it promises to be an interesting contest with the bands having to choose an original work written for brass band in their programmes.
Defending champions Camborne return this year and hopefully they will still have some energy left after joining forces with Brighouse & Rastrick Band the previous evening. Valley Youth Haydock ran Camborne close last year though finishing runners up, and Lee Rigg's Wardle High will as always have something up their sleeves.

4BR Prediction:
We anticipate Camborne to retain their title on Sunday morning with Alan Pope's band doing the business once again. Valley Youth & Wardle for us will fight it out for the other main placing's but Macclesfield & Gwynedd will have a few words to say about the final results.

1. Camborne
2. Valley Youth (Haydock)
3. Wardle
4barsrest Classifieds
Severn Tunnel Band
We are a friendly and welcoming third section band based in the Caldicot area only a short drive from the Severn Bridge,and a...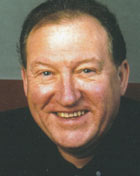 John Maines
BA (Hons)
Presenter, compere and conductor