2006 North American Brass Band Championships - Honors Section retrospective
5-Apr-2006
4BR looks back at the Honors Section where the bands had to tackle Gilbert Vinter's kaliedoscopic Spectrum as well as their own choice selection to take the title.
---
With the 2005 NABBC Honors Champion James Madison University moving up to the Championship Section and two bands, New England and Princeton moving up into this Section for the first time, the Honors Division promised to be one of the most competitive contests at the Championships this year. On a personal note, reviewing this section was very satisfying, having performed this year's test piece, Vinter's "Spectrum", at the NABBA Championships with my own band (Prairie, from Illinois) several years ago.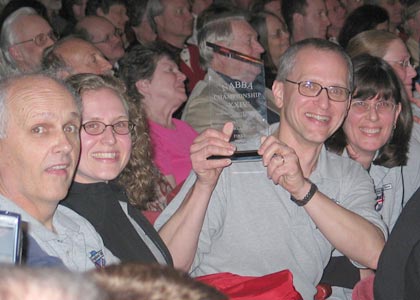 Look what I've won!! Doug Yeo celebrates with New England's Honors Trophy

The contest venue, Robinson Theatre at IUSE, had a decent sound but a very strangely shaped stage, putting the brass players out on a point like the bow of a ship and the percussion some distance away from the conductor. The audience surrounded the band on three sides, which gave a very intimate feeling to the performances. The section draw had newcomer Princeton playing first, Central Ohio (which finished in second place in 2005) second, New England (the 2004 Challenge section champion) third and Cincinnati (the 2003 Honors section champion) playing fourth.
Princeton began the competition with their first performance at the NABBA Championships. They finished in fourth place giving a rather lackluster performance of both of their pieces. Their conductor, Stephen Arthur Allen, conducted without a score which seemed to draw more attention to him and put less attention where it should have been – on the music. He often appeared to be reacting to the music rather than leading the band. In Spectrum, many of his tempi were quite a bit slower than marked which caused the piece to drag on indefinitely.
Vaughan Williams' Variations for Brass Band concluded their program and the ensemble playing was tighter here than in "Spectrum". The fugue section fell nicely into place although at times, the rest of the band drowned the soloists out.
The second band to perform, Central Ohio took third place. They began with a rousing performance of Condon's Festival March – Celebration. This was rhythmically tight playing and the band moved along nicely with conductor Jessica Sneeringer.
"Spectrum" followed but lacked real fire and intensity throughout. There were moments that came together but they didn't occur often enough to feel that they had a complete grasp of the piece. COBB's final choice piece, Graham's "Gaelforce", had some beautiful flugel playing, nice phrasing and a tight ending, but lacked absolute clarity and a consistent tempo.
From first place New England's opening note (an unconventional warm-up featuring a brilliant quintet arrangement of "A Mighty Fortress" and a full band rendition of "Old Hundredth") to the last chord of "Year of the Dragon", they shimmered as an ensemble. While not note perfect, they gave the section's truest rendering of "Spectrum," paying special attention to the tempi, dynamics and articulations (including the 500 plus errata compiled by their conductor, Douglas Yeo).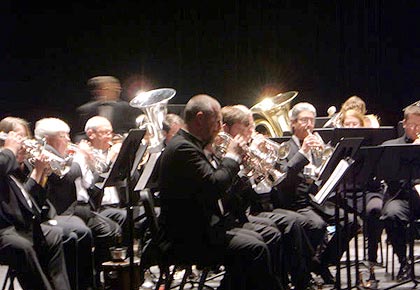 Sparke's of inspiration: New England tackle Year of the Dragon to take top honours

Sparke's "The Year of the Dragon" was their choice piece and is a challenging piece for even Championship Section bands. The beginning and end locked right into place, whilst the second movement trombone solo (Don Lucas) was the most beautiful and lyrical high trombone solo I have ever heard and was supported by the band in a very sensitive manner. Tight euphonium and cornet playing were featured in the finale that engaged the listener straight through to the frenzied coda. It was no surprise when the hall erupted into a tremendous standing ovation.
Second place went to the final band of the day, Cincinnati. Parts of "Spectrum" featured excellent dynamics and tempi, but other sections appeared to have their conductor (Anita Cocker Hunt) trying to get the band to play at a faster tempo with the band simply not following suit.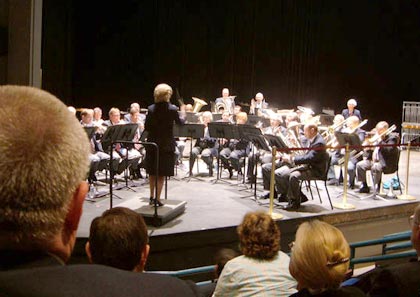 Small lady making a big impression: Cincinnati's Anita Cocker Hunt directs from the front

Their own choice piece, Sparke's "Music for a Festival" was a strong performance of a piece they seemed to know very well. Ironically, this piece was the Challenge Section's test piece from 2005 and it didn't seem up to par with other band's own choice pieces in difficulty. That being said, the band performed this piece very well with unified ensemble and a persuasive interpretation.
It was impressive to see both the difficulty of repertoire and the level of playing in this section continue to rise. No doubt these bands will return next year with even more to prove. As Cincinnati was finishing its performance, I wrote down my own prediction for the finish of the section, which showed me to be of one mind with the judges when the results were announced. Right on!
By Linda Yeo
4barsrest Classifieds
Foss Dyke Band
SOP, 2ND EUPHONIUM AND Bb BASS REQUIRED IN TIME FOR AREA! We are a 2nd section band based in Lincolnshire. We rehearse in our...
NABBA
Date: 10-Mar-2017
Venue: Embassy Theatre and Grand Wayne Center. 125 W. Jefferson Street . Fort Wayne, Indiana 46802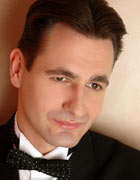 Craig Roberts
BA (Hons), MA
Conductor / Adjudicator