2006 Spring Festival - Senior Cup - Introduction and Predictions
9-May-2006
20 bands will try and bring a bit of harmony to their contesting lives by overcoming Philip Sparke's fiendish work. The succesful quartet will make it a step closer to the British Open.
---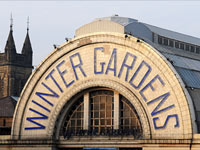 The Senior Cup may have the feel of being one step removed from the touching distance of the British Open that so characterises the Grand Shield, but it is still a contest that is every bit as demanding to win, and usually throws up a musical challenge that certainly sorts the men out from the boys.
This year is no exception with Philip Sparke's great old roller coaster of a piece, 'Harmony Music' which nearly 20 years after it was first used at the National Finals at London still provides the very best bands with an almighty challenge. You have to be a very good band indeed to overcome this particular fiendish mix of lyrical tunes and nasty technical obstacles. Not many may succeed this weekend we think.
As with 'Whitsun Wakes' the obvious challenges are to be found with the immense technical cadenza hoops the horn, cornet and especially euphonium must jump through, but the detailed ensemble work and the need for bands to be able to warm the sound and change their stylistic approach in the more lyrical sections should prove fertile grounds for the judges to really separate out the best from the rest. As we have said, 'Harmony Music' is an ambitious choice for this section, and there could well be more than a few casualties of contesting war on the day. There may well be a fair few 'inharmonious' performances.
There is a strong line up for the contest, although not as strong as the Grand Shield (there are a number of First Section bands on display here). There are three Regional Champions (although only one from the Championship Section), one other London qualifier and the winners of the keenly fought Brass at the Guild Hall contest. Elsewhere the field is made up of the type of bands who can be described as the 'second tier' of Championship contenders at most major contests, but who on their day can more than make their most even against the strongest competitors.
The one Championship Regional winners are Newstead Welfare, who took the Midlands title this year. They will certainly be looking to make it a double celebration, and the same could also go for the runners up at Burton on Trent, Jaguar (Coventry) who will be looking to take a step back towards the Open, where they last played in 2000. Their fellow Midlanders, Kibworth (who were within touching distance of the Open just a couple of years ago) and Glossop Old will also be looking to move up a section.
Wales provides a strong challenge in the form of the somewhat unpredictable talents of BTM and Tongwynlais, both of whom on their day could well take the contest by the scruff of the neck, whilst Scotland also sends a solid trio in the form of Unison Kinneil, Bo'ness and Carriden and the current Scottish First Section champions, Dalmellington.
Yorkshire bands could well fancy their chances too, and the likes of Yorkshire First Section champions, Drighlington, Skelmanthorpe, Knottingly Silver and Lindley all have quality players in their ranks who could shine on a piece such as this. The Red Rose county meanwhile sends some quality bands to contest, all of whom have the added bonus of knowing the stage well. A resurgent Wingates, Pemberton Old Wigan and Dobcross will all fancy their chances of gaining at least a qualification place we are sure.
That just leaves the four bands with the longest distances to travel this weekend, with Alliance Brass keen to repeat last year's triumph if they can at the higher level, Aldbourne keen to repeat last years third place, Bournemouth determined to continue their solid progress here at Blackpool and East Yorkshire Motors Services, equally keen to continue the good form of the Regionals and return quickly back to the Grand Shield.
This has all the promise of a hard fought battle doesn't it, with a test piece that should give any easy options for any of the bands.
Who do we think will win through then?
Of the bands who may have the strongest chances on paper (and we emphasis on paper only) it could well be the likes of Wingates, Dobcross, BTM, Newstead, Dalmellington, Tongwynlais and EYMS that could feature – but in what particular order we are not 100% sure. Others too, such as Skelmanthorpe, Pemberton Old Wigan and Alliance Brass are also worth a punt.
Just like the Grand Shield the relegation battle will also be keenly fought over too, with four bands having to drop through the trap door. The judges may well have an equally difficult job sorting those ones out too.
4BR Prediction:
1. Wingates
2. BTM
3. Dobcross
4. Newstead Welfare
5. Pemberton Old
6. Alliance Brass
Dark Horse: Dalmellington
4barsrest Classifieds
Deepcar Brass Band
Deepcar Brass Band are looking for solo cornets and Bb bass to join their friendly team. We rehearse 7.15pm - 9.15pm Monday a...
NABBA
Date: 10-Mar-2017
Venue: Embassy Theatre and Grand Wayne Center. 125 W. Jefferson Street . Fort Wayne, Indiana 46802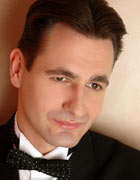 Craig Roberts
BA (Hons), MA
Conductor / Adjudicator