Frozen in time - GUS and All Star Brass circa 1963
15-Aug-2006
4BR has dug up two old photos from the early 1960s of two great bands. But who are the players and what became of them?
---
GUS (Footwear) Band - 1963
With the name of GUS now back on concert and contest programmes following the decision of the Midland based band to return to its most famous name, 4BR thought it would also be the right time to recall the band perhaps at the peak of its powers under the baton of the legendary Stanley Boddington.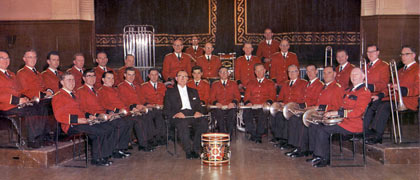 Shoeshine Boys: The GUS Band in 1963 headed by Stanley Boddington.
~ Full size version of picture

The picture comes from the cover of their LP album, the imaginatively titled 'Bandstand No. 6' by EMI Recordings SCX 3455, which was recorded in 1962, in mono.
Featured on the release was the march, 'Pendine by Martyn; Post Horn Polka (Strauss Seymour; Overture 'Masaniello' by Auber; 'Onward Christian Soldiers' arranged by Stanley Boddington; Variations on a Theme (Mermaids Song), Weber arranged Boddington and featuring John Berryman on cornet; 'Brass Band Boogie' by Siebeert; 'The Tops' – cornet quintet by TJ Powell; 'Little Lisa' by Warr; 'Robert the Devil' by Meyerbeer and 'Copacabana' by Stephens.
Harry Mortimer also conducted the band on the release in his capacity as Musical Advisor and the sleeve notes comment "The GUS (Footwear) Band is still right in the front rank of British Brass Bands." It further adds; 'The Band specializes in concert work and its tonal quality and executive ability are outstanding features.'
The recording was the sixth in the 'Bandstand Series' (they went on to record a total of 10) and was recorded just after the band had won the Midland Regional Championship and had returned from tours in both Holland and Denmark. Two years previously they had won the Nationals and were to do so again two years later in 1964.
The line up includes many a famous face, including John Berryman on principal cornet, David Read on bumper up, Lloyd Landry on tutti cornet as well as the great Emlyn Bryant on soprano. Others though may not be so well known, or what became of them.
Can anyone enlighten us?


Harry Mortimer's All Star Brass – 1963
Much is made today of the stars of the brass band movement and the occasions they team up to help good causes such as Brass Band Aid.
These 'All Star Bands' though are nothing new and as this frozen in time picture recalls, even back in 1963 players got together to showcase their talents, although it may have been for a few bob instead of helping alleviate poverty in Africa.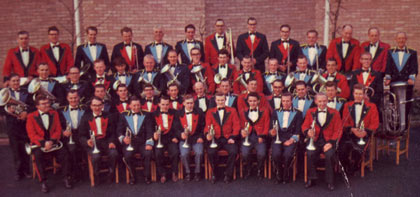 All smile please: The combined forces of the 1963 All Star Band
~ Full size version of picture

Harry Mortimer's 'All Star Brass' was a friendly collection of players from bands the great impresario had a connection to during the 1960s and early 1970s. For this recording on the EMI Label (EMI SCX 3484) there is no indication of where the players come from, but a good guess would be Fairey's, GUS and Fodens.
The pieces chosen were lightweight and easy listening and for this recording included 'Hungarian March' (Berlioz); 'Tyrolean Tubas' (Clark); Overture 'Pique Dame' (Suppe); 'Waltzing Trumpets' (Stephens) – a cornet trio, but no names ever given to who played it; 'Prelude to Revelry' (Jacob); 'Le Pere le Victoire' (Garne); 'Marching with Sullivan on Parade' (Hellyer); 'Sleigh Ride' (Anderson); 'The Headless Horsemen (Goodwin); 'Kenilworth Suite' (Bliss); 'Trumpet Fiesta' (Phillips); 'Evening Hymn and Last Post' (Tulip).
They certainly don't make records like this any more (and possibly a good job as some of the playing is awful), but judging by the picture taken at the recording and used on the cover of the record, everyone seemed to be having a great time of it, including John Berryman who appears to have forgotten his black band trousers!
Can anyone come up with the names to the faces though and what became of some of them?

4barsrest Classifieds
Stannington Brass Band
Stannington Brass Band, Sheffield. 2nd Section National Champions, and now 1st section. Ambitious, sociable band. MD Derek Re...
Unibrass 2017
Date: 18-Feb-2017
Venue: King's Rd, Harrogate HG1 5LA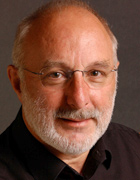 Kevin Wadsworth

Conductor, adjudicator, teacher (ABBA)