2006 National Championships - Postcard from Albert
31-Oct-2006
There is no place quite like London and the Royal Albert Hall - it just reeks of the smell of something. But what?
---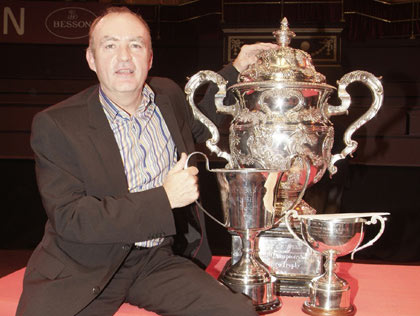 Mine... All Mine! Allan Withington enjoys his fifth National title
Picture: John Stirzaker

The Royal Albert Hall remains the last true mecca for the brass band fraternity, even though it can never be said it has had the sweat and cigarette ambience of Belle Vue, the damp and stale beer odour of Pontins or the rather clinical shopping mall experience that permeates the nostrils when you visit Symphony Hall.
No. The Royal Albert Hall smells of money (although not when it comes to the prizes it doesn't). Ever since it has had its revamp a few years ago (not much change out of £30 million by all accounts) that distinctive sniff of things that cost a bit more than they should fills every nook and cranny of the place. The staff have a snootiness that manifests itself when they see you baulk at paying £3.50 for a bottle of beer, the small boxes of the loggia come with a curtain last seen in a episode of Mr Benn and you leave after the visit to the place lighter in the pocket than if you just spent two hours playing poker in a dodgy strip club in Soho.
When its really buzzing though there is no other place like it, and on Saturday there was perhaps the first signs in quite a while that the good old days when bandsmen queued up and down Kensington High Street looking for a spare ticket may be returning. Not quite there yet, but the signs were certainly positive this year.
Much of that may be down to the choice of the test piece, which certainly proved to be popular. It is also led to the rather rare sight in a modern brass band contest of less fancied bands playing to a rather fuller hall than they would usually expect. There were a couple of times during the day when the numbers did fall away, but the introduction of a comfort break half way (a good idea that should be kept) allied to a test piece that was only 12 or so minutes long and a draw that sprinkled the fancied bands throughout the contest (something that cannot be kept, but may be helped by a form of segmented pre draw) meant that most of the time the old place was over half full – and that means around 3,000 people with their bums on seats.
That in itself doesn't make this old version of 'Les Francs Juges' a good piece of brass band music, but it did make it a good test piece with its emphasis on the basics of brass band playing making life difficult for nearly everyone on stage and certainly for a high quota of soprano players. Not so Bert van Thienen who once again showed just what a fine exponent of the art he is by taking the Best Soloist Award and a one grand coupon towards a new instrument from Besson. The organisers can congratulate themselves, and so too the Music Panel, for it was a risky choice that came off, but if we are to have such pieces used again then perhaps it would be better still if they are brought up to date in a new arrangement.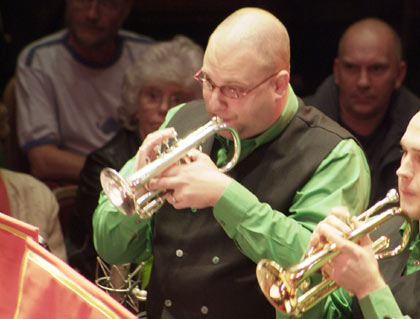 Impressing the judges on Judges: Bert van Thienen takes the soloist award
Picture: John Stirzaker

Talking of a new arrangement, the study score price of £5.00 for a reduced sized photocopy of the original brass band score from 1961 was still not real value for money. No one can tell us that there wasn't a very healthy profit in printing this in the way they did. It was easy enough to follow, although for the first band Newstead Welfare the lights in the auditorium were kept down making it impossible to see before thankfully, the hall management realised their mistake and someone put 50p in the meter in time for band number 2.
The piece itself did test the bands, especially their ability to master the basics. Allan Withington told 4BR that it was "the hardest easy piece he has ever had to conduct" and that tells you a great deal. That some MDs couldn't tell that their performances were sounding in compound time at the start and in the main theme was a bit of a revelation. Bands may have improved technically beyond anything the bands of 1961 could imagine, but musically there is a case to suggest that they may have gone backwards.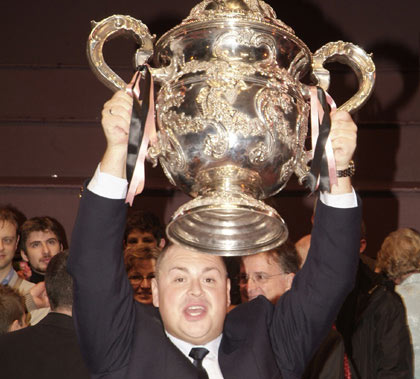 More and more for Morley: Grimethorpe's bass star picks up the old pot for a sixth time
Picture: John Stirzaker

It was also nice to see Besson make a return to the championships although they were taking a bit of a punt with the slogan 'The Legend lives On', which given the need for them to show that their eagerly awaited new set of instruments is much better than the sub standard fare that was produced under the name before they went belly up is putting their necks on the line. Talking of legends though, the Grimethorpe bass end produced a legendary sound in providing the foundation for their success with Dean Morley celebrating his sixth National title in the process. Some player, some bass team.
There is a great deal of affection for the Besson brand and if they can once again show a real commitment to quality and to supporting these championships the future for both the contest and the instrument makers looks bright. By all accounts they are certainly putting their money where their mouth is and the post contest bash at the plush London Garden Hotel for their staff and guests was very classy.
The contest itself was well run and slickly presented (Kapitol taking on board it seems the lessons of Harrogate). The good idea of asking the reigning champions to play a short concert prior to the announcement of the results nearly worked too. Both IP Brass and Leyland were well drilled and rehearsed, but the programmes were far too similar and if truth be told we could have really done without one or the other.
For the bands themselves the hall is still unable to provide a suitable warm up area, and it is a little unfair to ask players to try and make their first entry marked pianissimo after making their way from back stage. What about the introduction of a two minute warm up for each band, before Peter Bates (who did a fine job) comes on to inform the judges and the audience (who in some cases were still to take their seats before some bands started to play) that the band are ready?
The judges too had a good day, helped we think by the decision to move the box closer to the stage, and although they didn't speak to the audience before the announcement of the results, they did take the time to speak with the media representatives and any player or conductor who wished to find out more from them on the stage.
The complaints about the demise of the Gala Concert can also be put into some sort of perspective too, with the successful hosting of the pre and post contest concerts at Regents' Hall featuring Fodens Richardson and YBS. There is an audience for these events, and holding them at a venue that can accommodate them and create a sense of it being an occasion that has value (making demand for tickets a premium) should be encouraged. A Gala Concert even with the Albert Hall half full no longer has that much of an appeal each year – perhaps every three years or so, but not year in year out.
All in all the London National Finals were a fine event this year and congratulations should go to Kapitol Promotions for sticking their necks on the line. They can take the plaudits and this year it was well deserved. Lets hope the trend continues for more years to come.
Iwan Fox
4barsrest Classifieds
Deepcar Brass Band
Deepcar Brass Band are looking for solo cornets and Bb bass to join their friendly team. We rehearse 7.15pm - 9.15pm Monday a...
NABBA
Date: 10-Mar-2017
Venue: Embassy Theatre and Grand Wayne Center. 125 W. Jefferson Street . Fort Wayne, Indiana 46802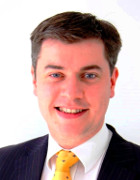 Darren R. Hawken
PGdip, BMus(hons) PGCE, dipABRSM, LRSM
Conductor, Arranger, Teacher, Adjudicator, Band Trainer