2006 Brass in Concert Championship - Introduction and Prediction
14-Nov-2006
Brass in Concert may be 30 years old this year, but there is no sign of middle age spread as 12 top bands come to The Sage to see if they can impress the judges and win loads of dosh.
---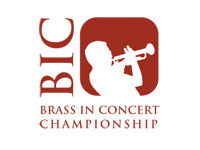 2006 Brass in Concert
The Sage, Gateshead
Sunday 19th November
The Sage, Gateshead,
0191 443 4661 (Box Office)
Commences: 9.30am
Is it really the big 30 for Brass in Concert this year? It most certainly is. Having first been held in 1977, it's testament to the organisers and the competing bands that it is still the number one premier entertainment contest in the brass band world.
It started life when the Granada Band of the Year was the premier showcase to the wider world of what banding had to offer, but with the television moguls tiring of our product BiC superseded it in 1987 as that died a death. Some twenty years later it has reinvented itself more times than Madonna – the last in 2005 with its spectacular change of venue to the banks of the River Tyne and the great big silver pupae of The Sage. It now has a brilliant venue to match its brilliant product and if such an 'old fashioned' concept as 'Come Dancing' can get a recall to the television, it makes you wonder why not a brass band entertainment contest.

The move to the anthropomorphic venue has paid dividends, with excellent facilities for the bands, whilst the venue gives the opportunity for increased audiences to sit in comfort as well as enjoy the delights of an extended 'comfort break' with a fine view down the river towards the impressive Millennium Bridge.

Spank the Monkey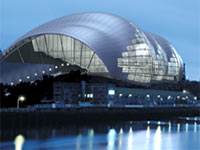 If any of them do fancy a more substantial break away from the bands then they can take a short walk and visit the Baltic Flour Mill where this year they can enjoy the delights of the contemporary 'Spank the Monkey' exhibition which features talking television sets, up turned lorries and a portrait by the urban graffiti artist Banksy. They will soon return.

That said though, BiC audiences do tend to listen all day, because what they get is a great variety of entertainment, although defining the word 'entertainment' at a brass band contest these days is a never ending debate. In the early years we did tend to get our fair share of the 'slapstick' and there was a real danger in the late 1990s that the visual element of the contest was becoming more important than the musical one. Thankfully, Dr Roy Newsome with the wisdom of a latter day Solomon decreed that things should change for the better and the bands to their credit, did listen. Out went the dancing elephants and in came a more sophisticated approach to making people sit up and take notice.
The contest has benefited enormously ever since, although we do sometimes have the occasional throwback to less PC times.

In addition to the move to the new venue, the organisers, Paul and Jacqueline Beere have taken the opportunity to incorporate new ideas with the support of the sponsors not just into the contest, but into the whole weekend.

Gala Concert

The introduction of a Gala Concert on the Saturday Night has been one such move, and although last year it rather became a run out for the two bands to preview their programmes for the next day this year we have got two of the world's great show bands in reigning champions Grimethorpe and the all American razzmatazz of the Brass Band of Central Florida. What both will bring to the concert stage is something interesting and entertaining for certain and it should prove to be a superb aperitif to the main course on Sunday.

Brass and Percussion workshop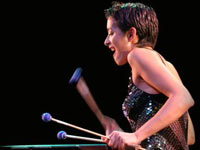 The incorporation of a Brass and Percussion Focus really has to be applauded too and has created plenty of interest. Sponsored by the Shaw Trust and Gateshead Council, this is an opportunity for aspiring musicians to receive tuition, encouragement and inspiration from the likes of Chris Bentham, Nigel Boddice, Alan Morrison, Simone Rebello and one of all the all-time legends of the euphonium, Geoffrey Whitham.

The emphasis is on enjoyment and fun, and with taster sessions as well for anyone who has never even played a brass or percussion instrument, all areas are covered. If you know of someone who has an interest and they can get to Gateshead, encourage them to go.

At 3.00pm on Saturday afternoon, there will be a historical presentation from the father figure of the banding movement, Dr Roy Newsome. Dr Newsome has maintained his association with the event since its inception and remains its Musical Advisor. It promises to be a fascinating insight into BiC going back to 1977, a year when Elvis left the building for the last time, Red Rum won the Grand National and Black Dyke did the Open and National double. Brighouse meanwhile became the highest profile brass band entertainers ever by hitting the pop charts with the Floral Dance – yes it was that long ago.
Best Bands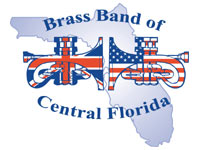 So what about 2006? Well it certainly promises to be a great contest weekend.
The invitation to the recent US Open winners Brass Band of Central Florida to the event has to be applauded and to be very sure, these are no makeweights.
BiC has taken a policy step to showcase the best bands in the world here, and as has been seen in the past with entrants such as the Stavanger and Manger Bands from Norway it is a policy that has worked and worked well. Some die in the wool traditionalists make baulk at the thought of 'one of our own' missing out, but to be perfectly honest, there isn't much of a case to put forward to suggest that any real top class entertainment ensemble is being denied.

This is now a contest with very ambitious horizons and the plaudits must go to Paul and Jacqueline Beere who took up the suggestion from Trevor Caffull of World of Brass to invite them over. They are certainly set to entertain and are performing in concert venues prior to arriving in the North East and are set to record a CD.
It means twelve bands appear here for the first time since 2000 but everything is anticipated to be concluded by 7.30pm. A pre draw was made to help the bands in their preparation for the event and as a result it will be the reigning Butlins Mineworkers Champion PolySteel who will kick off the 2006 contest.

The Bands

The running order for the day is Polysteel, Reg Vardy, Fodens (Richardson), Brighouse & Rastrick, Mount Charles, The Fairey Band, Scottish Co-op, Brass Band of Central Florida, Leyland, Grimethorpe Colliery (UK Coal), Whitburn and Sellers International.
That's a fine line up of bands, with the National Champions, US Open Champions, English Nationals, Butlins and Troon winners vying for glory with the Regionals winners of the West of England, North West and Scotland. The rest ain't bad either.
The entertainment factor - worth 60 points to add to the possible 200 for performance - and one that can effect have a direct effect on the result will this year be judged by Kevin Wadsworth and LT Col Chris Davis - two experienced heads who we think will put musical intelligence ahead of music hall antics.
Soloists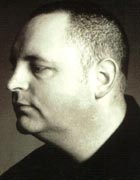 The soloists meanwhile will really have to impress with Martin Winter being the man who decides this year who will take that particular prize, whilst the musical content will be under the scrutiny of Nigel Boddice and Geoffrey Whitham – it will be an enjoyable day for all of the judges but it hopefully won't be too easy for them.

There are plenty of prizes on offer, from a trophy for the youngest player on the day to one for the best new arrangement or composition, best performance of a March and one for the neatest package of musical scores and notes. Nobody leaves empty handed.

Once again the weekend will be financially supported by SP&S Ltd and the Trade Unions, without whose help this event really would struggle and as with last year a DVD of the weekend's highlights is anticipated. The whole thing will be fronted as always by Frank Renton – no doubt he'll be on tiptop form with his usual encyclopedia of musical facts on the arrangers and composers, not forgetting a few topical gags.

Lets hope it's a cracking day and it all starts at 9.30am!
4BR Prediction:

As we have said time and time again - entertainment contests are notoriously hard to predict accurately as on their day as they'll all be looking for that 'X' Factor to impress the judges.

The quality of the programmes and overall standard of playing has improved and as always you can expect touches of innovation and perhaps a few that will make you cringe.

There will be some brilliant solo playing that will entertain the audience and some arrangements and compositions that will do the same, whilst if there's any amateur dramatics it will have to be tastefully done of course instead of being done just for the sake of being cheesy.
It promises to be an interesting contest with Grimethorpe going for six on the trot and still the band to beat. Steven Mead makes his debut as a conductor this year and what a debut it promises to be, especially as he has one heck of a form book to maintain. He won't be too fazed though we think and even without the usual Sandy Smith input we think they could well have a few aces still left up their purple shirt sleeves.
Brighouse will certainly be up for the challenge and will be keen to impress just as much as they did last year now that they have Richard Evans at the helm, whilst Fodens are a band that can just about play anyone off the stage. Leyland have already shown glimpses of what they may have in store for us this weekend, whilst Fairey may have gone through a few changes of late, but should still prove to be stern contenders.

PolySteel and Whitburn will surely be armed to the teeth with sparkling new arrangements from their talented MDs, whilst Mount Charles usually bring something a bit different to the proceedings to catch the eye. Sellers can always be relied on to do something out of the ordinary and Reg Vardy will be keen to put a disappointing season behind them by showing the type of form that has made them strong contenders here in the past few years.

Scottish Co-op have been on good form all year and will be keen to put the mishaps that blighted their National challenger behind them and hopefully there will be a packed hall to witness the invasion of good 'ol American razzle dazzle form Brass Band of Central Florida.

It promises to be a great contest – and a closer one this year than ever before. It's still Grimethorpe for us though as they are riding high at present and they will be chock full of confidence. Fodens should be able to push them close of they really hit their straps with Brighouse close behind. Behind them we go for Leyland who seem slick and professional in all that they do, Sellers International if they can just click and the Americans. Fairey are our dark horses.

4BR Prediction:
1. Grimethorpe Colliery (UK Coal)
2. Fodens Richardson
3. Brighouse & Rastrick
4. Leyland
5. Sellers International
6. Brass Band of Central Florida

Dark Horse: Fairey
4barsrest Classifieds
Swindon Brass
We are a friendly and active 3rd section band in Swindon with a couple of seats available for Cornet, position flexible, but ...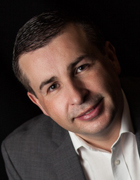 Mark Wilkinson

Cornet Soloist, Teacher, Adjudicator, Conductor