2007 Scottish Regional Championship - Fourth Section retrospective
16-Mar-2007
The Fourth Section promised much for the listener after the first performance of the day, but it didn't really bear fruit, although the winners delivered a fine effort.
---
The signs were good in the Fourth Section when Buckhaven and Methil took to the stage to play Philip Wilby's 'The Seasons'.

However, the section was to prove disappointing to the listener, with only the Fife band, drawn first under Bob MacDonald, making a real fist of it. Brian McCabe, on solo horn, was the outstanding player in the band and he picked up the best soloists award for his fine effort.

Overall, Buckhaven put in a good show, with excellent direction and control around the band. A repeat performance in Harrogate will give the band a good chance of success.

We were a bit disappointed with Dundee Instrumental (St. Margaret's), but the judges, Kevin Wadsworth and Richard Evans, liked them enough to give it second place. For us, there was a lot of uncertainty in the ensemble and it lacked a bit of poise, although much of it was well played, with an excellent solo horn player.

Renfrew Burgh got off to a promising start, but tuning and ensemble problems later detracted from what was an excellent attempt stylistically. They will be disappointed with third, but there were enough problems to justify the result.

Queensferry Community Brass displayed excellent soloists throughout the performance, but poor intonation in places and quite a harsh approach to the sound, especially in the cornets, detracted from what could have been a good show.

Stylistically, Brass Sounds Inverclyde may have been closest to Professor Wilby's wishes, and much of the piece was well played. However, nervousness, intonation and a few slips proved costly and the fifth place awarded was no great surprise.

Taking up the final place in the Fourth Section, Penicuik Silver was particularly disappointing under Terry Johns. A classy solo cornet player and good balance were the band's best features, but the music threatened to grind to a halt in places, giving the judges no choice but to place it sixth.

Overall, there were a lot of liberties taken with the music and the general standard in the 4th Section was disappointing. Despite Buckhaven's good show, there are worrying signs for the 4th Section with only six bands in the line-up and not a great deal of youth on display.

Kenneth Crookston
4barsrest Classifieds
Coleshill Town Band
Coleshill Town Band (4th section) are looking for an enthusiastic conductor to continue the development of this friendly, suc...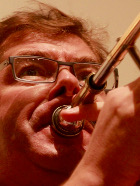 Nicholas B. Hudson
FTCL LGSMD (Hons)
Musician | Trombonist | Educator