2007 Welsh Regional Championship - Third Section retrospective
20-Mar-2007
There were just the seven bands taking to the stage for the Third Section contest on the Saturday, but even though they were short on numbers, the overall standard of playing was pretty high.
---
Bang on 11.30am Porthaethwy Menai Bridge under Chris Williams roused the audience with their rendition of the National Anthem (the Welsh one not the English version) before launching into a cracking performance of the set work 'Prelude and Jubilate' by Darrol Barry.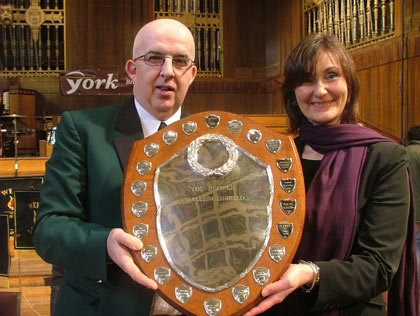 Be my strength and Shield: Llwydcoed's rep enjoys the winning moment - again

It was a fine marker too for adjudicator Geoffrey Whitham to use for the rest of the contest and he spoke in glowing terms about the standard of the performances he had heard before the announcement of the results - although he can be forgiven for hoping that the English rugby team would play as well in the afternoon's international in Cardiff (they didn't thankfully).
Geoff was aware that at this level there were a lot of younger players, and so he was not going to slag then off – a direct and honest assessment that was appreciated by both the bands and the listeners in the hall. It was still a tricky piece though he said that was not easy. The main problem was tuning but that could be sorted out he felt with growing experience, whilst there was also a need for the players to support the air column more in exposed solos – again something that would come with contest experience.
The standard was very good, especially with the first two bands he commented. Geoff knew the piece well as his own son played in the section in Yorkshire and he felt encouraged by what he had heard from all the bands.
It was a very precise and accurate synopsis, much appreciated, even though he could not be forgiven for wanting England to win at rugby!
The winning performance on the day came from Llwydcoed conducted with a great deal of intelligence by Alan Davies, who has done so much in revitalising the band in the past couple of years.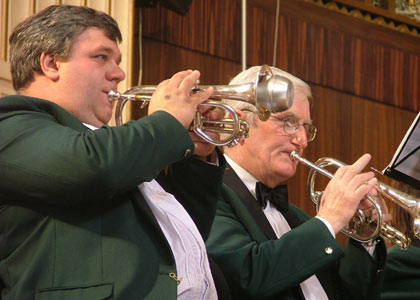 Heading straight for Harrogate: Llwydcoed are on their way again

These are really great times for the band from Aberdare and their performance was notable for the security and intonation in the main solo lines in the difficult opening 'Prelude' and the neat technique and sense of vibrancy in the up tempo 'Jubilate'. It just got a little bit on edge towards the end as the pulse rates went up around the stands but overall it was a fine strong show which we had as 3rd – although they won't care about that now will they?
They have now done the double here in the past two years – winning the Fourth Section last year, and they will head to Harrogate as a band to watch out for.
Following them there will be Porthaethwy Menai Bridge, who we at 4BR must apologise to for getting mixed up with another band from over the border in our preview (a terrible sin!).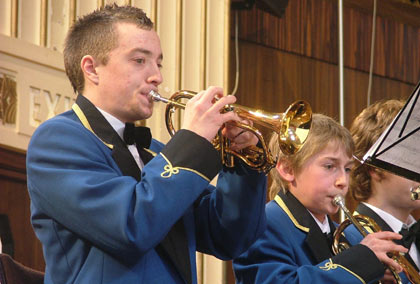 Youthful vigour: Menai Bridge make it Harrogate

That bold rendition of the anthem really gave the chance to settle their nerves and MD Chris Williams allowed his band plenty of time and space in the opening 'Prelude' which featured a cracking soprano player and held a great deal of promise for the 'Jubilate'.
It just didn't quite come off as they hoped, although once more the unobtrusive direction from the middle was exemplary and the players responded in kind, with a fine cornet solo a feature. It just got a touch scrappy to end but it was a fine performance that we had in the runners up spot too.
The one band to miss out was Goodwick Brass conducted by Gareth Ritter who for us was the one performance that really captured the sense of anticipation in the 'Prelude' and then delivered a fun packed and colourful 'Jubilate' that was neat and very precise from beginning to end.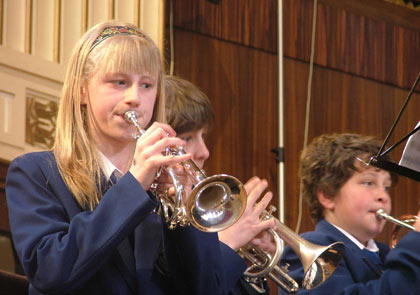 Soprano star: Goodwick's 13 year old soprano star plays her part

Perhaps they just lacked the depth of sound of their two rivals but overall it was a fine showing from such a young band and who had a cracking 13 year old girl called Ffion Haf Williams on soprano who produced a true sweet and tuneful sound that was a real joy to listen to. They can count themselves a touch unlucky. We had them as our winners.
Behind Goodwick came four decent performances from Ogmore Valley conducted by Ivor Barnett, Harlech Silver directed by Chris Evans, Blaenavon Town led by Andrew Jones and Severn Tunnel directed by Shaun Crawford.
All of them had their difficulties it must be said – especially in the opening 'Prelude' with the problems gaining security in the intonation between the soprano and the horn in the opening bars in particular. After that it was also a question of consistency in the 'Jubilate' too where inexperience and perhaps a little bit of misplaced ambition cost points.
Ogmore Valley took time to settle, but thereafter had moments in both sections of the piece that were very good, whilst others were not too clever.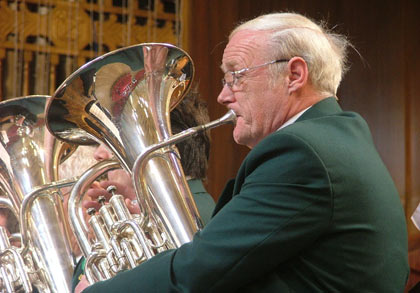 Battling it out: Ogmore Valley claim 4th place

A brave solo cornet player showed real promise in the 'Jubilate' and even though it did lack that consistency there were promising signs on show for the band to work on.
So too Harlech who overcame some player shortages (only 3 on the top end and 2 troms) and a long old wait for the percussion team to get ready – all with smiles on their faces.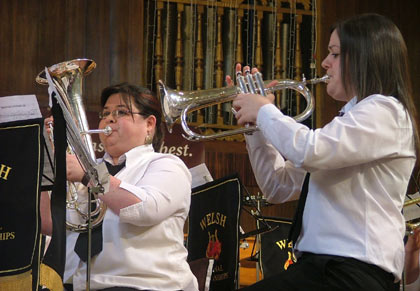 Power horns: Harlech's horn section pipe it out

Once it got going it too just struggled to find its feet, but a fine flugel and horn was a feature and the percussion redeemed themselves in the second movement in full. It wasn't a bad show by any means and there was plenty for them to work on for the coming season.
Blaenavon meanwhile recovered well after an untuneful few opening bars and it seemed to be on course for a high finish. However, excitement got the better of them in the 'Jubilate' and it set off at a tempo that resulted in plenty of excitement but also lots of unforced errors too. They did have the best solo cornet player of the day on show, but that dash for the end may have cost them some valuable points.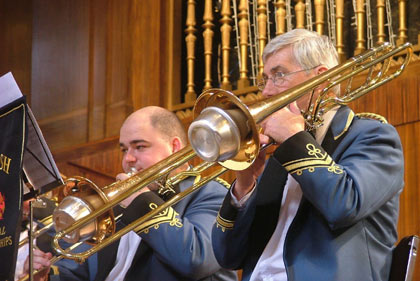 Troms to the fore: Blaenavon make it into 6th spot

There is a good band in the making here although we will draw a veil over the decision to bring a sheep onto the stage with them as a mascot. The rumours are not true – especially as they are 4BR's hometown band!
Finally, Severn Tunnel who with a young band put in a brave account of a difficult work. With the back row sat in the front and the soprano hid away a little in the back it took a bit of time to settle, but after that the sensible direction of the MD Stewart Crawford allowed him to make the most of his resources. It was a bit of a rhythmic struggle in the 'Jubilate' but overall there were more plus points than minus ones on display.

A pretty good contest then with three bands that really did make the most of the work – even if we just felt the one that did the most lost out. Both Llwydcoed and Portheathwy Menai Bridge though deserved their trip to Harrogate, although both will know that they will have to play to the very top of their form if they are to make a mark there later in the year.
Iwan Fox.
4barsrest Classifieds
Burnham and Highbridge Band
Burnham and Highbridge Band are in search of an enthusiastic Musical Director.. . We are a non contesting band, however looki...
NABBA
Date: 10-Mar-2017
Venue: Embassy Theatre and Grand Wayne Center. 125 W. Jefferson Street . Fort Wayne, Indiana 46802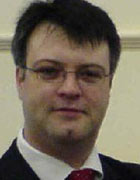 Gary Davies

Conductor, Band Trainer, Adjudicator