2007 London & Southern Counties Regional Championship - Fourth Section retrospective
22-Mar-2007
It may have been a marathon, but even with 23 bands to listen too, it was an enjoyable one all the same.
---
Over the past three weekends, adjudicator Steve Pritchard-Jones has heard 57 performances of Philip Wilby's Fourth Section work, 'The Seasons'.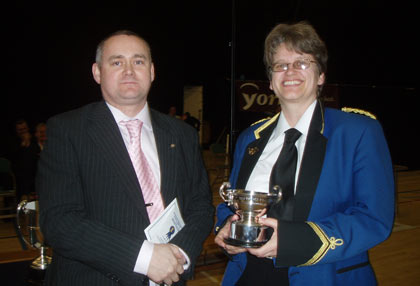 Thanks Steve! Chalgrove's rep takes the first prize and the trip to Harrogate

When he came out of the box after a six-and-a-half hours and quipped 'Whether it was still 2007?' the audience may have chuckled, but they sat back and listened to what he had to say as they knew that it would be informative and positive.
It was reassuring to Steve though that, '...every band had the same problem in every movement' as he'd heard previously. This was a work that certainly tested the Fourth Section bands.
The contest itself was proof if ever it was needed that lower section banding in the London & Southern Counties Region is thriving. 23 bands took part and whilst some went on stage without a full compliment of players and in the knowledge that they probably wouldn't qualify for the finals, they played as if their lives depended upon it and wanted to be part of the weekend. It was great to both see and hear.
The bands themselves will be all the better for taking on the challenge of the test piece. In truth, Steve Pritchard-Jones didn't have any problems finding three bands that would represent the region at the finals in September, nor the other podium places, or the bands that finished towards the bottom end. The real challenge was getting the bands that were in the middle in the right order.
Wilby's piece is an excellent work that really tested the bands at this level. The opening movement (Turn of the Leaf) caused untold problems for everyone and the message from the judge was constructive, yet clear: 'Listen to one another and play as a team, follow the conductor, play musically, play in tune, play balanced and play all the note lengths the same'. Too many bands didn't do this unfortunately, but those that did were rewarded for their efforts.
The second movement (The Waltz) was taken a little under tempo and this proved to be significant once again. The horn players coped magnificently well under the pressure in this movement. Yes, some did better than others, but they all gave it a go.
The third movement – entitled 'High Summer' and in the style of march caused far too many problems than it really should have done. There were intonation problems, too many relaxed and thought the march section would be the easy bit, whilst some MDs must have thought they had a top tier band in front of them and could romp through it.
In the end, the standard was a bit of a mixed bag. As with other sections, if bands had been more consistent in their playing, they'd have been clearly rewarded for their performances.
Four of the top six prize winners came in the last six bands to play on the day.
The winners, Chalgrove, drew 22 and were a class act. Yes, they had moments of uncertainty like everyone else, but they were able to overcome those and carry on regardless by pulling the music out of the score.
Their opening section was in the appropriate mood of reflection, whilst the waltz was in the right style with some fine horn playing and the march was taken with enough authority to make the music come alive.
Prior to Chalgrove the winners for Steve Pritchard-Jones were Great Yarmouth Brass from the number 9 draw. What was impressive about their performance though was they kept things simple with nice dynamics and were able to produce a musical interpretation that had impact throughout – they survived the wobbles and got on with it and never gave in.
In third place were our 4BR pre-contest favourites, Hungerford Town who played the very last band on.
This was a quality show that along with Chalgrove stood head and shoulders above most of what had gone before it on the day. The quality of sound was prominent from the opening bars and having overcome one or two scary moments in the first section, they never really looked back. The horn soloist showed so much self assurance and the waltz section was one of the best of the whole day, whilst the march was steady but tight. We thought they could have just pipped Chalgrove at the post but they'll have been delighted to be going back to Harrogate in the autumn and probably back in the Third Section next year too.
Jubilee Brass (Oxford) finished 4th and they were one of a handful of bands who can consider themselves a touch unlucky not to have finished higher to have claimed one of those coveted finals placing – on another day it could have been so different.
Overall they didn't quite have that polished finish to the performance that Hungerford and Chalgrove had – the errors were there, but like other bands that featured at the top end, they didn't let them become an issue and got on with it to produce a performance of real merit.
For Kings Lynn we could easily refer to Jubilee above. The band played just before Chalgrove and Hungerford and after they'd played they were actually in a top three spot and heading for Harrogate only to be pushed out by those last two bands. What impressed was the quality of the sound and the way the MD kept things simple, fairly tight and a nice style in each movement.
Tabley impressed us too. Ok, it didn't have the quality of the top three but it was totally committed and the MD's approach worked. It was just a real shame that some of the solo lines weren't as solid as they could've bee, but it was a commendable effort that was worthy of a top six place.
Outside the top six there were a fair number of bands who could go home with their heads held very high after some impressive performances that just needed that essential consistency to find ultimate favour with Steve Pritchard-Jones.
Charles Church Camberley played in the first third of the draw and in fact was in the lead until Great Yarmouth took to the stage. The second and final movements were impressive but the opening section didn't come off for them.
Wantage Silver 'B' had the star of the weekend for this reviewer – 13 year old, Sam Chapman, the band's Principal Cornet. Sam played like his life depended on it and with a real sense of style and authority as well. It was so musical and he enhanced his band's performance enormously from the first notes till the last.
Harwich RBL, Royston, Watford and Battle Town came 9th-12th respectively and with the exception of Watford (who'll we'll come too) like the bands who finished just outside the top six, didn't quite have enough quality on the day.
Harwich RBL took to long to settle for ourselves by which time any chance of a top three place was unlikely, but they did produce an effect waltz movement. Royston meanwhile was a mixed bag, some good moments and some ineffective ones, and if those hadn't been present, they could have been much further up than 11th where they finished.
Watford for us was a band had done enough to sneak into a top six place and in fact unfortunate not to be going to Harrogate. It wasn't without its uncertain moments though, but the music did come through and a nice sound well directed from the middle. Chalgrove and Hungerford produced stronger performances, but along with Great Yarmouth they really made an impression on us. It was the one performance that raised our eyebrows when we looked at the full listing of results.
Battle Town was similar to Harwich and Royston - they just needed that little more consistency throughout to make a real impact, but they did have good soprano and repiano players who caught our ears.
From Letchworth in 13th place down to Broseley in 18th position were bands that gave spirited performances that were very commendable whilst the final five bands were more than stretched somewhat with the challenges of the piece.
Letchworth, Bletchington and Amersham all opted for the cautious but steady approach that never really came off on the day particularly in the final two sections, although each showed plenty of potential. Newmarket Town had some delightful moments (the waltz) but struggled elsewhere with the style and the dynamics and the same can be really said for Pangbourne and Broseley MK.
The final five bands can't be praised enough for competing. Here was a mixture of bands without a full compliment of players be it, the principal cornet, a full bass or trombone section, and the music challenged them to their limits.
Hopefully they'll have gone home, not too down-hearted but you can't help wonder what sort of impact finishing near the bottom of the lowest section can have on morale and spirit. It's perhaps in this section where the re-grading could be looked at to help the bands.
Wolverton, Haslemere, Oxford Templars Brass, Loddon and Crystal Palace 'B' showed so much character to compete and if they can take on board the things that Steve Pritchard-Jones talked openly about in his summarisation before the results then they will continue to progress in an upward direction. They showed every bit of commitment and character in their performances as the winners, and although the standard was markedly less impressive you just had to take your hat of to the players and the MDs.
That spoke volumes about this contest – great commitment and character and plenty of fine playing. It may have been a marathon, but it was a very enjoyable one nonetheless.
Malcolm Wood
4barsrest Classifieds
Blackpool Brass
Friendly and ambitious 2nd Section band requires solo euph,Bb bass and percussion to fill the few empty seats we have. Rehear...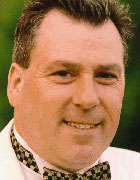 David Hirst
MA, B.Ed (Hons), LTCL
Conductor, adjudicator and arranger