2007 National Youth Brass Band Championships - Community Championship retrospective
2-May-2007
Is there something in the water in Cornwall as Camborne once again show their rivals just how good they are.
---
The British Federation of Brass Bands (BFBB), which organises the National Youth Championships, was able to take advantage of Markus Bach's presence in the UK to organise his final European Championships, and he, along with Roy Newsome, was charged with the difficult task of judging the 14 competing bands in the Community Section, all of which had to include Dr. Newsome's Scenes du Lac as part of their programme.

An enjoyable and accessible work, 'Scenes du Lac' provided a suitable test for the bands in this section, although both the adjudicators were quick to point out during their pre-result summing up that the conductors could have, in many cases, made the young players' tasks easier by remaining faithful to the instructions in the score. In Markus Bach's case, the message to the conductors was very clear, instructing them, after congratulating the players on their efforts and obvious talent, to "go and get some conducting lessons." Although he made a fairly valid point in relation to some of the performances, seldom can such a message have been delivered in such plain language.

However, Herr Bach certainly wasn't talking about Alan Pope, conductor of the remarkable Camborne Youth Band, which took a deserved victory following a slickly presented and musically satisfying programme. Opening with Alan Morrison's 'Fanfare for Camborne', the band went straight into 'All That Jazz' from the musical, 'Chicago'. These were followed by a terrifically committed performance of Puccini's 'Nessun Dorma' from the band's outstanding soprano, Samuel Eddy, who was inspired by hearing Nigel Fielding's performance of the same piece in a concert in which Camborne Youth had appeared along with Brighouse and Rastrick last year.

A carefully constructed performance of 'Scenes du Lac' followed, in which the band's soloists all displayed excellent tone and musicianship, and the performance closed with Alan Fernie's arrangement of Jim Webb's 'McArthur Park'.

Speaking after the victory, a delighted Alan Pope commented that the band's victory at its first attempt, having won the Junior Section last year, was "a wonderful result for all these young players, who have all worked incredibly hard for this moment. We have a long journey home and should be there about 5.00am, but I couldn't be more happy right now."

Trombone virtuoso, Chris Jeans, led his Youth Brass 2000 into second place, with a programme that included 'Elegy' from John Ireland's 'A Downland Suite' and Peter Graham's 'Alloway Tales'. As ever, Youth Brass 2000's performance was polished and slick, and the Gold Certificate was suitable reward for the band's efforts.

Drawn to play last, St. Dennis Youth also made a splendid contention, which was most notable for the contribution of flugel horn player, Zoe Hancock, who was awarded the prize for Best Instrumentalist following her sensitive reading of 'Doyle's Lament' from Peter Graham's 'Call of the Cossacks'. Brian Minear also led the band through a tight performance of the rarely-heard 'Marche Lorraine' by Louis Ganne, 'Scenes du Lac' (in which excellent sounding soloists were once again to the fore – is there something in the Cornish water?) and Peter Graham's energetic 'Cossack Wedding Dance'.

A Gold Certificate was also presented to Sellers International Youth, which performed well in Philip Sparke's, 'The Pioneer', in Joe Murray's performance of the cornet solo, 'Apex,' and the test-piece. Mount Charles Youth also performed well in a carefully constructed and well-performed programme that included '20th Century Fox Fanfare', 'Irish Blessing', 'Buster Strikes Back' and 'Birdland'. The Gold Certificate achieved was well merited.

Outside of those awarded Gold Certificates, Enderby Youth, Lions Youth, Horbury Victoria Youth and Tewit Youth all had good moments in their programmes, with Nick Birch of Lions giving an excellent rendition of Jeannie with the Light Brown Hair on euphonium.

Despite Markus Bach's observations on the merits or otherwise of the conductors, there were good qualities on display in the performances of all the bands and the continued growth of this section in particular bodes well for the future of those organisations that have made the supreme effort in creating such excellent youth bands.

Kenneth Crookston
4barsrest Classifieds
Garforth Brass
If you are a conductor who is not involved with the upcoming round of Regionals, but would still like to keep your hand in, y...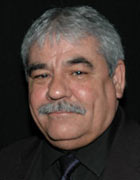 Stan Lippeatt
BA, LRSM
Conductor, adjudicator, tutor