2008 Spring Festival - Senior Trophy: Test piece review - Epic Symphony
8-May-2008
4BR looks closer at one of the true classics of the brass band repertoire - Percy Fletcher's 'Epic Symphony'.
---
An Epic Symphony – Percy Fletcher
Recitare – Elegy – Heroic March

In September 1913, over 100,000 people packed into the Crystal Palace pleasure gardens to hear over 100 bands, whose members had travelled from all parts of the country, compete for five trophies in the thirteenth National Brass Band Festival
The success of the Nationals had been engineered with a potent mixture of enthusiasm , entrepreneurial zeal and sound business acumen by John Henry Iles, a self- confessed convert to the brass band cause.
Iles, and especially his editor Herbert Whiteley, were aware of the commercial and artistic advantages of developing an original contesting repertory. Whiteley made many pleas for 'better' music to be composed for the brass band. In the end only one composer took his call for seriously.
Percy Fletcher

He was Percy Fletcher (1880-1932), a conductor and composer, primarlily of light music, ballads, salon pieces and theatre music. The result in 1913 was Labour and Love and that changed the course of the extended brass band repertoire.
It was the First World War – and its devastating impact on the brass band community – that provided the musical impulse for Percy Fletcher's second substantial work. An Epic Symphony (1926, Crystal Palace) was a landmark in terms of musical sophistication and expressive content and was without question the finest brass band work to emerge from these shores before Holst's A Moorside Suite.
Although it is not based on any definite poetic or historical programme, the titles of the three movements, according to the composer, describe the mood and spirit of the music.
Recitare
Here Fletcher uses the conventions of test piece cadenzas to provide two kinds of solo music set in within dramatic outbursts from the full band.
The first trombone fanfares are full of confident, heroic rhetoric and optimism– harking back to Labour and Love, but to much more sophisticated ends. In complete contrast, the responses from flugel horn and solo cornet are the questioning and subdued.
When the trombones return, as if in recognition of this, their confident, assertive air slowly evaporates, until the solo trombone too is asking questions.
Elegy
The reflective ending of the prelude moves naturally into the heart of An Epic Symphony, the intensely moving Elegy . Musically we are in Elgar territory here – Fletcher was a great admirer.
The movement was intended as a musical war memorial and it possess an Elgarian breadth and poignancy. The gently undulating sighs of the horns, supported by the soft tread of the basses, make an especially haunting impression.
The arabesques of solo cornet and soprano, while being a test of phrasing and tone quality, are also intensely sad. The air of sadness is only partially lifted by the euphonium, before the whole band delivers a response of heart-felt emotion.
Heroic March
Those same horns that began the slow movement so poignantly are transformed into like distant trumpets at the start of the Herioc March. This is spirited amalgam of patriotic Elgar and Eric Coates, with an unexpected and very English sounding chorale at its climax.
This is music of joy in victory and of pomp and circumstance tinged with an element of sadness in that chorale, especially in its first appearance on the trombones. Because this is a much played concert work, it is easy to underestimate the technical challenge of balancing the exposed detail in central episode. It demands much contrast of articulation and well-matched tonal qualities.
Also, there should always be plenty of tone and stamina left in store for the final chorale and the ending, which demands much power, intensity and an organ-like richness of tone
An Epic Symphony lays a strong claim to be the first major work of real stature for brass band by an English composer. It was certainly an influence later pieces, not least Sir Arthur Bliss's Suite Kenilworth which would appear to be closely modelled on it.
Ed Armstrong
4barsrest Classifieds
Deepcar Brass Band
Deepcar Brass Band are looking for solo cornets and Bb bass to join their friendly team. We rehearse 7.15pm - 9.15pm Monday a...
NABBA
Date: 10-Mar-2017
Venue: Embassy Theatre and Grand Wayne Center. 125 W. Jefferson Street . Fort Wayne, Indiana 46802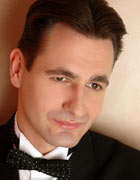 Craig Roberts
BA (Hons), MA
Conductor / Adjudicator