2008 All England International Masters - Postcard from Cambridge
27-May-2008
Two European contests on one weekend and both with the same old complaints about the result. What would Terry Wogan make of it all at Cambridge we wonder?
---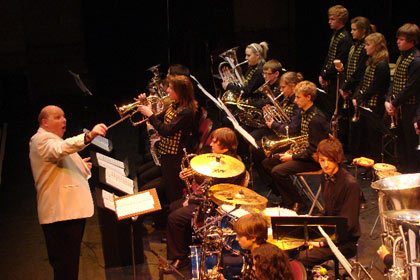 Euro entertainment: Youth Brass 2000 would have made for a very good entry in Belgrade

You do wonder what Terry Wogan would have made of it all.

Forget all the shenanigans in Belgrade at the Eurovision Song Contest; there was enough going-ons in Cambridge and the All England Masters to have kept the genial Irishman in clichéd xenophobic bon mots for the next twelve months or more.

It is well known what the purveyor of the Floral Dance thinks of the ultra modern, user friendly method of telephone Euro voting from the likes of Serbia to Iceland and all ports in between – all to chose a pretty awful song that no one understands or particularly cares about.
Method

So what would he make of a method of picking a winner from 21 contenders (there were 25 finalists in Belgrade) that involves sitting three men in a tent for close on eight hours with no break and a bucket of sand to pee in?

Strangely, given that he works for a corporation that has been found guilty of fiddling modern voting procedures themselves over the name of a Blue Peter cat, you also wonder why the BBC hasn't forced the organisers of the Eurovision Song Contest to opt for a system that has served the brass band movement pretty well for the last 150 years or more.

Know better

Bandsmen and women should know better by now too. No use complaining about a system that despite its imperfections is still, unlike the Song Contest, very nearly the perfect way of picking a winner without recourse to accusations of self interest, bias or down right cheating.

Block votes

You can't help but feel that the Eurovision Song Contest would be a much better advert for European integration if the result could have been decided by David Read, Philip Sparke and Eric Cees in a box in the Corn Exchange, instead of a series of dodgy 'block votes' and blatant favouritism that would have made the elections at the 31st Congress of the Russian Communist Party look like a pick and mix free for all at the local Women's Institute.
The problem of course is that for the past 150 years bandsman and women still haven't cottoned onto the fact that given that making judgements on music making are always going to be a matter of subjective opinion, there will always be occasions when the decisions of even three very experienced adjudicators will be different from their own – and sometimes the vast majority of people who are listening in the hall.

It is what makes the whole brass band contesting things such wonderful sporting entertainment. The only opinion that counts is that of the adjudicators – that's why we ask them to sit in the box for 8 hours at a time.
Having your say

Everyone else can have their say of course (including 4BR) but it all comes down to the fact that when you enter a brass band contest you also enter into the convention that you accept the judges opinion for what it is – a truthful, informed, subjective analysis and conclusion on the music making they have heard on the day. It's the decision to find the best performance – not the best band. If only Eurovision could do the same…

This year people had the chance to find out what 4BR thought with our live coverage, as well as seeing and hearing for themselves streamed coverage on the internet courtesy of the Australian company called themusicpage.com.
Unfortunately, due to demand their site went a bit peetong so it never quite came off as they had hoped. Unfortunately it also went to show that increasingly the Masters is having difficulty in attracting a full hall of spectators to the contest too.
Sterling business

This year there was perhaps never more than 300 or so hardy souls in the hall to listen to the very best bands, and at up to £18 a ticket, you can perhaps see why. No wonder the Red Cow does sterling (as well as Euro) business on the day.

Philip Biggs and Richard Franklin have continued to be as innovative as they can with this contest, but there is a feeling in some quarters that it somehow needs to find a new way of attracting more bums on seats – rather than potential bums on leather executive chairs in front of home computer screens.

This year there was for instance the very enjoyable short programme before the announcement of the results by Chris Jeans and his Youth Brass 2000, playing some wonderful stuff with a presentataion that would put many a Brass in Concert contender to shame. In addition there was the wonderful presentation to Trevor Groom too - so well deserved for his fine contribution to the movement over the years.
Subsidised bandsmen tickets may be a future suggestion – especially as the bands themselves have to fork out £200 for the privilege of entering the contest in the first place.
Test piece choice

The choice of test piece this year was one that certainly pleased the audience that was there – although it did fail to impress some of the conductors and players we spoke to, with many openly saying that they found it difficult to understand the sense of 'Arnoldesque' parody and allusion that Martin Ellerby spoke about in his preface notes to the score.
Still, it did its job and the winners won't complain about that will they now?

Bright future

The Masters continues to be a contest that has a bright future (despite the weather, which seems to rain each year), and whilst it could possibly reduce the number of competing bands to a more manageable 17 or 18 (as was the case in the early days) it is now attracting more and more interest from across the English Channel.

This year the French champion Brass Band Aelous made the trip here instead of Stavanger for the European Championships, and whilst the plum card of Brass Band Willebroek dropped out, the Swiss of Treize Etoile as well as Soli Brass showed that there is a market for a contest with a significant European content.
Add, hopefully a bit of sunshine, a few subsidised tickets and Terry Wogan to give a running commentary on 4BR as the contest unfolds, and you could forget about the Eurovision Song Contest all together.
Iwan Fox
4barsrest Classifieds
York Railway Institute Band
York RI Band (North of England Championship Section, MD David Lancaster), have immediate vacancies for Principal Cornet, Back...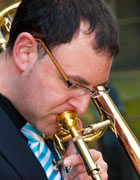 Brett Baker
BSc (Hons), ARCM, PG Dip
Rath clinician, conductor, teacher, adjudicator, editor