2008 Scottish Open Brass Band Championship - Scottish Challenge Shield retrospective
3-Dec-2008
Winning from the number 1 draw is hard, especially when brass monkeys are looking for something to warm up with, but Kirkintilloch Kelvin didn't seem to mind the weather...
---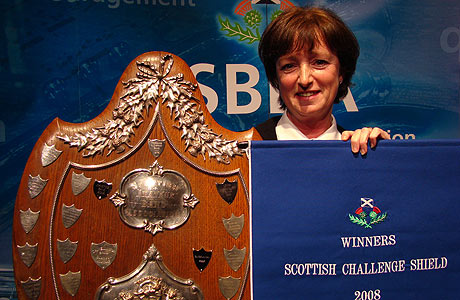 Strength and Shield: Kirkintilloch Kelvin are number 1 from number 1

As every competing band knows, winning off the number 1 draw is the hardest thing in the world to do at a brass band contest.
It's even harder when you are drawn number 1 at 9.00am on a freezing cold Saturday morning in Perth (it was minus 3 outside), taking to the stage to be faced with the grand total of 15 people in the audience to listen to you.
Muppet Show

Even harder in fact when two of those were the judges, a pair were hall stewards and the duo in the top tier like Stadler and Waldorf from the Muppet Show were the respective editors of 4BR and British Bandsman.
Deserved

Kirkintilloch Kelvin Brass not only deserved to be crowned Scottish Shield Champion for a very good performance of 'Land of the Long White Cloud', but they also deserved medals for distinguished service from the Scottish Brass Band Association after delivering a performance of such merit in circumstances where the audience resembled the crowd at a Scottish League Division 2 football match.
All that was needed to complete the picture was the appearance of the ubiquitous one man and his dog.
It was a real pity that there was such a sparse attendance (the numbers did rise somewhat for the following bands) as those few, hardy souls who made it into the auditorium did in fact hear the best performance of the entire contest. There could be no argument either with the decision from Kevin Wadsworth and Jason Katsikaris (both of whom did an excellent job) from the massed ranks knee deep at the bar, because 99% of them didn't hear the winning band play.
Baffling decisions

What they should have been talking about from first hand knowledge though was the baffling decisions of some MDs to pick pieces that were invariably inappropriate as the bloke we saw wearing a short sleeved football shirt outside having a fag.
The Shield contest is open to eight qualifying bands from the Scottish First and Second Sections. Given that Scottish banding isn't at its strongest at this level at present, it was quite something then to hear performances of 'Between the Moon and Mexico', 'Rienzi' and 'A London Overture', as well as two renditions of Sparke's New Zealand classic, Eric Ball's miniature gem 'Tournament for Brass', Alan Fernie's 'A Royal Mile Suite' and Dean Goffin's 'My Strength, My Tower'.
Carnage

A couple of the MDs had made the decision to go with pieces that they had played recently at major contests, so that was perhaps understandable, but others went for choices that seemed to be inspired by their desire to conduct a personal favourite for their own particular musical vanity, rather than a piece that would have actually benefited their bands.
The result was, with some notable exceptions, the usual multiple pile up on the contesting motorway as misplaced ambition exceeded the limits of playing ability. There were times when you were rubbernecking the carnage between the fingers of your hands.
Some performances were horrid – not because the poor players found it near impossible to play the notes on the parts in front of them, but because their conductors were suffering from acute cases of musical hubris.
Delusions of grandeur

You can be sympathetic to a degree at this level of banding about the end product you listen to, but it is hard to be generous when you know the shortcomings are inflicted by the actions of their own hand. Ambition is a good thing, delusions of grandeur quite another.
Not so Charles Keenan and Kirkintiloch Kelvin. The band has experienced its ups and downs lately, but on this evidence they are certainly on the way up again.
Despite the loneliness on stage they delivered a well crafted account of Sparke's oldest major test piece with a sense of musical proportion, vibrancy and colour. There was also the added benefit that the MD fully understood the technical limitations of his players too – so the tempo's never placed them in peril. Even when they tired towards the end, the MD kept a lid on the dynamics and a tight rein on pace. The three point winning margin was fully justified.
Sanctus, Spirited

Bathgate in second place were the best of the rest – although they were at the very limits and beyond at times with 'Rienzi'. The old soldier very nearly fell on his own sword, but brave playing from the start (which was helped by a fine young lady on fourth solo cornet delivering secure repeated trumpet calls, and a cracking soprano cornet player, who was the star player of entire day) it just about overcame the more obvious shortcomings and technical camouflage. It wasn't quite 'Sanctus Spiritus', more 'Sanctus, Spirited'.
Bravery

Third placed Johnstone Silver fell into the same trap – just about coming to terms with 'A London Overture' without ever quite seeming to ever feel 100% comfortable both musically and technically. There were times when it all knitted together and there were medals won for bravery from all the main soloists, but the general level of ensemble playing was so uneven as to undermine their chances of coming any higher than they eventually did.
Barrhead Burgh simply bit off more than they could comfortably digest with 'Between the Moon and Mexico', a rare dud of a major test piece from the pen of Philip Sparke. This was 19 minutes of hard work and hard listening, despite MD Martyn Ramsay really trying his best to get his band to inject sparkle into the more rhythmic passages.
It never came off, and despite perhaps being the best band on the day, a choice that highlighted their weaknesses rather than their strengths put a spanner in the works and consigned them to 4th place.
Not the best of days

Behind the top four came a quartet of bands that didn't enjoy the best of contesting days – again, some from self inflicted wounds.
Necessity perhaps accounted for the reason why the young players of Campbeltown Brass had to do battle once again with Dean Goffin's difficult 'My Strength, My Tower'.
Although there were extended periods when the ensemble playing coped with the stern challenges in the complex score, the underlying solo problems faced in the slow movement meant that it was a performance that couldn't build on its early promise.
Over ambitious

Lochgelly meanwhile failed to overcome the complexities of 'Land of the Long White Cloud' – an over ambitious choice that at times sounded as tense and harsh as the All Blacks Haka. Again, the players tried admirably to try and overcome the technical obstacles, but the choice of tempi and poor ensemble tuning killed them off.
Tullis Russell Mills, who with little time to prepare a new work since their impressive appearance at Pontins a few weeks ago, had to make do with a reprise of 'A Royal Mile Suite'.
The result was a decent enough performance that somehow felt as if the band couldn't quite raise themselves with the same enthusiasm they showed at Prestatyn. The strange ending, where MD John Hinckley bamboozled his players and the audience into thinking that they may repeat the last movement again, meant there was an uncomfortable 10 seconds of total silence before the sporadic applause broke out in the hall. It rather summed up their performance as a whole.
Badly exposed

Lastly, Croy Silver and 'Tournament for Brass', which may have seemed like a good choice, but in reality, exposed the weaknesses of the band for all to hear.
It wasn't helped either by a rather baffling interpretation from the MD, Kenneth Blackwood, which at times was so aggressive in intent that the tournament in question sounded like WWF Wrestling. It wasn't good, and 8th place was fully justified.
Excellent remarks

No problems for the winners though and Kevin Wadsworth's excellent remarks before the announcement of the results highlighted very coherently what he and his fellow judge, Jason Katsikaris had been looking for.
He did mention that he could have given Kikintilloch three extra points for their bravery in conditions that would have made Eskimo football a bit more appropriate on the day, but in the end the final three point winning margin was more than enough.
All they can hope for is that next time there are more people around to actually hear the reason why they won in such splendid fashion.
Iwan Fox
4barsrest Classifieds
Otterbourne Brass
After a run of winning 1st Section Contests in 2016 Otterbourne Brass are 2nd Section from January 2017 and are looking for a...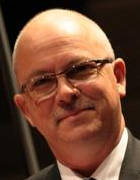 Martin Heartfield
GGSM, ARCM, PGCE
Conductor, Adjudicator, Educationalist