2009 Pontins Championship - Harry & Margaret Mortimer Championship retrospective
28-Oct-2009
Tongwynlais have enjoyed a few ups and downs over the years - and now they are certainly on the way back to the top.
---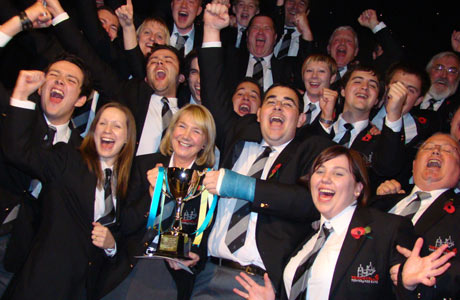 Yet another victory: Tongwynlais celebrate

If ever there was an advert for the benefits of the First Section, then Tongwynlais Temperance is it.
For the second time in a month they left a major contest crowned as champions – first in Harrogate, this time in Prestatyn. On both occasions they thoroughly deserved it.
Clear cut

The margin of victory at the Fun Factory wasn't as emphatic as that at the International Conference Centre a few weeks back, but it was just as clear cut. And this time, every player was on hand to savour the moment of glory as they celebrated with the Pontins Trophy and the cheque for £2,500.
Relegation from the top section can work wonderfully well when you have a band that has the foresight to see it as an opportunity for, rather than a handicap to, future contesting success.
The majority of personnel of the Welsh band remain the same as it was a year ago when they left this contest after coming fifth under Philip Harper, and feeling gloomy at the prospect of a future that encapsulated a contesting season in the First Section.
Boosted

12 months later the duo returned full of confidence, boosted by a year of success and knowing that if they played to form, they had the beating of the vast majority of the ersatz 'championship' contenders on the day.
They did enjoy the benefit of a couple of high class deps helping out (Cory provided two thirds of the trombone section), but on a piece such as 'Montage' where the majority of the exposed solo work belongs to the cornet, euphonium, baritone, sop and tuba, Chris Thomas and Paul Williams enjoyed the relative comfort of their substitute appearances.
True championship quality

The victory came courtesy of a true championship quality performance on Peter Graham's set work.
As adjudicator Alan Morrison said before the announcement of the results, both he and David Horsfield may well have entered the box in trepidation, given the reputation of 'Montage' as a work that registers high on the test piece Mohs list of hardness, ("'effing rock hard" as one well known player remarked to 4BR), but they left it pleasantly surprised.
Whether or not that was pleasantly surprised that a handful of bands here could play it was another matter – as quite a number scraped through and no more. That said, there was a genuine appreciation for all the efforts from the box – highlighted by Alan's generous post contest remarks.
"All the performers can feel some sort of achievement," he said, although he qualified the remark by making sure the bands knew very clearly that none had got through unscathed – many falling on the twin swords of self indulgence or over ambition in terms of tempo.
War zone

The contest may not have turned out to be the 'War Zone' that Alan said it could have been, but nobody left thinking they hadn't suffered more than the odd flesh wound either. A number of contenders fell in battle well short of the Championship Section quality front line.
Thankfully, the top three finishers more than met the given top section objectives of having the basics of good ensemble playing well under control, enabling their conductors to draw the opaque musicality from the score, safe in the knowledge they had the personnel to do so.
Poise

Philip Harper was certainly able to do just that with Tongwynlais, with an opening movement of poise and control (both dynamics and tempi) followed by a darkly hued middle section that featured solid solo lines and balanced warmth to the ensemble. The finale had verve and excitement without losing the essential sense of compactness created by the dislocated rhythmic structures.
By it's end (and glory be, they were a band that didn't produce an idiotic grandiose rallentando in the final two bars) it had the mark of a winner about it, and not one of the following nine bands came close.
As an advert for the benefits of what the First Section can do for a glossy finish it was up there with Cheryl Cole and her shampoo ad. You knew they were worth it all right.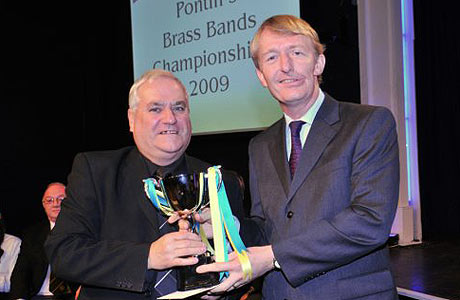 Right to the wire: Wire Brass take second place again
Picture: John Stirzaker

Closest

The band that came closest to denying them victory was the one that started the contest off – Wire Brass.
They headed home after coming runner up for the second year in a row, after a performance rich in bold colours and textures, enhanced by fine solo contributions (including Alan Wycherley on sop) and compact ensemble.
MD, Paul Andrews produced a well structured neutral reading of the score too – allowing the music to flow in a second movement, with excellent solo lines in the cornet and euphonium – so much so that Kim Holly Thorp took the Arthur Bedwell Trophy as 'Best Instrumentalist' for her fine efforts.
Just an annoying number of little clips perhaps cost them a point or two, but it was a performance of note from a band that is maturing slowly but surely into a top class outfit.
Maturing

Another maturing band is Skelmanthorpe under John Roberts, and their taut performance certainly deserved its podium finish. A touch pacey in parts, the technical hurdles were very nearly overcome with aplomb in the first movement, whilst the flowing second section was one of the best of the day.
Tiredness and some scrappy playing in the final section saw them fade, but overall it was a performance of merit from an up and coming band.
The final prize winner came from Felling under Graeme Tindall, who made the trip from the North East boosted by a few Reg Vardy extras in the ranks.
With the contest rather limping towards its conclusion their exuberant rendition saw them just about hold onto their form after an opening movement that was perhaps the best of the day.
The slightly nervous middle section didn't quite match the quality of the first, whilst tiredness and some scrappy playing blighted the finale. However, the MDs insistence on musical flow and some neat interjections from leading solo lines meant that it was always going to beat more exciting, if considerably less consistent performances from other rivals.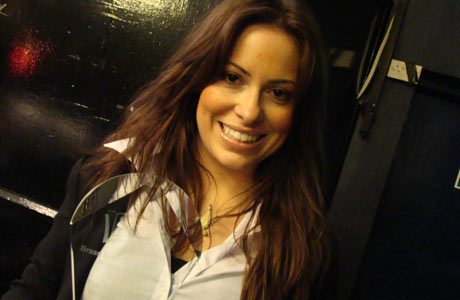 Euph beauty: Best Instrumentalist Kim Holly Thorp smiles with pride
Thick and fast

And those performances came thick and fast as well as one or two interpretations that had you scratching your head.
For sheer excitement Marsden and Glyn Williams would have won at a canter. Exciting, colourful, musically shaped – all tarnished by an error count that wouldn't have been out of place in an Afghan election.
Musically, perhaps the most enjoyable performance of the day, technically though, blighted from just about the first note. This was an opportunity missed and as they trudged off stage you could sense they knew it too.
Great deal

That the performance of Kidlington came 6th, tells you a great deal of just how the standard fell away into a furrow of mediocrity outside the prize winners.
This was a brave battle though from start to finish (complete with wrong notes in solo lines) and whilst it was hard work, the general structural integrity of the piece remained in place despite the errors and nasty clips in execution.
Sniff

Meanwhile, reigning champion Sovereign Brass was never in with a sniff of a repeat victory. A performance of inconsistencies never settled, and despite some fine individual moments (especially the euphonium) their defence petered out well before the ludicrously over egged final two bars.
Sovereign were not the only band guilty of this piece of crassness.
Given that the composer clearly states the teleological thrust of final movement can be symbolized by the flight of an arrow, why on earth so many MDs thought that just before it hit the ground the arrow somehow comes to a near complete halt in an imaginary wall of swarfega jelly was incomprehensible.
These arrows should have been of the Strongbow cider variety, not Bernie the Bolt on the 'Golden Shot'. It was brainless.

Matrix

Ashton was another to go 'Matrix reloaded slow' in the final few bars, and whilst that wasn't the sole reason their performance never quite came to life, it rather summed up a safety first approach that was solid but one dimensional in both tempi and dynamic. It was a bland performance that gained a bland result.
As for Staffordshire?
Although it made no difference to the performance, the sight of the MD taking to the stage resplendent in a waistcoat made for the surreal impression that a snooker player was conducting them. The result was almost the same.
An error count that approached 147 saw off any chances, despite Huw Thomas bringing lyrical shape to a middle section that caught the ear. So did the clips though, and the sight of the percussion section reading off a part taped together like the Dead Sea Scrolls just summed things up entirely.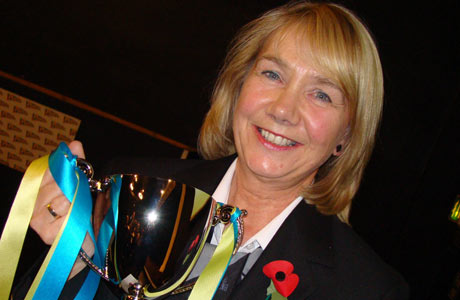 Jen Jones of Tongwynlais picks up yet another bit of silverware

Not close

Four of the bottom five bands never came close to playing the piece, despite some brave efforts from conductors and performers alike.
The one exception was Woodfalls, who certainly sounded like a true championship band, but one that was playing in a different time zone – slow time.
Melvin White's specific interpretation seemed completely at odds with the need to bring a sense of musical flow and vibrancy to the piece.
In fact it was very unlike a Melvin White performance we have heard, as usually he can be guaranteed to bring musical fluidity to the stage. Not on Sunday though, and despite some fine individual efforts, the band was knackered well before the end.
Donkey

The second movement was musical treacle, and not even the yelp of the type usual heard on a donkey after it has had a hot coal inserted up its backside, after the final note rang out (a second cornet player seemed to be the suspect) could save it from the scrap heap of 11th place. It was an odd one.
No complaints surely from the quartet of Wantage, Jackfield (Elcock Reisen), NUSUWT Riverside or Derwent Brass, after performances that never threatened to overcome the technical or musical challenges set by admittedly, a very difficult work.
Wantage, resplendent in waistcoats of a purple not seen since Ali Bongo was in his prime were hit and miss – more miss unfortunately, or in the case of the percussion, more hit, but in the wrong places.
The desire to create excitement through volume also killed off their chances of coming any higher than they did.
Much the same with Jackfield too, in a performance that started well but fell way amid problems of execution and questionable tuning that made certain lead lines sound flat to the accompanying ensemble.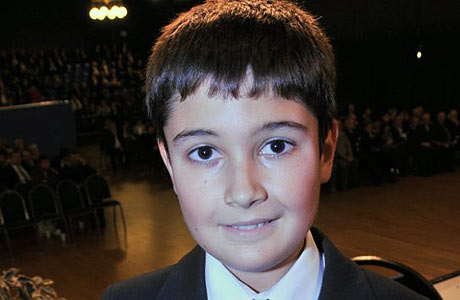 Young star: Daniel Willis of Wantage was the youngest player of the day
Picture: John Stirzaker

Scratch the surface

That it beat Riverside and Derwent says a great deal – for both these performance never came close to more than scratching the surface of 'Montage'.
Ian Robinson tried manfully to create musical shape amid some chaotic playing, but the final section led by a classy soprano was too little far too late.
For Derwent the same story – too many basic problems with the ensemble from bass drum to top cornets to come close to making a coherent picture of the score despite Keith Leonard's efforts.
Take a leaf

Perhaps a number of these bands should not be afraid to take a leaf out of the Tongwynlais book and seriously consider whether or not a drop to the First Section may well give them a real chance of becoming better contesting outfits.
Tongwynlais are no better a band than many of their rivals here, but the confidence that they have gained in taking a realistic approach to their circumstances should be applauded, because it is now paying off in spades.
They have returned here a true championship outfit – and one that was more than good enough to have posted a well deserved victory.
Iwan Fox
4barsrest Classifieds
Otterbourne Brass
After a run of winning 1st Section Contests in 2016 Otterbourne Brass are 2nd Section from January 2017 and are looking for a...
NABBA
Date: 10-Mar-2017
Venue: Embassy Theatre and Grand Wayne Center. 125 W. Jefferson Street . Fort Wayne, Indiana 46802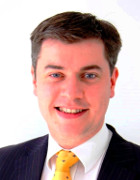 Darren R. Hawken
PGdip, BMus(hons) PGCE, dipABRSM, LRSM
Conductor, Arranger, Teacher, Adjudicator, Band Trainer