2009 Australasian Open - Retrospective - Entertainment Championship
31-Oct-2009
4barsrest looks back at the 2009 Australasian Entertainment Championship where the 7 bands battled it out over a 30 minute entertainment programme.
---
With the 'serious' business of the test piece contest out of the way – and with a fine night's entertainment under the belt for those with hardy constitutions, the Australasian Entertainment Contest provided a vibrant pick me up for those with sore heads and throats as dry as a rattlesnake's belly on the Sunday.

Eclectic fare

David King was joined ex pat Steve Bastable, and both men would have enjoyed the eclectic fare that was presented to them over the following six or so hours, which really did take inspiration from both ends of the brass band spectrum – from traditional to the surreal.

That wide array of music was something that David King picked up upon in his interesting remarks to the audience at the end of the contest – remarks that at one point got him a bit of good natured, but slightly exasperated heckling from a dark recess of the hall.

Sledging

Not that the man in question was complaining about Professor King and his opinions – but the fact that when he commented on the number of vacant seats in the auditorium, the disgruntled punter wanted to make the point that it was nothing to do with contesting apathy from the Australian banding public, but more with the fact that there was negligible advertising for the event in nearby Brisbane. A shame this particular gentleman hadn't read the weekend papers for the previous 4 weeks - the Twin Towns promotion had the event well and truly covered.
It wasn't quite up there with some tasty sledging at the MCG over the years, and David King took the bon mots on board like a seasoned comedian.

What he will hope to hear next year though will be more of the 'Three C's' of which he spoke at length – conception, creativity and communication.

Each of the bands certainly had their ideas of what they wanted to project with their programmes, but as David King so clearly pinpointed, what may seem a good embryonic idea on paper, doesn't necessarily evolve into coherent maturity when it comes to be played (and presented) on stage.

Gunnedah Shire Band

When it came to the winners, Gunnedah Shire's playing and presentation certainly ticked all the right boxes David, Steve, and the delightful entertainment judge, Lady Adrienne Stewart were looking for in their 30-minute programme.

This was an entertainment set that was craftily chosen by Nigel Weeks - especially the emphasis on a proven winning formula that was first used by Cory in picking up the Brass in Concert title in Gateshead last year.

Add another two 'C's' to the list then – 'Copy Cory'. And guess who was one of the judges there last year? David King.

That said, they still had to play the pieces chosen – but given that Paul Lovatt-Cooper's 'Enter the Galaxies' is all flash, bang, wallop, and the trio of 'Sing, Sing, Sing', 'Sunrise over Blue Ridge' and 'An American Tale' are clever constructed mixes of the visual as well as the aural (the finisher is in reality a high class Civil War inspired tuneathon of the classic 'Hootenanny') a band as good as Gunnedah was able to relax and perform without too many worries about the technical hurdles the music may have posed. Add a neat bit of Van Morrison and Bob's your uncle (not Bob Childs though!)

In the end it was very classy stuff – a little short on real musical substance perhaps, but highly entertaining, very well presented, directed and played. All that was left was to wait for the final 'C' – cash - A$5,000 of it.

A few furlongs behind in second place came Brisbane Brass, who also sought inspiration with one eye on the adjudicators and not one eye on a single sheet of music.

Their Celtic inspired programme couldn't have been anymore 'oirsh if they had handed out free bottles of Guinness and lucky four leaf clover. We have been here before of course (YBS at Spennymoor near a decade ago now) so it wasn't that innovative despite the amount of hard work that had obviously gone into the preparation.

The playing at times was ragged though (although not the dancers who didn't fall over as the one with YBS did that day), although the singing in the final 'Irish Blessing' was spot on. It was very nearly all bells and whistles (literally) and great fun despite the inconsistent playing in parts.

Third placed Footscray Yaraville opted for a much more traditional 'round the musical world' approach – and it very nearly paid dividends for the band under the excellent direction of Phillipa Edwards.

There were not too many risks taken in the conception of the programme, but it knitted together well and made sure that the band's obvious strengths were illuminated fully.

Matthew van Emmerik was outstanding as the featured soloist in Philip Wilby's Grecian 'Zeibekikos' dance and deservedly took the 'Best Instrumentalist' Award for a performance of vibrant musicality.

Surrounding him were well chosen ensemble elements too – from Sesame Street to the Hebrew Slaves in fact, so even though the band tired appreciably by its close, third place was deserved.

For K&N Spring Gulley Brass and Bruce Raymond, a 30 minute programme that never quite fulfilled its obvious promise.

The three ladies providing the vocal opening to the haunting 'Vitae Lux' set things up so nicely, and Kevin Joughlin was a classy 'virgin' of Macerena to follow. Things were looking rosy, until, disaster, and a rendition of Walter Hargreaves arrangement of French Military March that sounded as if it was played in homage to the surrender of the Maginot Line – it was complete French bluff.

That seemed to knock the band off track and whilst they recovered somewhat with a decent bit of gospel (which didn't feature much band playing it must be said) a competent flugel feature and a 'clap along' finisher, the band never seemed at ease again, despite the MDs fine compere skills.

It seemed an opportunity missed.

The oddest piece of entertainment on the day came from Warringah – a space theme (although this is surely questionable under the Australian Trade Descriptions Act) that featured no less than ten musical items stuck together with Pritt Stick. At its core was a piece that paid homage to those American TV Sci-fi programmes of yesteryear – except this one seemed to be inspired by the 'spaced' approach to life of Timothy Leary. The audience cetainly did 'turn on, tune in, drop out'.

Everything then from 2001 Space Odyssey (Also Sprach Zarathustra) and Holst, through Mozart to Darth Vadar and Michael Jackson. Surreal.

As a themed family concert at Christmas say, great. For 30 minutes at a brass band contest though – absolutely bonkers. It had as much chance of success as the 4BR Editor has as being the first Welshman on the moon. That it came 5th was down to some pretty good playing from start to finish.

For sixth placed St Marys, a rather tired programme that had more than a nod and a wink to something Grimethorpe came a cropper with at Brass in Concert last year too – and yes, three guesses who was in the box there.

There was plenty of good playing on show (especially the two soloists), but the sell by date has been passed by banding millennia on the likes of 'Let's Face the Music and Dance', 'Concerto de Aranjuez' and especially 'MacArthur Park'.

Finally, Kew Band Melbourne– the winners of the Australian Open the day before.

This sounded a bit of an afterthought performance – They may as well have played all of 'Music of the Spheres' – all that was left out was about three bars given they started and finished with excerpts from it.

The idea of the big, black void of space as an inspiration was always going to be a dodgy one, given that the band had decided to include a bit of David Bowie's 'Major Tom' in it too, but despite the brave efforts, that's where it ended up too – in the big, black void of 7th place.

It must have looked a good idea on the back of a fag packet. This was a very good band, either having one heck of an off day, following a night of people telling them how well they played on the test piece, or one that hadn't really put in the work. A bit of both perhaps.

Job well done

Mark Ford (Kew Band Melbourne), Matt van Emmerik (Soloist Prize), Jon Christodoulides (Brisbane Brass), Rick Casagrande (FABB Chairman), Anthony Brahe (Best Instrumentalist), Jude Myers (Gunnedah)

For the winners then, celebrations for a job very well done. A crafty choice, carefully made, very competently played. It all added up to cash in the bank too.

Anthony Banwell
4barsrest Classifieds
Shirebrook Miners Welfare Band
Musical Director position available following 2017 Midland Area contest.. First section band with a full and varied program o...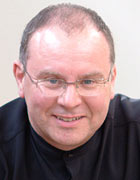 Christopher Houlding
MMus, GGSM, LRAM
Conductor, Performer, Educator