2009 Regional Championships - Introduction and preview
23-Feb-2009
4BR lloks forward to the thrills and spills, controversy and classic music making over the next few weeks as the Regional championships kick off.
---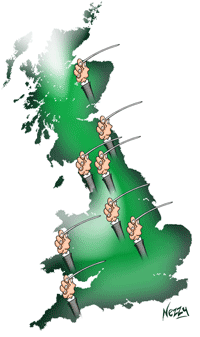 The first round of the 2009 Regional Championships kicks off in a few days time in Blackpool.

Perfect venue

It's the perfect venue for the start of the annual roller coaster ride of highs and lows that accompany the contests around the country – serendipity dressed up as competition.
It is also good that this year there is no clash between the contest in the North West and that of Yorkshire too.

Now all the Regional Committees have to do is get around a table and sort the rest of the dates out for the next five or so years, and we can get back to the time when the whole thing gave brass band lovers the chance to travel around the country over a period of a couple of months to enjoy the spectacle in all its glory.
No complaints

Still, no complaints from the good folk of the North West Regional Committee who can expect a few more bums on seats at the Winter Gardens this year. Then it's off to Bradford, a choice of three the following week at Swansea, Bedworth and Torquay, followed by Dundee and Stevenage and rounded off at Darlington.
By the end of it all we will have found out which bands go where and which bands will be left to make 'other arrangements' as Fred Mortimer used to say.
Pressure

Four Championship bands won't have so much pressure on them as usual due to doing so well at London, so Black Dyke, Fodens, Cory and Carlton Main can relax – a little.
The eight reigning champions though will be looking to hold onto their titles for a variety of reasons. Black Dyke (no real relaxation of course for them) will want to stamp their authority on Yorkshire once again, given that most of their rivals have been in a state of flux over the last few months, whilst both Tredegar and Whitburn have the additional pressure of European qualification for Linz 2010 to make them concentrate on the job in hand.
Fodens will be looking to equal a bit of North West banding history by becoming only the second band (after CWS (Manchester)) to win four Area titles in a row, whilst Mount Charles are hoping to break the curse of Torquay and become the first band since 1996 to retain its West of England title.
Redbridge are on a roll and will be looking to make it a hat trick in Stevenage to add to its recent Butlins title, whilst Reg Vardy will be looking to make it a double hat- trick in the North East. Desford meanwhile are looking to make it a double in the Midlands.
Something to prove

Last year's Lower Section National winners all have something to prove this time around too.
Wales provided two champions in Seindorf Beaumaris in the First Section and Point of Ayr in the Second and both have been promoted as a result. So too Wellington (Telford) and Lostock Hall Memorial who took the Third and Fourth Section titles in Harrogate respectively. All four face tough tasks if they are to return to Harrogate once more.
Numbers

Numbers overall are down again this year – only 493 bands officially make it to the starting tape and some notable names are missing this year, including Pennine Brass, Stockport Brass and Mid Rhondda in the top section alone.
Concern

There is also a genuine concern about that old chestnut of 'proportional representation' come the finals.
There are calls for a smaller field in the top section come London – perhaps just 16 bands made up of the 8 regional winners (or highest qualifying band) and the top 8 bands from the year before.

The current rules state that in a field of up to 16 bands, 2 go through, 3 if there is up to 24, 4 if over 25. However, some contests will field a line up of just six bands with equivalent regions posting 22, yet the latter only get 1 more qualifier. That doesn't quite seem right.
Spot the star

Then there is the annual game of 'Spot the Last Minute Signing from Europe', which this year will include more Belgians on stage than a 'Claude Van Damme Lookalike' Contest.
There's plenty to enjoy though – from the delights of the Golden Mile, to the curry houses of Bradford, watching the rugby whilst the bands play in Swansea, to the best catering from the organisers in Dundee, the sheer numbers in Stevenage and Torquay, the classy new surroundings of Bedworth and the warmth of the welcome from brass band loving policemen in Newcastle airport.
All that and more. We wouldn't miss it for the world…
Iwan Fox
4barsrest Classifieds
Vernon Building Society Poynton
VBS Poynton Band require solid cornet players (positions negotiable) and or a first class flugal. Positions would suit experi...
Unibrass 2017
Date: 18-Feb-2017
Venue: King's Rd, Harrogate HG1 5LA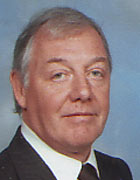 Alan Widdop

Conductor, Brass teacher, Adjudicator (ABBA)