2009 North West Regional Championship - Introduction and preview
23-Feb-2009
The one thing bands in these parts enjoy doing is competing against each other so Sunday should be a great day of domestic battles then
---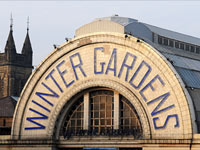 North West banding continues to be the powerhouse region of the UK.
Success for its bands now comes at all levels – from Fodens winning the British Open last year to Lostock Hall Memorial taking the Fourth Section National title at Harrogate, and Blackburn & Darwen and Eccles Borough recently winning the First and Fourth Sections at Butlins.
The bands that qualify go to the Nationals and invariably do well: Three in the top ten places at the Royal Albert Hall, seven out ten in the four sections at Harrogate – including three podium finishes.
Vibrant and meaningful

No wonder there is a sense that banding here is still vibrant and meaningful, reinforced by the excellent turn outs for local contests such as Tameside and Brass at the Guild Hall. The organisation is good too, with Peter Bates and his team of experienced back room staff managing 78 bands this year (down just 1) in three halls all on the one day.
Only three bands don't make a return this year – the demise of Stockport Brass being keenly felt at the top level, but there is a welcome return for Carrbrook in the Fourth Section which this year boasts a very impressive 22 entrants.
Championship Section:
There is plenty to look forward to in the Championship Section, as Fodens look to make it four wins in a row – a feat last achieved by the mighty CWS (Manchester) Band of Alex Mortimer between 1966 and 1969.
Fodens have already overtaken them as the most succesful band at this contest (now with 15 wins to its name) and they will surely be the band to beat on 'Salute to Youth'.
The good news for the chasing pack is that as Fodens were runner up at London there is an additional qualifying place up for grabs. So who will join them in Kensington come October, courtesy of David Read?
Fairey (13 wins) and Leyland (8) are sure to be short priced favourites to do that, although both have not been the most stable of bands in terms of personel of late. It is still hard to see either of them failing on this one though and Fairey did put on a pretty decentish account of the set work a few weeks ago in Manchester.
If either of them do have a dodgy day in the Opera House however then it could well give the likes of Pemberton Old Wigan JJB the chance to make it to London. Their recent good form marks them as a bit of a dark horse.
There should also be a strong challenge from the likes of Wingates, United Co-op Milnrow and Timperely who have picked up a few interesting signings of late. After that it is hard to see anyone else making a real mark – but you never know.
First Section:
There promises to be a decent old musical fight in the First Section with 13 well matched bands having to overcome the treacherous problems faced by Graham Cole's 'Pentacle'.
This really is a tester for even the best bands (and may well give an indication of what standard we can expect to hear from the other regions too) as Fodens themselves had a fair old battle to put on a good showing of the work on the Regional CD.
The region hasn't produced a First Section National winner since 2004, but the strength of the bands has been shown by the fact that since 2000, of the 18 qualifiers, 12 have ended up in the top six come the Finals, including 8 podium finishers.
That is a record to be proud of in anyone's book, so it will be an interesting one for Colin Hardy to sort out in the box.
Recent good form has been shown by the likes of Blackburn & Darwen who won at Butlins and VBS Poynton who came 3rd there, whilst Freckleton showed that they are determined to make a quick return to the top section following last year's relegation, after coming runner up at Brass at the Guild Hall.
Then comes a whole batch of well matched contenders, from Ashton under Lyne to the newly promoted Wardle Anderson Brass.
It promises to be a tasty old scrap as the bands try to impress in the Empress Ballroom.

Second Section:
The experienced Malcolm Brownbill has the task of separating the 12 bands out in the Second Section, and the contest may well see plenty of spies from over the border in Yorkshire in the audience too.
Mal is also booked to do duty at St George's Hall the following week in this section, so quite a few conductors may well be looking out for any closet indication to what he likes and dislikes.
No such luxury of course for the competitors, but a fine test piece in Dan Price's 'New World Sketches' that is full of good tunes and stylish writing which should allow the best bands to shine.
The region hasn't produced a National winner at this level since 2000, but they have produced 11 top six finishers from 18 qualifiers, with just 2 bands failing to make it into the top 10 come the Finals. It's another indication of just how good the standard is.
8 of the 12 bands have already tested the contesting waters this season, with Haslingden & Helmshore and Eccleston Brass taking the honours at Brass at the Guild Hall (Eccleston in the Third Section).
Middleton and Haslingden & Helmshore put in decent performances at Butlins – both ending up in the top 6, and there were encouraging performances from the likes of Oldham (Lees), who will be looking for an unprecedented fifth consecutive regional title.
Others to look out for may be Rainford and Flixton, whilst it is great to see one of the most famous banding names, Besses o' th' Barn, return to the contest stage once more. 30 years ago they won the top section title under Roy Newsome.
Third Section:
A very healthy turn out of 20 bands (3 qualifiers) in the Spanish Hall will all be out to impress adjudicator Derek Broadbent on Andrew Baker's 'The Once and Future King' - a difficult piece for the bands at this level.
10 of the contenders have already been in early season action either at Brass at the Guild Hall or Butlins and there are a whole host of them certain to head to Blackpool full of confidence.
The test piece has a bit of a King Arthur Cornish flavour to it, and each of the three movements will pose more problems to the contenders than just pulling the odd sword out of a stone.
The bands that do manage to get through have a fantastic record to uphold come Harrogate – the region has produced five National winners since 2001, and 15 top six finishers in 22 attempts, with just one band failing to make it into the top ten.
Much then will be expected from the likes of Pemberton, who came 7th at Butlins, the newly promoted Fourth Section National Champions Lostock Hall and Eagley – all of whom enjoyed good days at Preston.
Then comes the other Guild Hall contenders such as BMP Europe Goodshaw, Boarshurst, Formby, Greenall's, Morecambe and Stalybridge, not forgetting the likes of Uppermill and Valley Brass (Haydock). It promises to be a corker.
Fourth Section:
There is a feel of the good old days in the Fourth Section, where a grand field of 22 bands (3 qualifiers) will battle it out to find favour from C Brian Buckley in the box.
There is a distinct North West connection with the set work, 'The Talisman' by Frank Hughes, as the piece was originally written for the Fodens Motor Works quartet. It has since been revised and should provide a stern old workout.
What we can expect however is an excellent contest if the top bands play to form, as there is real strength in depth – as shown by the regions record at the National Finals.
Four times in the last six years a band has gone on to win the National title – including the past two years. Last year it was a 1-2 for Lostock Hall and Uppermill (both now promoted), and the last four years has seen at least one band either win or come second at Harrogate. Some record that.
Who will get through this time then?
12 bands have already got some early season form under their belts with the likes of Eccles already with a major title to their name at Butlins. Blackley took the honours at the Guild Hall, whilst Coppull & Standish came runner up in the Third Section and Pilling came 5th in the Second Section.
There is sure to keen competition for the qualifying places, with the likes of Friezeland, Tarleton, Parr and the returning Carrbrook all travelling to the Winter Gardens with bags of confidence.
4barsrest Classifieds
Poulton-le-Fylde
The Poulton Band (1st Section near Blackpool),has vacancies for a bass trombone & kit percussionist. Our friendly band of...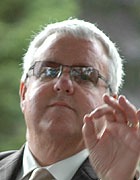 Ian Holmes
BA (hons), PGDip (RCM), ARCM, ALCM
Conductor, piano accompanist and educator