2009 Midlands Regional Championship - Second Section - retrospective
19-Mar-2009
Everyone had a great time of it in the Second Section - from listeners, judges, players and MDs. None enjoyed it as much as the winners though we are sure...
---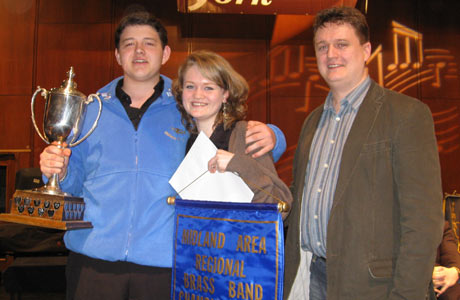 Who's a lucky girl? Shirland get ready to celebrate

From the first band on stage in the Civic Hall on Sunday morning, it was clear that the Second Section bands at Bedworth were having a great time with Dan Price's New World Sketches.
With the composer on hand throughout, it made for an enjoyable experience as eleven bands all succeeded in expressing their enthusiasm for the music in a manner that was both refreshing and often great fun.
Something out of it

As Colin Hardy commented afterwards, there wasn't one band that didn't manage to get something out of the music and their performance.
If there was a point to be proved, it was the simple truth that the right choice of test piece for the right section will motivate, enthuse and challenge the players simultaneously; and in every Second Section Regional contest so far this year, Dan Price's piece has done just that.
Refreshing

The fact that it was refreshing to listen to was in part due to the fact that in the First Section contest the previous day few, if any bands securely negotiated the very basics of note production, let alone the technical challenges that Graham Cole's Pentacle presented. Here though, it was a different story as the players expressed themselves with belief rather than abject fear.
In the final analysis there were six bands that separated the field into two halves for us, all of whom produced worthy, often pleasingly musical performances although it was both musicality and straightforward consistency that saw Shirland win through to take the title in some style.
Remarkable

Shirland's was a remarkably assured, mature and confident performance for a band that as always, had a healthy mix of young players and older heads around the stands. After the disappointment of dropping down to the Second Section last year, there could be no better way of bouncing back than this and having taken over the baton from Marie Smith, Andrew Dennis will no doubt have been a proud man on Sunday afternoon.
It was a performance marked out by strong basics of note production, tuning and stylistic awareness as the band slipped with ease from Gershwin to Copland in the outer movements whilst capturing the central movement with a suitably relaxed manner.
The band sound was strong, if anything perhaps a little overly so on occasions, but the stars were the young members of the team, ranging from easily the youngest percussion section of the day to an all girl horn section that were the coolest (and prettiest!) under pressure of any in the Second Section field.
If the band can recreate this kind of form in Harrogate, it will be a fine representative for the Midlands later in the year.
Speculation

Much speculation centred on Stephen Curtis and Wellington Telford as they took to the stage as National Third Section Champions with an early number three draw.
With David Maplestone bolstering the ranks on soprano and fresh from his victory with Phoenix West Midlands the previous day, it was a carefully thought through, finely shaped performance that for our money ran Shirland closer than might have been implied by the adjudicators.
There were some terrific solo contributions from the band's principal cornet and Eb bass in the slow movement although it was a final hoe-down that just lost its focus and concentration to some degree that was to be the final divider between first and second places. Harrogate will feel like home territory for the band when they join Shirland at the finals.
Consistency

Moving down through the top six places, consistency gradually started to tail away as the performances fell into place and it was Oddfellows Brass, our pre-contest prediction for fourth place, that just missed out on a trip to the north as they took to the stage as the last band of the eleven contenders.
For us there was a fair margin between second and third places on the day, as Oddfellows commenced with a tempo that was almost as bright as Rob Boulter's characteristically bobby-dazzling shirt.
It was certainly spirited stuff although ultimately it was the occasional passage of blurred detail and some loss of precision in the Coplandesque Rodeo that became the deciding factor.
Nervy start

Tintwistle did well from a slightly nervy start and the dreaded number one draw to hold its own for fourth place. We had the band a couple of places lower but this was one of a few performances on the day that whilst broadly technically sound, did not quite get to grips with the stylistic contrasts in Dan Price's highly colourful score.
Having dropped down from the First Section last year however, it was a performance that should give the band the encouragement that it can more than hold its own at Second Section level.
Early markers

In fifth spot, Graham Jacklin and Leicestershire Co-op were one of the early markers for us from the number two draw, producing a bold, confident sound and good individual contributions from euphonium, trombone and a very young front row cornet section.
The Deep South did seem to move along at a particularly slow pace that inhibited the flow of the music though and there were balance problems here and there that would have pushed the band down the rankings with Colin Hardy and Chris Wormald.
Unluckiest

Matlock were one of the unluckiest bands on the day for us, with Roger Jepson and his team capturing the style of the music very well, albeit without achieving quite the same level of accuracy in ensemble that would have ranked them with Shirland and Wellington Telford.
We had them third and having been promoted as Third Section champions in 2008, this is a band more than capable of making its mark at this level of contesting.
Started well

Bilton Silver (Rugby) started well, with SideWalk as confident as any on the day, but concentration gradually faded away with The Deep South not quite capturing the atmosphere as well as some and Rodeo falling victim to increasingly loose ensemble. In the end it became a case of so near and yet so far. Seventh place was about right for us.
In eighth and ninth positions respectively, Arrow Valley and West Mercia Constabulary both succeeded in getting into the spirit of the music without being able to match the technical standards of the bands higher up the table.
Tuning issues

Issues of tuning figured in both performances as did nerves, whilst Stourport on Seven and Long Eaton Silver, two bands that are capable of solid performances on their day, both found the going that little bit too tough on this occasion.
Lively

A lively, entertaining contest then that was clearly enjoyed by those in the audience as much as the players themselves.
We have no doubt that the two bands heading to Harrogate will represent the Midlands well, whilst credit should also go to Dan Price for a test piece eminently suitable for Second Section contesting. Let's hope we hear more from him soon.
Christopher Thomas
4barsrest Classifieds
Burnham and Highbridge Band
Burnham and Highbridge Band are in search of an enthusiastic Musical Director.. . We are a non contesting band, however looki...
NABBA
Date: 10-Mar-2017
Venue: Embassy Theatre and Grand Wayne Center. 125 W. Jefferson Street . Fort Wayne, Indiana 46802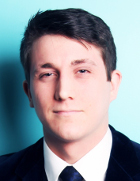 Jack Capstaff
Bmus (Hons)
Conductor | Composer