British Federation of Brass Bands - 2009 AGM
7-Apr-2009
If the BFBB represents the banding movement in the UK, then does it reflect one that is in good health or in need of a bit of North Korean democracy...
---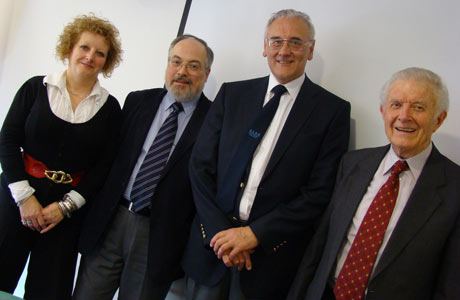 The usual suspects: The BFBB officers line up...

The Annual General Meeting of the British Federation of Brass Bands in Manchester on Saturday afternoon was a perfect reflection of the current state of the British brass band movement.
Full of a heartfelt love of brass banding, hard working but in desperate need of new blood, dedicated, low on numbers, high on commitment, short on answers, long in the tooth.
A total of 19 people attended.
Roll over

Two were members of the press (although not one from the BFBB itself), one was Alan Edmond, the Scottish Brass Band Association Development Officer. 14 were either current officers or members of the Registry Appeals Committee seeking re-election. 1 was the BFBB Development Officer. 1 (Chris Wormald of Smithills Schools) was a representative of a band.
You may not agree with a lot the BFBB does, but it surely deserves more support than this: It was a depressing reflection of the curent state of apathy that infects the general body politic of banding in this country. Without these people, English banding in particular would simply roll over and die.
Nuts and bolts

The usual nuts and bolts of an AGM were dispensed with quickly and without fuss. Re- elections saw Robert Morgan, Nigel Morgan and Carol Tattersfield returned as Chairman, Treasurer and General Secretary, with the list of 13 Executive Board members and 8 Registry Appeals Committee members returned on block.
If it wasn't for the fact that we were sitting in a nice room with sandwiches at the Royal Northern College of Music in Manchester, it could have been a scene from the General Assembly of the North Korean Communist Party.
The BFBB is a very democratic organisation that is starting to find itself being run to survive on a form of benevolent nepotism. This is not jobs for the boys, but jobs for those who turn up.
Working socks off

Those who do put their names forward are working their socks off it must be said.
Robert Morgan is the face of the BFBB at large of course, but there are others, rather more behind the scenes, who make the organisation work.
Executive report

That was apparent in the report to the AGM from Robert Morgan himself, that outlined the organisations work of the past 12 months.
Membership was dropping (to around 230 bands) but income was up, the National Youth Championships were flourishing (thanks to work by the likes of Arnold Tattersfield and Gary Walczak) and the support of the sponsors 'The Co-operative' was proving to be beneficial to both parties. The Registry continues to be both busy and profitable, the English Nationals just about break even.
In addition, the Arts Council links were being developed by Philip Watson and Parliamentary connections were were becoming more influential, the CRB service was popular and effective, support for EBBA continued, insurances with Fedsure were cost effective.
As a picture of a small organisation working well it was encouraging, as a reflection of a brass band movement with long term aims and objectives, it was almost frightening.
Finances

The monetary position of the BFBB was presented by Nigel Morgan, who has done a great deal of work to ensure the organisations financial future.
With funds standing around £47,000 and with a forthcoming £56,000 legacy to be used as a trust fund for future projects, the BFBB is in decent shape, despite falling numbers. Encouragingly, the financial breakdown now sees income somewhat more evenly divided between that derived from the Arts Council and that from membership and other sources.
With both Nigel and Philip Watson going out to the regions to seek new members (succesful work was reported from both Cumbria and the South West) hopes are high that the BFBB will remain on a solid financial footing.
The BFBB contesting subsidary made a small loss whilst the Registry remained profitable, and with plans to implement Direct Debits or Standing Orders for members to pay their £100 a year fee, Nigel's work has been a real bonus to the organisation.
No report

Strangely there was no direct report from Development Officer Philip Watson, although there was a copy of the BFBB 'Strategic Plan' available, but there was an enjoyable address from President Peter Parkes, who remains an active and supportive figurehead.
With the main business out of the way, an 'Open Forum'allowed for varied discussion, with interesting debates over the Child Protection issues (something which the BFBB has played a leading role), as well as discussions over questions raised by the press over the need for dialogue with Kapitol Promotions, the BFBB's support of a private proposal to host a World Championship in London in 2012, rules for the National Youth Championships and the provision of the English National test piece to competing bands.
Open and direct

Each were dealt with open, honest and direct answers, opinions and views, even if a couple of the questions certainly made for slightly uncomfortable responses.
It also highlighted the fact that despite the lack of numbers, the BFBB is trying to make headway on a broad front of issues. What it needs more than anything however is more people to become involved.
Without more party members so to speak, Kim Jong-il himself may well pop over from North Korea to pick up a few tips on how to run things.

Iwan Fox
4barsrest Classifieds
York Railway Institute Band
York RI Band (North of England Championship Section, MD David Lancaster), have immediate vacancies for Principal Cornet, Back...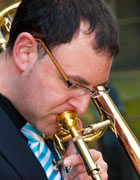 Brett Baker
BSc (Hons), ARCM, PG Dip
Rath clinician, conductor, teacher, adjudicator, editor