2010 Norwegian National Championships - 1st Division retrospective
10-Feb-2010
There was a commanding win in the 1st Division as Sandefjord took an impressive setp back to the Elite Division of Norwegain banding thanks to a 100% conductor's record.
---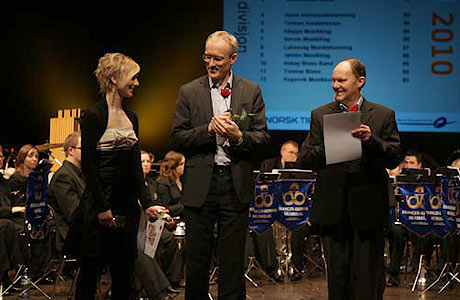 The moment of victory for Sandefjord
Picture: Rolf Hestetreet

If further proof was needed that the Norwegians have got the reasoning behind having a First Section that does what it was intended to do, then it came with Sandefjord's stunning victory on the Saturday.

Conducted by Dave Roberts, the band has endured some lean times since it won the last of its two Elite titles in 2000. But after getting over the shock of last year's relegation, they have worked hard to return.

Wonderful

Despite the wonderful celebrations of the players long into the Bergen Brass Night, they were realistic that even more hard work is required if they are to become a regular contender for a possible third title in the years to come. If however they play to the same standard as they did on their own choice selection of John Pickard's fearsome 'Eden' then they won't be too far away.

This was a performance worthy of not just winning their second 1st Division National title (the first was back in 1996), but one that would have stood shoulder to shoulder with the best in the Elite Section on the weekend too.

100%

No wonder Dave Roberts was a happy man. The Rothwell Temperance MD is no stranger to Norway, having spent a year living here over 20 years ago when he played for Manger Musikklag. It was though his first appearance at the contest as a conductor. He can now boast a 100% success rate.

And he can also boast, without any hint of arrogance, that he deserved it too. His direction on a very difficult score was exemplary; direct, clearly defined and accurate – a prerequisite on some of the most complex time signatures ever found in a brass band test piece.

His band responded in kind. Secure soloists (including a very fine solo trombone), a balanced ensemble sound, secure lead lines, reserves of stamina and the ability to turn up the wick on the excitement meter just when it was required most. By the time they measured the final long climatic chord, victory was in the bag – and well deserved it was too.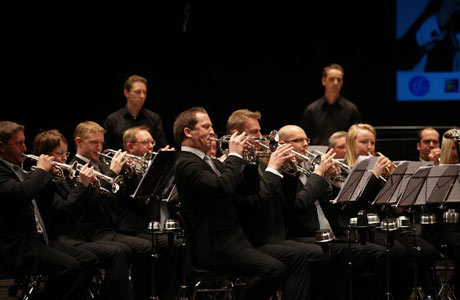 Sandefjord in full flow
Picture: Rolf Hestetreet

High class contest

This was a high class contest, as confirmed by adjudicator Gavin David Lee when he spoke after the announcement of the results - but in truth there was no doubting the winner.

Tomra Brass ended the contest as it had begun – with a classy rendition of a very difficult test piece (Rococo Variations). Despite some wonderful ensemble playing on the former British Open work, and a reading of real character by Frans Violet, it never quite had that extra sheen of class that Sandefjord possessed.

Essence

It was much the same for third placed Alexander Brass. Morten E Hansen is perhaps the one homegrown Norwegian conductor who understands the essence of 'traditional' British brass band playing.

His choice of 'Journey into Freedom' emphasised it too, with warmth to the ensemble sound backed by an appreciation of the subtle nuances of style in Eric Ball's great work. Not everything came off in terms of pure execution, but it was a performance of considerable musical merit.

The final band to really show their class was Jaren Hornmusikkforening directed by Garry Cutt, who produced a highly enjoyable performance of 'The Promised Land'.

Although no stranger to Wales himself, his players approach to the work seemed to miss that essential touch of 'hywl' (a certain type of overt national passion) that is rather cumbersomely written into the work. How on earth are Norwegians going to get the lachrymose inspiration behind 'Myfanwy' – its like asking Tom Jones to yodel.

Still, they did come close.

Quartet

This quartet stood out, but there was a number of fine performances from the rest of the field.

Tertnes produced a well shaped 'Essence of Time' under Tormod Flaten that caught the essence if not quite the execution required, whilst Kleppe just about hung onto the coattails of 'Paganini Variations' to come 6th, with a sensible approach that just tired towards its end.

Thereafter the standard did fall away a little, with some ambitious choices.

Sorum Musikklag's 'Harrison's Dream' was a brave effort, but one that had too many mechanical faults in the inner workings to capture the relentless drive for longitudinal perfection, whilst Lakesvag delivered an uneven 'Paganini' that at times thrilled but at others just made you wince.

So too Jolster with Eric Ball's 'Kensington Concerto', which not for the first time in Norway proved to be a style of writing not easily understood by its performers.

Countdown

Askoy (with their wonderful collection of supporters in the hall that made them look like a human 'Countdown' letters board) made slightly hard work of 'Blitz', whilst Tromso's 'Paganini' was a bit too varied in execution to have come any higher than its eventual 11th place. Kopervik who came 12th, couldn't turn a knowledgeable reading of 'Journey into Freedom' into something really substantive.

The lasting impression though was Sandefjord's superb winning performance of 'Eden' – one that gave them the title and a return to the promised land of the Elite Division for 2011.

Iwan Fox
4barsrest Classifieds
Swindon Brass
We are a friendly and active 3rd section band in Swindon with a couple of seats available for Cornet, position flexible, but ...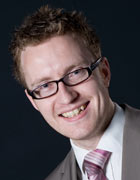 John Ward

Conductor, Adjudicator