Gizmos & Gadgets - February
14-Feb-2010
4BR looks at some of the best bargains to be had this February...
---
Yamaha YCR2330 Cornet
Price: £395.00 (Inc VAT)

Such is the competitive nature of the brass instrument market place at present that there are some pretty amazing deals to be had if you take the time to shop around a bit.

We found this cracker at Band Supplies – a great little cornet for the aspiring student at a price that won't empty the piggy bank of hard earned pocket money.

Yamaha have built up a reputation for making quality student instruments that incorporate many of the features and characteristics of their top pro models, and this one is no exception to their rule.

The YCR-2330II certainly looks the part and plays the part too, with excellent build quality giving a flexible and resonant response and tonal quality.

The lightweight design makes it easy to hold and play, and it also comes with the usual Yamaha extras – all at a fantastic price.

Find out more:
http://www.band-supplies.co.uk/acatalog/Bb_CORNETS.html
---
JP176 Soprano Cornet Eb lacquer
Price: £233.83 (Inc VAT)

If you are looking to get your hands on a soprano cornet that does the job at a fraction of the price of a top of the range Schilke, then this is the one for you.

It's a startling little beauty – at a startling price.

The high spec JP176 is really well put together, free blowing and remarkably in tune.

It has the feel of an instrument that has been put together by someone who understands the very specialised needs of an aspiring soprano player and not by three blokes with a welders torch and a couple of lengths of plumbers spare central heating piping.

Comes with triggers on both 1st and 3rd slides, facile valves and plenty of tuning slide to play around with too.

For a player who wants to make a life and reputation for themselves on the most difficult instrument in the banding world, then this is an ideal way to start.

Find out more:
http://www.johnpacker.co.uk/Catalogue/Brass-Instruments/Cornet/Eb-Soprano-Cornet/Student/JP-176-Soprano-Cornet-Eb-Lacquer-102066
---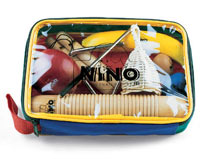 Meinl Nino Percussion Set 4
Price: £39.50 (Inc VAT)

Nino instruments have been designed to meet the demands of early childhood education and are perfectly suitable for use in kindergartens, primary schools, music therapy and musical activities in the family.

It's the perfect activity for small groups of up to 5 children, who can hit, smack, bash and crash things together to make a wonderful sound.

Guaranteed to put a smile on anyone's face, the nifty pack contains a wooden Guiro, Caxixi, a pair of small wood Claves, a Triangle, Egg Shakers and small Botany

Find out more:
http://cgi.ebay.co.uk/Meinl-Nino-Percussion-Set-4_W0QQitemZ250571711355QQcmdZViewItemQQssPageNameZRSS:B:SILF:GB:102
---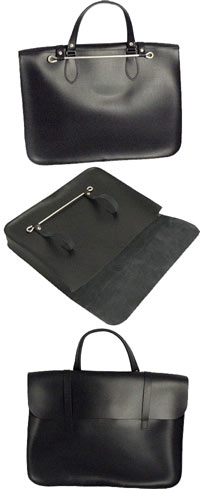 Fine Leather Music Case
Price: £36.00 (Inc VAT)

There are times when you just have to look the part.

Forget wrapping up you music into a ball and shoving it into the nearest gap in your instrument case, only to spend hours at the start of the next rehearsal like a Japanese origami expert unfolding it to stop it from falling off your music stand.

Make life easy for yourself with this leather music case.

Comes in Royal Blue, Dark Brown or Black Finish with nickel plated bar handles, solid construction and beautiful looks.

Smells lovely.

As Cheryl Cole says: 'Because your worth it…'

Find out more:

http://www.woodwindandbrass.co.uk/acatalog/autumn_bargains.html
---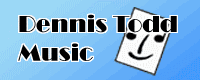 Dennis Todd 4 Month Rental Scheme

If you are unsure about taking the plunge and investing hard earned cash into your offspring's musical future all in one go, then this rental scheme from Dennis Todd provides the ideal answer.
The usual questions arise: How long will the budding Maurice Murphy sticks to their latest fad, and, how much will it cost?

With the 'pay as you play' rental plan the cost of the instrument is conveniently spread over 24 months. You can hand the instrument back after a minimum of 2 months, with no further monthly payments, or continue paying monthly until the 24 months is up. At this point the instrument is yours.

All rental instruments are new and thoroughly checked and are good quality student models.

The minimal rental charge is £12.00.

As a cheap and flexible alternative to spending hundreds on pounds on an instrument that could find it's way to the nearest 'Cash Converter' shop its unbeatable.

Find out more:
http://www.dennistoddmusic.com/rental.html
4barsrest Classifieds
Severn Tunnel Band
We are a friendly and welcoming third section band based in the Caldicot area only a short drive from the Severn Bridge,and a...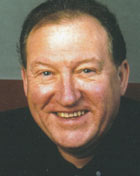 John Maines
BA (Hons)
Presenter, compere and conductor