2010 West of England Regional Championship - First Section: retrospective
18-Mar-2010
Two clear cut qualifers in the First Section as Gustav Holst's work did the bands no favours at all.
---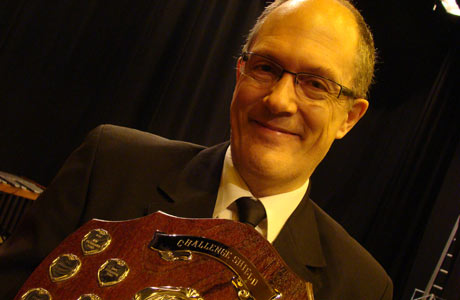 Wry smile: Portishead's rep enjoys the moment of victory - quietly...

Gustav Holst may have been a son of these parts, but he did the bands no favours with 'A Moorside Suite' on the Saturday.

And despite a brace of decent efforts from the bands that got the nod from adjudicator's David Horsfield and Peter Bassano, there was little doubt that overall the 14 bands didn't do the 83-year-old piece justice.

Sympathetic

The adjudicators were sympathetic in their remarks from the stage at the conclusion of the contest, with Peter giving a potted history of the work, that told you much more than just the times and dates of when it was written and first performed.

Peter highlighted that unlike more modern works for brass band, the lack of specific, almost bar by bar tempi and style direction, placed the musical emphasis on the ability of the conductor to make crucial judgements of pace and musical refinement.

He was too well mannered to explicitly tell conductors that many of them had made a pig's ear of the chance to do just that, but it was a very cogent analysis of the obvious shortcomings that undermined a number of performances on the day.

No doubt

David also ensured that the bands were left in no doubt, about their shortcomings, and whilst the two 'clear' qualifiers, as he called them, certainly made the music flow with an 'essential English feel', others fell back on overblowing, aggressive style and the inability to create 'magical quiet moments' (even between the movements) to have forced their way into qualification contention.

The two bands that certainly did that were Portishead Town and Bournmouth Concert.

Unfussy

Directed with an admirable sense of unfussy style by former Sun Life flugel star Ian Dickinson, Portishead delivered a solid, unpretentious account that benefited from well defined elements of pace and style in each of the three movements.

The opening 'Scherzo' was light and detailed and played at a neat skipping pace, whilst the 'Nocturne' if not completely error free, flowed by a sense of ensemble and solo security. The final 'March' was delivered without recourse to bombast or overblowing, so by its close it had the stamp of a Harrogate qualifier all over it.

What eventually separated them from Bournmouth was that sense of extra security in the treacherous 'Nocturne'.

Nigel Taken's lyrical approach to the score was free flowing in pace and controlled in dynamic, with a very fine bass section providing a warmly hued foundation on which their qualification was built.

Despite the odd nasty moment or two, there was an underlying quality to the direction and the execution that comfortably placed it ahead of all but Portishead in the race to get to Harrogate.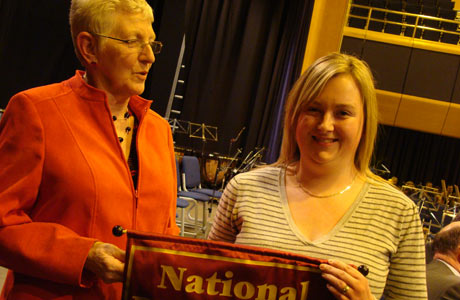 Bournmouth claim the second qualification place for Harrogate

Intelligent

Third place was eventually taken by St Austell after Gareth Pritchard's intelligently shaped reading was just undermined by a number of little errors and some tuning problems that took the gloss off an enjoyable account.

They will be disappointed (as was the young man who came up to accept the third placed banner) to have just missed out on a finals trip for a second year in a row, but this young band has a growing maturity that will surely flower here in coming years.

Clear cut

The remaining top six places were also fairly clear cut too, although Verwood Concert could count themselves a touch unlucky their confident account under David Johnson's intelligent direction didn't gain a higher finish than 5th.

Theirs was a performance that blossomed after a hesitant start, with perhaps the best middle section of the whole day, although they did just tire towards the end with qualification perhaps just within their grasp.

On the other hand Camborne B will know that a somewhat pacy 'Nocturne' may have cost them their chance to gain a place at the finals.

Alan Pope's remarkable set of youngsters (with just three adults in the ranks we could see and with teenagers on all major solo seats) produced two outer movements of stylish clarity, but that up-tempo 'Nocturne' just robbed the music of its relaxed serenity.

The final top six place went to Aldborne who produced a solid, if rather none descript account under David Williams that was confidently executed if a little lacking in delicacy of style.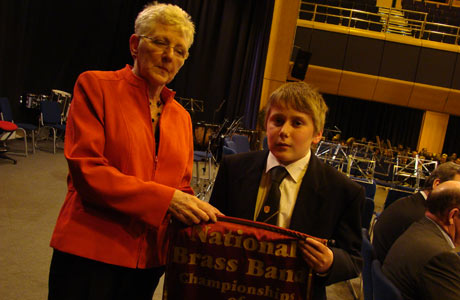 Very nearly a smile: St Austell just miss out on a Harrogate trip

Character missing

For the rest of the 14 band field, the problems in trying to bring a sense of folk inspired bucolic character to the music, at times completely passed them by. A combination of nervousness, unforced errors, bad tuning and the inability to amend an over emphasised pointed approach to articulation, which was ideal for modern robust works, but was out of place with this bit of dated tasteful delicacy, cost them all valuable points.

STORM Brass drew the short straw of Kelly's Eye on their debut, and whilst delivering a promising account under Andrew Jones, they showed themselves as a band not quite gelled together enough to be the sum of their individual parts.

10th place was an accurate reflection of their current cohesive development.

The same could also be said of the bands that ended up just outside the top six too, with Chalford's solid account in 7th lacking a lyrical heart at times despite some fine individual playing, especially from the young lady on 4th man down.

Lanner's rather lightweight approach (they were a few players short) was neat and tidy to start, but a poor 'Nocturne' seemed to take the wind out of their sails despite a controlled piece of direction by Stuart Chappell.

Despite its solidity Hyde's performance lacked a lyrical core, whilst Michelmersh produced an interesting account under Melvin White that at times captured the style perfectly, but never the execution.

Bottom three

The bottom three bands could have little to complain about, with Otterborne (although they had to wait for a crying baby to be muted), Lympstone and Ocean Brass delivering renditions that at times had security in the louder passages, but were cruelly flawed in the more exposed passages.

The reliance on either muted camouflage, circular seating formations or directional playing were options that were never going to work on a piece like this.

What did work though was the admirable approach of Portishead's Ian Dickinson in allowing the music the chance to flow, whilst placing faith in his band to carry out his directions to the letter.

As a result they head to Harrogate as deserved West of England champions.

Iwan Fox
4barsrest Classifieds
Poulton-le-Fylde
The Poulton Band (1st Section near Blackpool),has vacancies for a bass trombone & kit percussionist. Our friendly band of...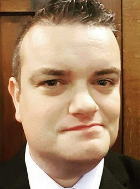 Neil Samuel

Conductor