2010 North West Regional Championship - Third Section: retrospective
19-Mar-2010
There was a quite outstanding winning performance in the Third Section as Delph delivered a first class bit of labour with a wonderful love interest to take the title.
---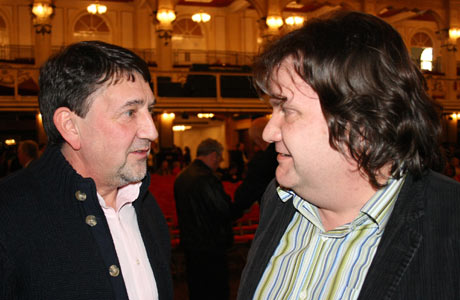 You are the number 1: Phil Goodwin thanks Ian Brownbill for his decision
Picture: Steve Jack

It's a rare occurrence when one band on a full contesting day at Blackpool wins off the number 1 draw, but it is nigh on impossible to remember a time when two bands have done the same thing – especially when one of them does it in a large field of 18 other contenders.

Wonderful performance

Phil Goodwin and Delph did just that on Sunday, and the Butlins Mineworkers Champion fully deserved it too. It was a wonderful performance of 'Labour & Love' that you will be hard pressed to find bettered anywhere else on your travels all year, let alone at the other three remaining regional venues this weekend.

Sticking faithfully to the spirit of the Percy Fletcher score, it was a performance of excellent ensemble and solo control, warmth and balance to the tonality and security in execution that wouldn't have been out of place, one or maybe even two sections above it.

Above all though was Phil Goodwin's appreciation of the style required to make this dated music seem relevant.

This was an outstanding interpretation, vibrant and lively, and even when the band had the opportunity to r up the dynamic level or increase the pace to generate artificial excitement, he reigned back the tendency not to lose the required self imposed discipline.

It made for some wonderful playing.

Plenty to admire

Ian Brownbill said that there was plenty to admire in the performances of all 19 bands on the day in fact, but he reserved special praise for the winners. Even though it was off the number 1 draw, he immediately knew it would take quite some performance to beat it – and despite a number of well thought out efforts, none really came close.

In fact the toughest job he said he had was in sorting out the bands that occupied the mid table placings – with a host from Eagley in 7th to Trinity Girls in 14th, very much of a muchness.

The overall standard was pretty good he added, but the lack of consistency at times was frustrating more than anything else – as the potential to produce a performance of qualification merit was very much within the grasp of about twelve or more competitors.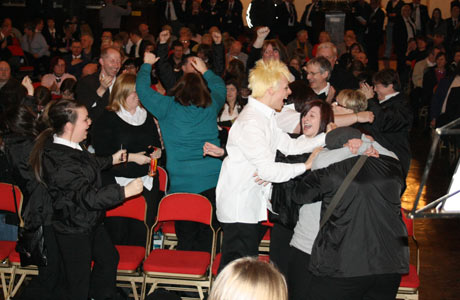 Hoover sweep up to a place in Harrogate
Picture: Steve Jack

Qualifiers

In the end it was Hoover (Bolton) and Cheshire Constabulary who produced the two performances to claim the qualification berths for Harrogate.

Trevor Halliwell set out a well shaped reading of the old score that was intelligently executed by his players, and whilst there were clips and errors it was a persuasive account.

Cheshire meanwhile also benefited from a well thought out reading by David Woollam, and whilst they too had an error count that just took the gloss off the overall picture, it was a performance that deserved its qualification.

Pace

Uppermill and Alan Widdop will perhaps be left reflecting that their chances were undermined by the decision to up the tempo and dynamic levels a notch or two too far at times.

Stalybridge and Greenhalls will know that if they could have just added a touch more security, especially to the more exposed passages of the music then they might have been celebrating rather than commiserating in the bar after the results.

The mixed bag that came from 7th to 14th could have ended up in just about any order, and it must have frustrated Ian in the box that for every three good points of execution there was one or may two bad ones that blotted generally well thought out approaches to the work.

Slipshod

Some slipshod tuning and lazy articulation, inexperience and nerves all played their parts, as there was much to enjoy from Eagley's spirited approach, Pemberton's colourful effort, Douglas and Skelmersdale's neat sense of style and Eccles robustness. Ramsay and Whitworth also had their fair share of extended moments of quality too.

One thing bands at this level should never try to do though is to think they can pull the wool over the ears of a fine musician in the box. Ian Brownbill has been around a long old time and knows all the tricks of the trade. Those who did try camouflage work in particular came a cropper.

Bottom end

As for the bands at the bottom end of the results table?

No real complaints we feel as they will know that too many forced and unforced errors, a reliance on speed and volume rather than well chosen tempos and dynamics cost them any chances of coming higher than they eventually did.

Lessons learnt then for Goodshaw, Formby, Lostock Hall, Valley Brass and Hawk Green.

Overall though an enjoyable contest, made quite memorable in fact by a winning performance that will live long on the memory banks.

On this form Harrogate cannot come soon enough for Delph.

Dave Tinker
4barsrest Classifieds
Thoresby Colliery Band
First Class Percussionist required for this progressing Championship Section based in Clumber Park in North Nottinghamshire. ...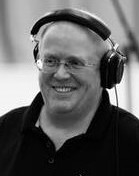 Sandy Smith

Conductor, teacher, adjudicator and arranger