2010 North West Regional Championship - Second Section: retrospective
19-Mar-2010
There were more important things to concern people on Sunday, but eventually there was good news both on health and banding issues as Diggle took the title.
---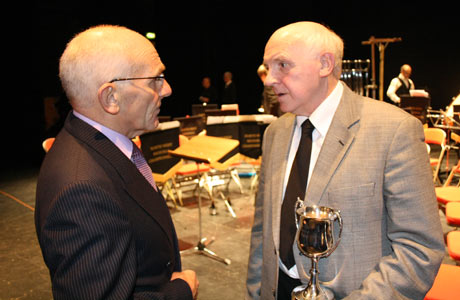 Well done Jim: Roy Roe offers his congratulations to Jim Shepherd
Picture: Steve Jack

The only thing that mattered when it came to Sunday morning's Second Section contest in the Opera House was that Old Hall's baritone player Sarah Neal, who suffered a serious medical problem on stage, made a speedy recovery.

Full health

Thankfully, later reports suggested that despite a period in hospital she was well on the way to full health, but the incident did remind you that given the pressures and anxieties all competitors feel on the contest stage, it is quite amazing that incidents such as this do not happen on a regular basis.

After an appropriate break the contest continued (although understandably without Old Hall Brass) and whilst there were cheers at the results, the subdued atmosphere told the true story.

St John's on hand

The North West's Regional Secretary, Peter Bates thanked the work of the excellent team of St John's Ambulance volunteers as well as the audience who vacated the hall with admirable speed, whilst he also made sure the other bands were thanked for their understanding.

With regards to the contest, adjudicator Roy Roe gave a very open assessment. Prior to a note being blown, he expected that this would be a tough challenge for the bands, but he was generally impressed by the overall standard on Philip Harper's 'The Kingdom of Dragons'.

Roy described the work as '…exciting but difficult' with ' a high musical content'.

He also made reference for the need to produce a well balance tonality, especially in the quieter sections, as well as being able to find detail and rhythmic clarity especially in the final fugue.

Although he didn't come out say straight away who had won, his remarks gave a clear indication to those who sat and listened to all 13 bands, where the prizes might eventually end up.

The two bands that go to Harrogate in the autumn will also find themselves in the First Section come 2011, and on this evidence they should be confident that they should more than hold their own.



Roy's rainy day: Roy Roe presents Rainford with their Harrogate ticket
Picture: Steve Jack

Shepherd's master class

Diggle and James Shepherd took to the stage at the half way point and what unfolded was a cameol master class.

The compact sound of the band had that 1960s feel about it when Mr Shepherd was in his pomp, with a balanced tonality built on a warm bass foundation and topped by a splendid cherry cake soprano.

There was a vibrancy to the playing throughout and the attention to detail was exemplary – making them worthy winners of the title. There were a few 'grey heads' enjoying themselves on this performance – and it showed.

A gem from Neil

Neil Samuel's and Rainford took to the stage just before Diggle and they were the first band of the contest to really provide a convincing interpretation of the piece.

As with the winner, this was a well thought out performance with nothing out of place. The control in the quieter sections was excellent, whilst the contribution from the percussion team brought colour and texture throughout without ever swamping the quality of the brass music making.

Strangely they didn't look too thrilled as to how things had gone when they walked off stage, but they'd needn't have worried, as by the time the contest had run its course, they were heading to Harrogate.

Haydock in third

Haydock with Mark Quinn also mastered the majority of obstacles within the piece although they were one of a number of bands that suffered somewhat with nervousness that just took the gloss of a promising performance and left them just a yard or two behind the eventual qualifiers.

Although it would be understandable they were a touch dejected at just missing out on the finals, this showed that they are not that far off the pace of the best at this level.

Morecambe and Haslingden shine

Morecambe and Haslingden & Helmshore should both be delighted to have featured in the top six, finishing 4th and 5th respectively. Morecambe started off well and despite a few blips along the way, dug in to produce a determined performance that benefited from an intelligent reading from Andrew Warriner.

Haslingden's MD, David Holland also seemed quite happy with how things had panned out for the Lancastrians. A neat approach to dynamics and attention to detail were just offset with a lack of stamina in the final fugue section to the close.

Moore's magic

Grenville Moore's Dobcross took to the stage after Old Hall and deserve acknowledgement and respect for a persuasive musical interpretation in what were difficult circumstances. They fully deserved to finish 6th and if things had been different, a touch higher wouldn't have been out of place.

Mixed bag

Thereafter, it was the age old question of finding consistency when and where it mattered, with a host of performances from Eccleston to Blackpool Brass either beginning well and tailing off, or the other way around.

One reoccurring theme however was the desire to play that final 'Newport fugue' at a tempo that few if any had any chance of maintaining with a degree of clarity as it became more complex.

Why the MDs thought that an increase in speed would somehow camouflage the inherent problems with precision and balance seemed rather misplaced, and it was clear their ideas were dimly thought of in the box.

Eccleston, Middleton and Flixton all started off well enough, but were unable to maintain the consistent approach of execution, whilst Co-operative 2000 had one of those days when little non descript errors eventually tuned into noticeably bigger ones to undermine a well thought out account by Jamie Meredith.

For Besses o'th' Barn and Blackpool Brass, two performances of brave endeavour and promise, but on this occasion, not quite up to the mark.

Two of a kind

This was a day when Diggle and Rainford were a just about a class apart from their rivals and if they can repeat the form shown here in September one of them could head into Section One as a National Champion.

Important to some, but when brass band contesting was put into real perspective as it was here on the weekend, that is for another day.

Malcolm Wood
4barsrest Classifieds
Coleshill Town Band
Coleshill Town Band (4th section) are looking for an enthusiastic conductor to continue the development of this friendly, suc...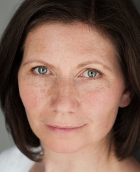 Sarah Groarke-Booth
BA (Hons) MA
Conductor, Adjudicator, Compere, Actor