2010 Midlands Regional Championship - Second Section: retrospective
19-Mar-2010
There was a model performance from Tintwistle to take the Second Section title on Philip Harper's exciting Welsh Dragon test piece.
---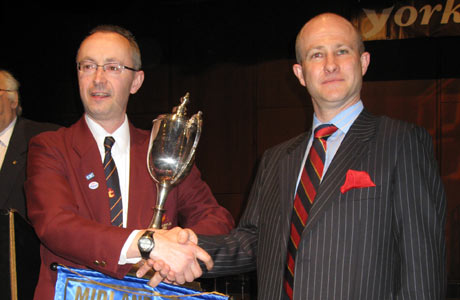 Smile please: Tintwistle's band rep looks the other way
Picture: Chris Thomas

If you were to try to attempt to single out a model performance of Philip Harper's exciting 'The Kingdom of Dragons' amongst the Second Section bands competing around the regions so far this year, you might just pick Tintwistle.

Infectious

Conducted with infectious dynamism and commitment by Sarah Groarke, this was one of those occasions when the audience could positively sense the sparks flying as the band responded in magnificent fashion to the MD's inspired direction to take the title.

Paul Norley and Malcolm Brownbill were warm in their praise of a performance from a band that should have "…very high hopes indeed" come the finals later in the year.

Delight

On a day when the Philip Harper's work not only proved to be a fine test but also gave all of the competing bands something to enjoy playing despite its many musical traps, Tintwistle's performance really was a delight.

In his pre-results summary, Paul Norley complimented the bands on a generally high standard of play, marked by very few issues of tuning, with tempi, balance and clarity of detail proving to be the main deciding factors.

Difficult

With the exception of the winners, all of the bands found definition of instrumental voices in the opening fanfares of 'Monmouthshire' difficult to achieve, a problem that was further highlighted in the final 'Newport fugue', where excessively brisk opening tempos were often exacerbated by bands descending into an uncontrollable (and unmarked) accelerando.

For Tintwistle, the calm of the third movement 'Torfaen,' the Meccanico of 'Blaenau Gwent' and the brief yet vivid picture of Pontypool's front row, the "Viet-Gwent", were all finely captured, and there will be few more deserving wins around the regions this year.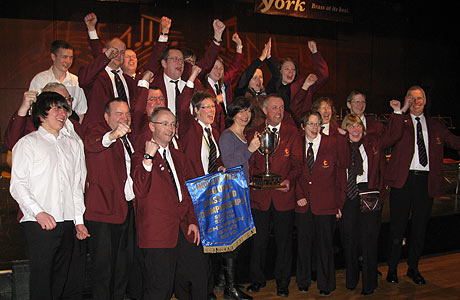 Proper celebrations: All of Tintwistle enjoy the winning feeling
Picture: Chris Thomas

Experience

Joining them in Harrogate, Blidworth Welfare benefited from the experience of conductor Martin Heartfield, and after the disappointment of relegation from the First Section, made up for it in some style with a solid rendition as the last of the ten bands in the section.

It was a performance that was notable for both its musical style and careful preparation, and although they were not able to replicate the precision and rhythmic clarity of Tintwistle, second was a just result for a thoughtfully conceived reading of the score.

Make a mark

Playing third, Bakewell Silver and Mark Wilcockson were the first band of the day to make a mark on the music, and although there were some precarious moments in the more exposed passages, the band succeeded in capturing the spirit of the score.

In particular there was real excitement and vibrancy in what was a successful Second Section debut following promotion.

In 4th place, Towcester Studio under David Jones struggled to demonstrate detail in the opening movement and suffered from a fugue that got away from the band following a good start in the final movement.

However, there was some very good solo work in the 'Torfaen' movement and with a horn and euphonium short, the result is one that the band will no doubt be pleased very with.

Uneven

Behind them, Wellington (Telford), Leicestershire Co-op (with regular MD and now star of 'A Band for Britain', Graham Jacklin at the helm) and Arrow Valley all produced playing of uneven quality – at times thrilling, at others, sloppy and lacking precision.

For Arrow Valley and Andy Culshaw, 7th place might well have been a touch harsh after they seemed to capture the unwritten spirit of the music better than most, whilst Wellington and Leicester had their moments, but just needed a touch more delicacy in the quieter sections to have made more of an impression.

All three bands will survive to fight another Second Section area next year though and have the potential to compete successfully during the coming contesting year.

Lost ground

For Matlock and Bilton Silver (Rugby) 8th and 10th positions represented lost ground against last year's results, and they could have little cause for complaint after two pretty average renditions.

WEM Jubilee meanwhile drew number one on the band's Second Section debut and found 'The Kingdom of Dragons' a tough task indeed, despite some fine individual contributions and a sensible approach to both tempi and dynamic from the MD.

Rarely has a Second Section qualifying contest in the Midlands proved as enjoyable as this one though, and both Tintwistle and Blidworth Welfare will no doubt head to Harrogate in September with high aspirations of National glory.

Chris Thomas
4barsrest Classifieds
Shirebrook Miners Welfare Band
Musical Director position available following 2017 Midland Area contest.. First section band with a full and varied program o...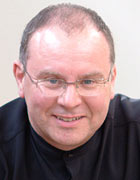 Christopher Houlding
MMus, GGSM, LRAM
Conductor, Performer, Educator