2010 Scottish Championships - Third Section: retrospective
22-Mar-2010
Plenty of hard labour, but not a lot of love interest made for a hard grafting winning performance from Kilmarnock Concert.
---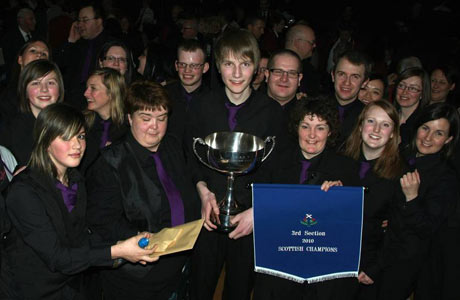 Champion return for Kilmarnock

There was plenty of hard labour and not much tender love on show in the Third Section, where despite some brave efforts, it was difficult to disagree with the summing up of the adjudicators Brett Baker and Dave Barringer that the only real winner was Percy Fletcher's test piece.

Combination

A combination of over aggression, poor basic tuning and balance, badly chosen tempi and nervousness all played their part.

The piece should have been called 'Love's Labour Lost'' because by the end of 12 performances of varying unevenness any love interest had done a runner and only hard toil remained. It was a very disappointing.

Return

The eventual winners were Kilmarnock Concert Brass, returning to the contest after a few years away to produce a curate's egg of a performance under Craig Anderson to take the title.

In the cold light of day they will know that they will not come anywhere in Harrogate if they play like this in September, but for the time being that is a consideration for another time for a young band full of promise.

Craig Anderson certainly knew what was required in terms of style, and whilst there were a number of fine individual contributions (with a quality solo cornet and trombone), the band is understandably yet to become the cohesive sum of its talented parts.

Benefit

Joining them in Harrogate will be Irvine & Dreghorn conducted by John Boax.

They too benefitted from an MD who knew what style was required to make the music come to life. Like the winners though, his band was also more a collection of talented parts than a cohesive whole, and despite the contributions of a fine horn, neat cornet and slightly unlucky trombone, that feeling remained right to the last note.

Interestingly there was also a battle between a hard labouring father and loving daughter between these bands as Kilmarnock's principal cornet player Amy Leitch pitted her skills against her father who occupied the same position with Irvine & Dreghorn.

You can guess who enjoyed the in house bragging rights after the contest!

Close

These two qualifiers were the only two bands to come close to mastering the near century old test piece – although that was more an indication not that the work still retained a dated bite after all these years, but more that the majority of bands didn't play it very well.

In the opinion of the judges, the best of the rest came from St David's Brass conducted by John Dickson.

A nervous opening never really imbued the band with ensemble confidence and although there were moments when it gelled (and featured a very good solo cornet player) the unforced errors finally marred a performance of potential, turning it into an average one.

Further down

It was much the same tale for those who ended up further down the prize list.

Renfrew Burgh closed the contest with a confident start and warm well-balanced tones, but just when you thought it would develop into a potential qualifier, the errors that started with minor slips, became increasingly difficult to ignore.

As with the top two bands, the MDs stylish intent (and with some notable individual contributions) was undermined by frustrating sloppiness in the ensemble.

George Annan and his young charges produced an uneven performance to end in 5th place, with poor tuning and a lack of ensemble security undermining some fine contributions from the cornet and horn in particular.

Bon Accord meanwhile will be frustrated that their effort didn't gain a better response in the box (or from the crying baby for that matter), but they couldn't quite combine ensemble security to the neat individuality that was displayed throughout.

For Peebles, a highly encouraging start promised much, and a fine trombone caught the right sense of style in particular. However, things started to wane soon after and by the close they seemed a rather spent force.

Much the same

It was much the same for the remaining four bands – and that age-old question that never quite seems adequately addressed at this level - consistency.

Brass Sounds Inverclyde had their moments under the baton of Gareth Bowman, but moments they were (a fine horn being a star performer), whilst Buckhaven & Methil's lightly textured opening seemed to hold promise only for the good work to be blighted by a series of unforced errors and untunefulness.

For MacTaggart Loanhead it was much the same to report – some neat and classy contributions (from a fine trombone and euph) offset by below average ensemble work.

Finally, a brave effort from Dundee that never quite came up to the mark on the day.

And that seemed to sum up the contest as a whole.

George Black
4barsrest Classifieds
GUS Virtuosi Band
The Virtuosi G.U.S. Band welcomes applications for Repiano cornet and Tutti cornet, to complete our strong line up as we ente...