2010 Scottish Championships - Second Section: retrospective
22-Mar-2010
The bands drew plenty of inspiration from Wales with the winners enjoying their trip to the Principality like long lost Celtic cousins...
---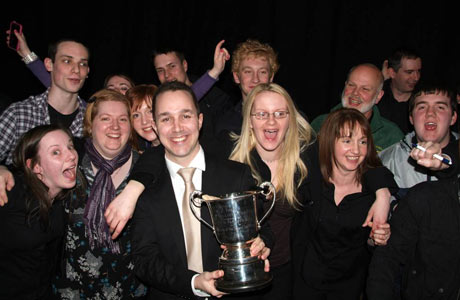 Dalkeith enjoy that winning feeling with MD, Jim Chamberlain

For a work that drew a great deal of its inspiration from the industrial heartland of South Wales, it shouldn't have come as a surprise that the Scots, and the bands that come from the same types of communities, would thoroughly enjoy 'The Kingdom of Dragons'.

Inspired

What did come as a bit of a surprise though was just how well they were inspired by it – with a clutch of quality performances that brought more than a hint of the valleys and vales of the Principality right into the heart of Fife.

The winners, Dalkeith & Monktonhall hail from a mining community and produced a real corker from the number 1 draw that was well worth its victory.

It gave the band, intelligently directed by Jim Chamberlain, its second Scottish title in the past three years, promotion to the First Section for the first time since 2002, and the trip to Harrogate. No wonder they looked so happy.

Their performance was hallmarked by a majestic opening, followed by a grafting trip down the Blaenau Gwent pits, a tranquil stroll in 'Pontypool Park', and neat side step to miss the hard tackling Pontypool front row, before a celebratory fugue of clarity and style to round things off.

The South Welsh Tourist Board couldn't have done a better job.

Admirable

Joining them in Harrogate will be Coalburn Silver, who not for the first time under the astute direction of Gareth Bowman, showed admirable quality in claiming their finals berth.

There was plenty of musical character about a performance that had a lovely sense of balance. The highlight was a classy 'Torfaen' section full of peaceful pastoral tones (and a fine prize winner solo cornet), and although they just let ambition get the better of them in the pacy 'Newport Fugue', there was little doubt it more than deserved its qualification.

These were classy performances – and their qualities were not lost on the two adjudicators, Chris Wormald and Nigel Seaman.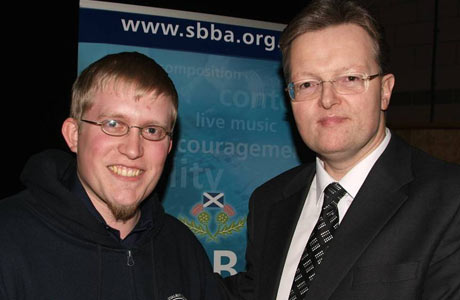 Coalburn's medal winner

Knows the area

Nigel knows the South Wales valleys very well indeed, and so would have known better than just about anyone else in Glenrothes on the day, just what was required to bring the correct characteristics of the music to life.

Although he did comment that the piece was trickier than many bands may have thought, the two qualifiers, and the winners in particular, had coped with the technical and musical challenges very well indeed.

And whilst a number of bands misread the first few bars of the piece and some took the final fugue too fast, overall he was impressed by what he had heard from all 12 competitors.

Chris Wormald meanwhile was in complete agreement (a recurring, and slightly puzzling theme of his on the weekend. Was there any disagreement in the box over the two days? It's stretching it) and reiterated that the top two bands 'chose themselves', whilst making the point that whilst the piece was obviously 'fun' to play, there were a number of very serious basic banding elements to it.

Fine effect

That was heard to fine effect by the bands that put up solid performances to fill the remaining top six places, with City of Discovery's dynamic and exciting rendition claiming third spot.

It just got a little too excitable at times, especially in the final fugue, but overall Bruce Wallace will have been delighted by his band's effort.

So too, Mike Marzella with Shott's, who rounded off the contest with a colourful rendition that starting strongly but just faded after a lovely sense of tranquillity amongst the prop forwards in the 'Torfaen' movement.

Lighter

Tullis Russell Mills opted for a lighter, much more lyrical approach to the first two movements than any of their rivals. Whilst there was much to admire in clarity of the approach, the pit work in particular was a little health and safety conscious when what it really required was a few hard-nosed old colliers and tin plate workers bending their backs in hard graft.

A good strong close just came a little too late to push them closer to a podium finish.

Barrhead Burgh and Lynda Nicholson will know that too many errors cost them an opportunity of finishing any higher than 6th. Two strong opening movements were followed by a pair that faded – and with it so did their chances.

Although the standard just dipped from 7th place down, you could sense, as Chris had alluded to that there was plenty of enjoyment to be had in bringing these colourful Welsh portraits to life.

Uneven

Granite City started well, but after a slightly uneven 'Torfaen' section began to lose control and balance and ended in Newport breathless and battling for stamina.

So too Croy, with an uneven performance that at times had the stamp of a possible qualifier, but at others was too error strewn, whilst Selkirk kicked off their performance on the stroke of Scotland kicking off against England at Murrayfield – and perhaps their minds were elsewhere, as it took time to settle into a decent account.

Bottom three

The bottom three bands struggled to really bring security to each of the four movements, although at times there was some fine playing to be heard.

Jedforest recovered from a very untidy start to deliver some neat playing, whilst St Ronan's had their moments when it all clicked and you could sense the valleys of Wales coming through the music.

Dunfermline also gave it their best shot, with some spirited playing that the Scottish rugby players could have shown in Cardiff a fortnight before – even though the end result was the same.

Overall though a highly enjoyable contest with some fine playing and two qualifiers that could do a lot of damage come Harrogate if they can repeat this form again.

George Black
4barsrest Classifieds
Milton Keynes Brass
MK Brass would be pleased to welcome a front row cornet player to join us. Rehearsals are on Tuesday evenings in Loughton, MK...
Unibrass 2017
Date: 18-Feb-2017
Venue: King's Rd, Harrogate HG1 5LA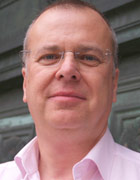 Nigel Seaman
ARMCM ARNCM
Conductor, band trainer, teacher and adjudicator