2010 Scottish Championships - Championship Section: retrospective
22-Mar-2010
The memories came flooding back for Co-op at Glenrothes - and nearly as good as 1990 they will be too in a few years time...
---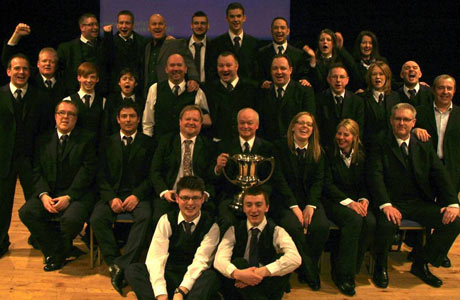 Another 'Heritage' win for Co-operative FuneralCare this time at Glenrothes

Co-operative FuneralCare Band retained its Scottish Championship at Glenrothes with a performance of 'English Heritage' that brought back many happy memories for those who enjoyed their historic triumph on George Lloyd's fine work back in 1990 at the Royal Albert Hall.

Age and a few celebratory drams of whisky may have given that particular victory almost mythical status now, but there will be a few stories to be told about their latest victory here in the years to come too.

Back to their best

This was the 'Co-op' back to its best – with a performance that despite an untidy ending was well worth its two point winning margin (the Scots remain resolute in their desire to retain numerical independence).

It gave the band its 30th top section title and conductor Russell Gray his third in a row. Whilst the band also picked up the invitation to represent Scotland at the 2011 European Championships in Montreux, after their defeat at the Scottish Open late last season it more importantly reasserted their right to be regarded as the dominant force in Scottish banding.

Diplomatic

Adjudicator's Brett Baker and Chris Wormald were as diplomatic as two Englishmen found holding the fate of Scottish banding in their hands could ever hope to be in their summing up at the conclusion of the contest.

Neither said anything to offend, (surely two adjudicators don't agree on every position even in a ten band field) or for that matter, greatly inform, the audience of what actually separated the bands out - apart from a few obscure statistics on the piece and the usual quote that the winning band was 'outstanding' (which they were).

Superfluous

All fair enough in the grand scheme of things, but seasoned observers were left more than a little puzzled by the assertion that there were '…three or four great bands' on the day, and '…the ten performances were all good'. The observation that '…the contest got louder as the day went on', seemed superfluous.

The Scots enjoy a bit of incisive opinion making. This was the language of a Holyrood civil servant.

No doubting

There was no doubting the judges decision making at the top end of the results table though: Scottish FuneralCare's victory was fully deserved, after they produced a precise opening to 'English Heritage' which was followed by notable lyricism courtesy of a typically broad, richly hued reading of the score by Russell Gray.

His interpretation was a wonderful mix of tasteful phrasing and precise ensemble technique, whilst his soloists produced secure individual contributions to enhance a performance that grew in stature from an impressive start.

Just a final section that seemed to lose its focus gave cause for concern, but by its close there was little doubt they would be heading south to the Albert Hall once again, and most probably as champions.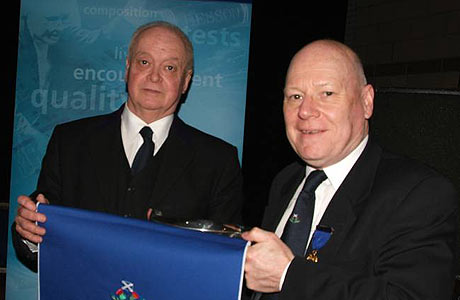 Presenting the Scottish Championship award to the Co-op

Three into two

Joining them there will be Whitburn, after the usual 'three into two' fight saw the 2008 champion push out Kirkintilloch for the priceless second Kensington qualification berth

Although Steven Mead and his band will know they were beaten by a better band on the day, they will be heartened by a performance that was consistent and cultured, but whose polished finish was chipped on occasions by too many minor slips.

Bold and full of character, Steven interpretation offered a subtly different approach to that of Russell, and whilst both were highly musical, it did mean that Whitburn were at times pushing themselves towards their limits. Co-op just seemed to have that little extra in reserve.

If only

Kirkintilloch will look back on an 'if only' performance that grew immensely in stature from a rather untidy opening quarter, to a thrilling close of intensity and excitement.

Frank Renton wore a broad smile as he took a bow from the stage, but he must have known that if only his band could have played like that from the start they would have been celebrating their first win at the contest since 2007 instead of missing out on an Albert Hall appearance for the first time since 2005.

Domestic supremacy

Not for the first time at this contest, the three heavyweight performers were involved in their own fight for domestic supremacy, as below them the overall standard varied greatly between the solid and competent to the decidedly average

In the end it was Kingdom Brass who produced a well structured performance to claim 4th place.

Andrew Duncan set out a clearly defined interpretation that benefited from excellent individual contributions (notably principal cornet Raf Van Looveren over for the contest from Belgium), although the ensemble lacked the depth of tonality that was a feature of the podium finishers.

It was more than enough to repel the challenge of Unison Kinneil in 5th, who produced an uneven performance that combined carelessness and sloppy ensemble balanced by lovely moments of lyrical musicality.

Allan Ramsay would have been left a frustrated conductor after this one – it had the potential to push for a qualification place if it wasn't for the self-inflicted wounds.

Less impressive

Below these it did get progressively less impressive.

Dalmellington benefited from a fine reading by Archie Hutchison, but not by a high error count that undermined its potential, whilst Newtongrange needed to inject more flow into a performance that was certainly lyrical in inspiration, but required a touch more perspiration to really come to life.

Scotland's European representatives Bon Accord appeared to have had their thoughts on Linz in Austria rather than Glenrothes in Fife. Theirs was a performance that was below par from what has been heard of them of late.

Clackmannan and Kirkintilloch Kelvin struggled to make any sort of impression, and although undoubtedly benefiting from the experience will be somewhat relieved that they return to the First Section for 2011.

Host of awards

As is usual with the Scottish Championships there was a host of individual awards to hand out before the grand announcement of the result, with the adjudicators once again showing a level of diplomacy that Koffi Annan would have been proud of by ensuring just about everyone got something for their efforts.

Chris Bradley of Whitburn took the cornet award, whilst Mark Boyd of Bon Accord picked up the trombone prize. Matthew Maines of Co-op was adjudged the 'Best Horn', Andy McLean the top euphonium and Kingdom Brass picked up the Bass Section honours.

Put all those elements together and you would have had a performance that would have even beaten Co-operative FuneralCare on the day.

When it did come to the all important prizes however, it was Kirkintilloch who left disappointed, Whitburn perhaps a touch relieved and Co-operative FuneralCare celebrating once more.

It was like 1990 all over again.

George Black
4barsrest Classifieds
Blackpool Brass
Friendly and ambitious 2nd Section band requires solo euph,Bb bass and percussion to fill the few empty seats we have. Rehear...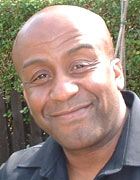 Duncan A. Beckley
BA, QTS, LTCL, FTCL, ARCM
Conductor, adjudicator, band trainer and teacher