2010 London & Southern Counties Regional Championship - Third Section: retrospective
25-Mar-2010
A refreshing bit of 'Labour & Love' tested the bands in the Third Section, with some pretty good efforts getting the nod for Harrogate from Derek Broadbent.
---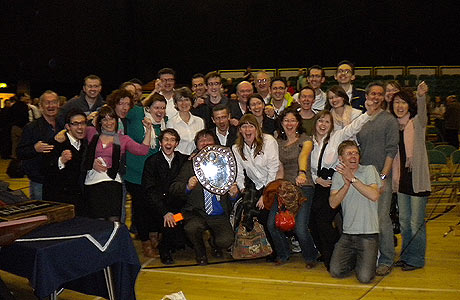 Cottage celebrations for Fulham

Summing up at the end of what he described as an enjoyable morning's music making, Derek Broadbent reflected on how refreshing 'Labour and Love' still sounds, despite having been the first original test piece written for bands.

Discussing the music itself, he explained that what appears easy on paper was quite difficult to bring off in performance, and that its difficulties have not gone away.

Not one

Not one band had got through unscathed, but some had coped with the musical corners, as he put it, better than others, whilst many had not fully grasped the importance of the programme attached to the work, which should be treated as a 'labour of love'.

He highlighted the very opening of the work, with its semiquaver followed by a dotted quaver, bemoaning the fact that many bands seemed to try to get the first note out of the way as soon as possible, instead of producing a measured motif.

One comment that did seem a little strange though was when he criticised some of the trombone players for changing the rhythm in their recitative solo – certainly there were some who did seem to grasp the 'declamato' request, but 'recitative' surely implies a certain amount of artistic licence.

Trust

Trusting that bands would find his remarks constructive and helpful, he expressed the feeling that, regardless of where bands had come, they would be "…infinitely better for having taken up the challenge".

The first band to respond to that challenge was BAE Systems Brass (K. Woodger) and their performance highlighted some issues that recurred throughout the morning.

Taking to the stage rather light on cornets but with a fourth trombone, that section was one of the best on the day, capturing the required style effectively with a real touch of Elgar's 'Cockaigne' at times, whilst the 'declamato' solo was just right.

Their solo work was generally good, with their solo cornet one of the most confident of the day, although the horn solo caused some problems, particularly the descending grace note from G to F, as it did with many bands. On the whole it was a good effort that earned them 5th place.

Mix

With a mix of young and old players, Watford (R. Graves) was at a great disadvantage in only fielding two trombones, which led to gaps in the texture at several points.

They suffered from poor ensemble and intonation from the start, snatching at the notes at times, and the quaver rhythm three bars from the end failed to come through at all.

The solo playing was also rather mixed, sometimes as a result of trying to play too quietly, as with the euphonium solo at the 'andante patetico' where many players seemed to ignore the written mark of mezzo-piano, opting for a much quieter dynamic and losing the notes as a result. They were placed 11th, a little higher than we anticipated.

Confident

With Norfolk Wherry Brass (K. Hegarty) we heard a confident horn soloist for the first time, although the playing overall was very patchy.

For a piece with so little percussion it was surprising how much was missed or uncertain, as with the first pp bass drum note near the start. There seemed to be a buzzing during the euphonium solo, and the trombone was rather lacklustre, whilst the vocalisation from the MD was most off-putting, particularly towards the end of the cornet cadenza! 13th place was about right for us.

Hangleton (R. Baker) started well, although the soloists were not so assured. Suspect intonation around letter C, basses too heavy for pianissimo, tentative euphonium and timid trombone all hampered their performance, although we understand that their principal cornet, Christine Nonoo, had to switch instruments mid-solo when hers malfunctioned.

With an apparent lack of power from the lower end of the band towards the end it was a middle-rank performance, and was placed 9th.

Nicely balanced

Jubilee Brass (Oxford) (C. Sadler) produced some nicely balanced ensemble playing, handling the 'un poco agitato' section particularly well. Lapses from some soloists let them down somewhat though, and the soprano cornet throughout letter Q could not be heard. Another middle ranked band, in 8th place.

There was an unexpected delay as Fulham Brass (S. Jones) waited to play, as one of the officials suddenly realised that the numbers had not been changed.

The band seemed unfazed however, and went on to produce what Derek Broadbent judged to be the winning reading.

It was certainly up there in a select group of three or four, although we found the opening a little light-toned for the marked 'pesante'. They definitely produced a tight ensemble, helped towards the end by what seemed to be a slightly slower tempo than marked.

They were also the first band to produce a real pianissimo from the basses, with carefully placed, rounded notes at the required volume.

Best so far

Betteshanger Welfare Brass (D. Cutting) brought out what was for us the best opening thus far, although there was a slight tendency towards over-blowing. They had a full, balanced sound with some nice interpretative touches from the conductor, and their 2nd place was well deserved.

Woodbridge Excelsior (C. Lewis) was plagued by poor intonation and ensemble, with mixed contributions from the soloists, euphonium being rather too tentative and trombone a bit rushed.

The bass drum was also too prominent at times, as was the case with many bands: when using a large orchestral drum in such a piece care needs to be taken to avoid it coming across like the Verdi 'Dies irae'! With the tune being overpowered at letter T, 12th place seemed about right.

Chalgrove (T. Brotherhood) was another band that impressed with their overall quality of sound and the clarity of their reading. Their bass section provided a richness of sound that added greatly to the effect. With neat solo work, it was a reading that brought a well-deserved 4th place.

Different formation

Wantage Silver 'B' (D. Dullforce) took to the stand with a rather different formation, with horns, euphoniums/baritones and basses in three rows in front of the conductor, leaving the trombones unimpeded.

They also took the strange decision to place the side drum and bass drum at opposite sides of the band, leading to some problems in coordination. The solo playing was weak, both in terms of execution and intonation though, and although the trombone sound was balanced it could have been much stronger. One of a number of middle-ranked bands that were quite difficult to separate, they eventually came 7th.

Tadley Concert Brass (P. Chapman) did not get off to a good start with their bass drum ringing out on its own before letter A. The horn solo was confident enough but somewhat lacking in warmth of tone, and cornet lines were rather scrappy. Runs in the lower band were very approximate in a disappointing rendition that left them in 14th and last.

Nervous

Hemel Hempstead (D. Klein) was looking to consolidate as they moved up a section under a new conductor. The playing of the lower end of the band was uneven at the start, and the horn sounded very nervous.

There was some deft work from their two euphoniums as they divided the solo work between them, and a confident trombone solo. Some insecure soprano playing seemed to unsettle the band in figure M, and the lower trombones could have balanced up to match the first.

Nevertheless there were many more good points than bad, and they could easily have been placed a little higher than 10th.

Loose ensemble

Hitchin Band (C. Patterson) started well, with a good, balanced sound, and some delicate playing leading to a really effective pianissimo from the basses.

Again, solo work let them down a little, together with an over-resonant bass drum. The ensemble seemed rather loose at times, but the overall impression was enough to secure them 6th place.

The last band to play, Hungerford Town (T. Crouter) seemed to bring something fresh with a vibrant opening and effective dove-tailing between the various sections of the band. They also highlighted some dynamic contrasts more than most bands, such as rises and falls in the lower band.

Lapse

An apparent lapse of concentration from the solo baritone may have cost them a little, but generally the solo work was good, and the overall sound was full-blooded but always under control. It was the winner for us, but placed 3rd by Derek Broadbent.

Fulham and Betteshanger Welfare go on to Harrogate in September and will be determined to show that lower section banding is alive and well in the south of England.

On this form they should be in with a good chance of doing just that.

Peter Bale
4barsrest Classifieds
Blackpool Brass
Friendly and ambitious 2nd Section band requires solo euph,Bb bass and percussion to fill the few empty seats we have. Rehear...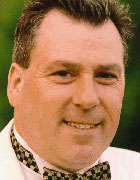 David Hirst
MA, B.Ed (Hons), LTCL
Conductor, adjudicator and arranger