2010 London & Southern Counties Regional Championship - Second Section: retrospective
25-Mar-2010
Four contrasting movements brought 17 different takes on Philip Harper's test piece, with a cracker from East London slaying the Welsh dragon to take yet another title.
---
Based on the four local authorities that make up the county of Gwent in South Wales, Philip Harper's colourful 'Kingdom of Dragons' is comprised of four movements, played without a break.

Each, as the adjudicator, Simone Rebello, pointed out in her remarks following the contest, had its own very particular characteristic.

Ignored

After an introduction containing the thematic germ cell of the whole work, 'Monmouth' evokes a mood of pageantry (a reference to the region's ancient castles), while 'Blaenau Gwent' describes the coal mines and iron foundries of the area. 'Torfaen' is a tranquil interlude descriptive of Pontypool Park, while the final movement, 'Newport', describes the bustling life of a busy city.

The composer has placed clear metronome markings in his two fast movements; 'Blaenau Gwent' set at 150 beats per minute and the fugue in the finale, at 120, but these instructions were blithely ignored by a number of conductors, who seemed intent on playing the passages the way they thought Philip Harper should have written them, instead of the way that he did.

Although all the bands coped with the demands of the piece to some extent, only one managed to rise above the rest and give a truly outstanding account.

Clear and well-balanced

That was East London Brass, under its conductor, Jayne Murrill, who drew a vivid, well-controlled performance from her band with no suspicion of blasting, nor any tricks to impress the adjudicator.

Everything was musical, clear and well-balanced, with Harper's miners' work song in the second movement full of nuance and character. The odd metre bars were nicely emphasized, the pastoral 'Torfaen' episode was played warmly, whilst the 'Newport fugue' was taken at exactly the specified tempo.

Despite a little insecurity at times, the band acquitted itself nobly throughout, producing a rich, refined sound. They were clearly the best band of the day by a margin.

Insecurity

Refinement of sound was something notably absent from the other performances, which generally strove to impress by volume without regard to its quality.

There was also too little observance of Philip Harper's metronome markings, with the fugue in the final movement sometimes taken well above the speed specified.

Becontree Brass under the youthful direction of Adam Cooke, suffered some insecurity in places and problems of balance (the basses were almost inaudible in their little passage with the euphoniums at rehearsal letter D). And whilst the 'Newport fugue' was rushed, it was still a performance that impressed Simone to be awarded 2nd place.

Dogged

Following Becontree on stage, Alder Valley under Roger Burke turned in a rather dogged portrait of 'Monmouth' and struggled a little with 'Blaenau Gwent'. It really shone though with a fine job of 'Torfaen', whilst they took the 'Newport fugue' at the right tempo to claim 3rd place and that all important qualification spot for Harrogate.

Littleport Brass under the direction of former Grimethorpe cornet player, Nigel Bramley, was the last band to play and gave a remarkably good account of itself, with tight ensemble work and generally secure playing, and the 'Newport fugue' taken at exactly the tempo marked.

This reading certainly caught Simone's ear, although not just enough to give it a Harrogate berth in 4th.

Well-controlled

In 5th place, Waterbeach, was another band to play late in the warm Gordon Craig Theatre, but this didn't seem to affect it in any way, as it gave a steady, well-controlled performance under the baton of James Utting, that was largely devoid of serious mishaps, but lacked a touch of refinement.

The final top six place was taken by Chichester City under Martin Grace.

They began well, but some looseness of ensemble started to slip in and problems of tuning and balance mitigated against a higher placing, while Tilbury under the direction of Alan Duguid gave a steady reading which suffered from untidiness and a certain coarseness in it's overall sound to come 7th.

Tying for eighth place, both Colchester and Stantonbury struggled to find their feet at the outset, with insecurity and balance problems bedeviling the performances, but both managed to recover well enough to gain a mid-table placing.

The members of Ware Brass must feel a little bewildered and disappointed at finding their band in 10th place, after a solid performance under Philip Littlemore, which, although not vividly exciting, managed to obey the composer's instructions regarding tempi and dynamics.

Steady, sensible pacing, good balance and a 'Newport fugue' smack on 120 beats per minute, all combined to give a satisfying reading. It was a real surprise that they didn't come higher.

Security lacking

Below them in the results table, Thundersley started promisingly, but by the time they had reached 'Torfaen', the performance had noticeably deteriorated, although they stabilized to end the day 11th, whilst St. Sebastian Wokingham, winner of last year's Third Section, seemed to find life here a little more daunting and couldn't find its feet until the final movement. 12th place will be a valuable learning experience though.

Northfleet Brass had the bad luck to draw number 1, and while it gave a relatively convincing account of the test-piece (as well as the National Anthem) its performance was undistinguished with inaccurate tuning and looseness of ensemble detracting from the good points.

Stride pattern

At the bottom of the prize list, Chinnor Silver never really got into its stride, with loose ensemble work and tuning problems spoiling the picture from the start, while Epping Forest seemed under powered and uncomfortable in a performance that didn't convince.

Bringing up the rear, Brighton and Hove City had terrible tuning problems from the outset and a lack of dynamic shading in 'Blaenau Gwent', while Crystal Palace lacked security, colour and conviction in its playing, experiencing difficulties from the start and never fully recovering.

In her summing up prior to the announcement of the results, Simone Rebello observed that 'Kingdom of Dragons' was a piece that relied on leading players leading their sections, and she congratulated all the bands' principals for having done so throughout the contest.

A very good choice

Philip Harper's suite was a very good choice, and there wasn't a single band that couldn't play the piece: However, only a few managed to do so with any degree of success.

The major faults were poor tuning, bad balance, looseness of ensemble and overall roughness of sound. Insecurity among the solo parts is forgivable, since performance nerves can strike at any time, but what is more difficult to understand is the way some conductors appeared to make no attempt to control the dynamics, making no distinction between forte and fortissimo.

Similarly, in the case of over-enthusiastic percussionists (usually players of the bass drum), how a conductor can stand and allow some to obliterate their fellow players' efforts is beyond comprehension.

Louder

Perhaps I am old fashioned, but from what I heard, for some it seems to be about 'anything you can play, I can play louder.'

While congratulating the better bands on their attention to detail and good tone, I have to record my disappointment over many of the Second Section performances I heard this year – and not just here.

It wasn't so much the technical issues that defeated them, but the simple basics of playing what's written with a good sound and listening to the other players in the band.

This seems to be an art that is vanishing with alarming rapidity.

Rodney Newton
4barsrest Classifieds
Severn Tunnel Band
We are a friendly and welcoming third section band based in the Caldicot area only a short drive from the Severn Bridge,and a...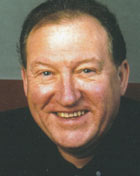 John Maines
BA (Hons)
Presenter, compere and conductor