2010 Welsh Regional Championship - Fourth Section: retrospective
25-Mar-2010
They are still dancing in the streets of Crwbin after a splendid French inspired victory in the Fourth Section.
---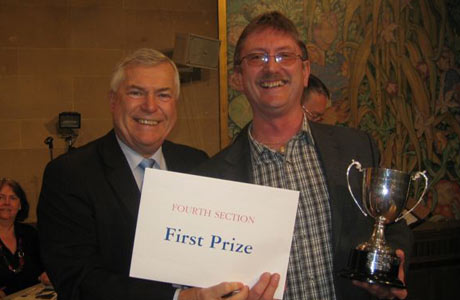 Almost speechless! Julian Jones enjoys a great moment in Crwbin's history

There was a wonderful victory on 'Saint Saens Variations' to celebrate for Crwbin on the Sunday morning in the Fourth Section.

In what was a wonderful aperitif (appropriate enough given the nature of the Gallic inspired test piece) nine bands gave of their best to try and get 'le nod' from Colin Hardy in the box and head for Harrogate in September.

Gutsy

Crwbin hail from near Kidwelly in Carmarthenshire, and for the past ten years or more has valiantly supported this contest, sometimes making it to the stage with barely a quorum of players.

But through the sheer gutsy determination of their regular MD Julian Jones they saw all that hard work pay off in wonderful style to claim their first ever Welsh Regional title.

Julian is one of those blokes who is quite happy working behind the scenes making sure other people are able to reap rewards (he was even sweeping up the stairwells on the weekend when the other sections were on stage), so Michael Thorne was at the helm to steer Crwbin to victory – a selfless act of devotion to a band that Julian has stamped on his heart.

Speechless

He was speechless with delight (also a rarity) when he picked up the trophy but was even more pleased for the players such as soprano Bleddyn Roberts who deservedly won the 'Best Instrumentalist' award for his great effort to the band's winning cause.

If you think winning in the top section means something, then you should have seen Crwbin celebrate. You wonder if they didn't get out of the pub until Tuesday.

Cracker

Their winning performance was a little cracker, with excellent ensemble playing and solid solo contributions from start to finish.

Mike Thorne set out the piece at a pace that the band could play comfortably and made sure that enthusiasm and commitment didn't get the better of them right to the final note. It was a long overdue, thoroughly deserved victory.

Lemonade

Joining them at Harrogate for the first time will be Upper Rhondda Brass directed by Nigel Seaman, who only made their debut at this contest in 2005.

Their youthful vibrancy was a joy to both see and hear after the struggles bands endured on 'The Talisman' last year, and they were understandably delighted by their qualification, as celebratory lemonade was ordered from the Brangwyn Hall bar.

Nigel's conducting was a mini masterclass in how to encourage as well as direct young charges on a nervous contesting stage. The beats patterns were clear and precise, the smiles, winks and nods of congratulations, quietly directed so that his young players gained a valuable boost of confidence at just the right time.

When Nigel brought to the front of the stage his two youngest players (including the youngest player at the entire Area, 10 year old Charlotte Lewis) it was because they deserved the recognition of a job well done – and the audience thoroughly agreed.

Mystery

Just missing out on the finals was Newport Borough conducted by Alun Hathaway. After the mystery of their last placed finish last year, they may be equally disappointed by not quite getting the nod this time too, but a few too many little clips and unforced errors meant that they missed out. They were close though.

Pontypool meanwhile will reflect on an opportunity lost to get to Harrogate once again, after their mature sounding performance seemed to be halfway to North Yorkshire before they decided that they had to get there with turbo charged boost to the tempo of the final section.

As a result it became an overblown mess – a real pity as up until then Patrick O'Leary kept a controlled lid on the dynamics and the accelerator.

Mini contest

Behind the top four came a bit of a mini contest in itself, with five bands that battled bravely to overcome the technical problems of Philip Sparke's work.

The end results were varied of course, but all were encouraging with lots of youngsters playing their part and gaining valuable contesting experience.

Mellingriffith 2, conducted by Dewi Griffiths were bubbling with enthusiasm from the word go, and despite the knocks, bumps and scrapes, the MD and his band can be proud of their debut effort in coming 5th.

So too Rhyl Silver who returned to the contest this year after a break away and delivered a hard working performance that just got tired in the final quarter to end in 6th.

Pleased

Meanwhile, Dean Evans will be very pleased at the way his young band at Abertillery Youth coped with their first appearance at the contest, bringing bags of energy, colour and a fair dollop of French flair to their rendition, whilst both Oakdale and Ruthin will return home infused with a boost to their contesting confidence after giving of their best on what was a difficult work.

They were pushed to the limit and a little beyond at times, but there was a wonderful sense of gritty determination about both performances that will hold them in good stead for the coming years.

The two qualifiers will know that they will have their work cut out at Harrogate, but that is for another day.

These memories at the Brangwyn Hall will live with both bands for a lifetime.


4BR would like to thank Fred Tape for his help with this retrospective
4barsrest Classifieds
Harrogate Band
Cornet & 2nd Horn players required to join a thriving, dynamic and exciting 1st section band based in Harrogate, North Yo...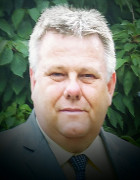 David Frame

Bass/Tenor Trombone Player, Adjudicator (Member of AoBBA) Occasional Conductor