2010 North of England Regional Championship - Championship Section: retrospective
25-Mar-2010
A surge of musical power saw Reg Vardy regain their title on the weekend.
---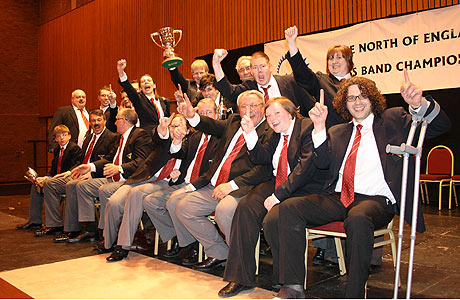 Number 1 again: Reg Vardy celebrates victory
Picture: Steve Jack

It had been a weekend of peculiar goings on at the Dolphin Centre. A borrowed player winning the 'Best Soprano' prize with another band, a fire alarm going off just before the start of the Third Section, and to top it all, a power surge in Darlington sending the auditorium into darkness during Reg Vardy's winning performance.

Cup of tea

No one could accuse the former champion of being a 'cup of tea' band at this contest, but something triggered the kettles to go on all over the North East just after they started to play off the number 1 draw.

It certainly didn't come from a flick of a master switch in the tent either, as John Berryman must have been enjoying the way Nicholas Childs was leading his band through the technicalities of 'English Heritage'. Perhaps someone just didn't put the required 50p in the electricity meter on Sunday afternoon.

Whatever the reason, Reg Vardy illuminated the Championship Section contest with a winning performance of some considerable note.

Debate

That said, they could have been well within their rights to stop their performance and start again, but given that Tina Mortimer was superb form on principal cornet (the cadenza with flugel was lovely), Tom Glendenning (soprano) was as bright as a 100 watt bulb at the top of the band, and Paul Robinson (euphonium) and the bass end were also on prize winning form, pulling the plug would have been a pretty unenlightened decision – and Dr Childs doesn't make many of them on a contest stage does he now?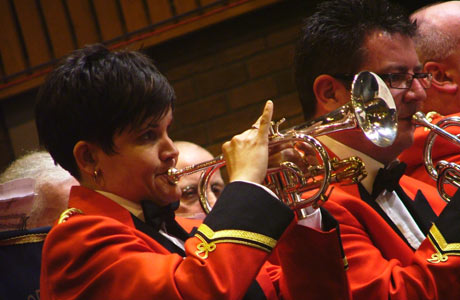 Principal power: Tina Mortimer leads Reg Vardy to victory
Picture: Steve Jack

Flicker

And although they did display the occasional flicker of inconsistency thereafter to just leave the possibility of them being beaten on the day, it wasn't to be, and the North of England Regional Trophy found its way back under the warm glow of the spotlight in the Reg Vardy display cabinet after a year's absence.

There was the usual debate before the announcement of the results as to who was in the frame and who wasn't, but following John Berryman's short and sweet analysis, which centred on the balance between technique and musicality, there was little doubt where the title was heading (especially after the announcement of the individual awards).

Second place though was more of a poser.

Cultured from Riverside

In the end it was NASUWT Riverside who made it a double celebration for the teacher's union sponsored ensembles (their youthful Concert band qualified in the Fourth Section) courtesy of a tasteful interpretation full of musicality that balanced with solid technique ticked all the right boxes for the adjudicator.

Ian Robinson drew a performance that brought the best out of a tightly controlled ensemble and secure soloists, with lovingly shaped phrasing making a lasting impression not just in the tent but also in the hall.

Less robust than other rivals, and not quite with that stamp of the heavyweight authority of the winners, it was nonetheless a very impressive account that had just enough about it to pip Fishbun and head to the Albert Hall for the first time since 2005.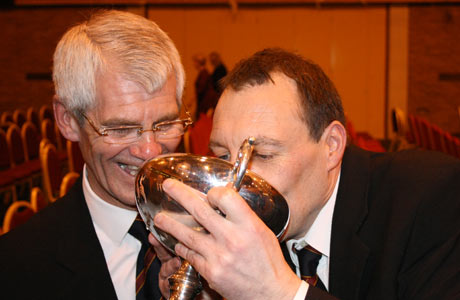 Give us a sup! Riverside celebrate with something tasty
Picture: Steve Jack

Near miss for Morrison

Sympathy goes to Alan Morrison. For the second week running he was conducting a band playing last, and for the second week running, he finished one place off qualification.

Fishburn was impressive, at times very impressive, with excellent ensemble and solo contributions. However the largo section proved their Achilles heel when tuning went rather awry and just took the gloss off a persuasive reading of the score.

Although their percussion section stopped Reg Vardy taking a clean sweep of the various section prizes on offer, that extended tranquil section, so central to the core of the work, perhaps just cost them a place at London.

Felling's fine account

Felling and Graeme Tindall produced a fine musical account that despite not having the polished technical sheen of Reg Vardy had more than enough about it to hold its own in 4th.

The MD's thoughtful approach was admirable, with a firm hand on tempo and dynamic, although the minor error count was climbing as the band produced a rousing close.

Little to choose

There was little to choose between Kirkbymoorside Town and RMT Easington Colliery. Both delivered varied accounts, and perhaps both left their best performances in the bandroom.

Kirkbymoorside took too long to get into their stride although once they did, they produced enough quality to just pip Easington for 5th place.

They meanwhile, with the evergreen Dennis Todd a real shining light on cornet would have known that some lower ensemble untunefulness and insecurities cost them dearly – there was fine performance lurking in amongst some sloppy debris for sure.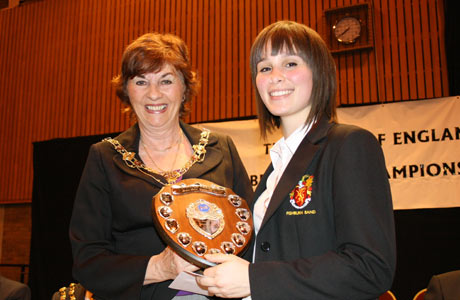 Just missing out: Fishburn have to make do with 3rd place
Picture: Steve Jack

Robust EYMS

By the time EYMS and Stan Lippeatt walked onto the stage, there was a sense of anticipation around the hall, as the contest approached its climax.

After the band had produced a robust, confident and colourful account, the murmurs grew, but they were rumblings of differences of opinion more than anything else, as this was a performance almost diametrically opposed to Reg Vardy.

Exciting, bravura playing, or hard-edged and lacking detail? Opinions were split 50/50, but the one that counted, crucially counted against them in the tent, and EYMS's defence ended in a disappointing 7th place.

EYMS will move on to their next contesting outing at the Spring Festival, perhaps knowing that an 'all guns blazing' approach here was a brave strategy that didn't come off.

Extra ensemble

Having come up from the First Section, GT Group Peterlee also gave it their all, but the search for extra ensemble weight and polished technique saw them overblow and make far too many errors of execution. Given what John Berryman later said he had looked for, the end result of 8th was predictable.

That just left Westoe and Simon Kerwin. They deserve acknowledgement because they battled like troopers on a performance that at times really struggled to make a lasting impression. They left beaten but not bowed in 9th and last.

All left

With the contest over, and the prospect of the lights perhaps going out for good at any moment, all that remained was to hear from John Berryman.

First we had the usual homilies from the Mayor of Darlington, a vote of thanks from Peter Bates for the warm hospitality he received over the weekend (seconded by 4BR) and a reminder from Regional Secretary, Alan Hope that 15,000 amateur musicians had competed over the past three weekends up and down the country – although not all of them enjoying the same peculiar happenings that went on here.

Then it was down to the results with Fishburn accepting their fate with good grace, Riverside jumping for joy and Reg Vardy taking its eighth title since 2002 and Nicholas Childs enjoying his fifth victory with the band.

All Reg Vardy now hope is that the lights don't go out on their challenge for a British Open spot at the Grand Shield in Blackpool.

Malcolm Wood
4barsrest Classifieds
GUS Virtuosi Band
The Virtuosi G.U.S. Band welcomes applications for Repiano cornet and Tutti cornet, to complete our strong line up as we ente...