4BR Time Team - Whatever happened to the World Cup?
2-Apr-2010
Just like the Jules Rimet Trophy, the brass band world once had a World Cup - and Pickles the dog has never found it since it went missing. 4BR looks back at a very peculiar tale...
---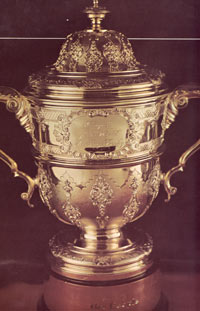 The story of the brass band movement's 'World Cup' has a strange, if very tenuous parallel to that of its football counterpart – the Jules Rimet Trophy.

It seems both no longer exist.

The Jules Rimet Trophy famously went missing in 1966, when exhibited at a Methodist Hall it was pinched by an enterprising criminal. It was eventually found by a dog called 'Pickles', sticking out of a bit of London undergrowth a few days before the tournament was due to start.

Copy

'Pickles' became an unlikely hero; the trophy was secretly copied, and surreptitiously exchanged in the dressing room for the original after England had beaten West Germany in the final.

The cup seen by millions held aloft by Bobby Moore at the official banquet and photo opportunities in the years to come was in fact a gold plated replica, whilst the original was kept in a safe in a London bank.

A few years later, after Brazil won it outright in Mexico, and 'Pickles' had met his own maker after choking to death on his lead chasing a cat over a fallen tree, the cup was stolen for a second time and never recovered, believed melted down.

Champion of the World

Meanwhile….

Just a couple of months after Brazil's 1970 triumph it was announced in 'The British Bandsman', that a decision had been made to provide the fledgling Brass Band World Championships with what was called, "…a more distinctive trophy to signify achieving the pre-eminent title, Champion of the World."

Before this, the winners were awarded an additional banner and what seemed to be a large school globe of the world from the sponsors, 'The People' newspaper.

In a piece of PR of world championship proportions itself, the event's administrator (which had started in 1968), Edwin Vaughan Morris declared: "Through the generosity of 'The People' a challenge trophy of singular magnificence will add to the zest of winning the World Championship in future'.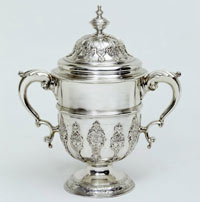 £3,000

The two-handled trophy in question was a copy of a George II, Paul de Lamerie work (right); 18 and half inches high and 17 and half inches wide in gilded silver carrying an insurance value of £3,000. On its ornate central cartouche was engraved, 'Champion of the World Challenge Trophy'.

Trophies such as this were popular (if expensive) in late Victorian times, and although a modern copy, it was certainly a prize worthy of its name (above right).

Gilded eloquence
Vaughan Morris displayed his equally gilded eloquence: "The great Huguenot silversmith with unerring feeling for the beauty of silver, with an innate love of applied detail and with unprecedented and unsurpassed skill at flat chasing, de Lamerie led the way to the development of English rococo silver, the great age of applied ornament balanced by lustrous polished surfaces and formal chasing.

Only his works survive to bear witness to the tremendous influence he had on his contemporaries and to impress the collectors of today with the excellence and virtuosity of his talents as designer and craftsman."

And all this for a brass band cup.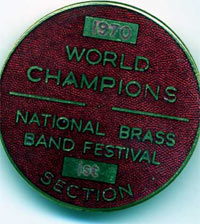 First recipients

A couple of months later and Black Dyke, conducted by Geoffrey Brand were the first recipients in a contest that featured seven bands separated from the National Championships.

Dr Roy Newsome, who was Bandmaster at the time, received the trophy on behalf of the 1970 World Champions – although 40 years later he recalls being somewhat under whelmed by the occasion.

"I don't remember much about it, to be perfectly honest," he told 4BR. "I was presented with it by Vaughan Morris on behalf of the band and then gave it to the players to have their photo taken with it outside the hall." (below right)

In addition to the trophy and £250, Black Dyke also received a 'Banner of Honour', which still proudly hangs from the ceiling of the bandroom in Queensbury, a 'Baton of Honour' to the winning conductor, and individual medals to the players (right), inscribed '1970 World Champion Band'.

Blue Peter

Oddly, the trophy reached a far wider audience than those who witnessed Dyke's winning performance on 'Benvenuto Cellini' at the Albert Hall, when they were asked to appear on the 'Blue Peter' children's programme the following week.

John Clay who played on the winning performance remembers that only too well.

"A few days later we were visited by Biddy Baxter, the programme's famous producer," he recalls. "We were flown from Yeadon airport (now Leeds/Bradford) to London, and taken by coach to the BBC. We had to play live for the evening programme where Valerie Singleton introduced Black Dyke with the World Championship Trophy sat on her knee'.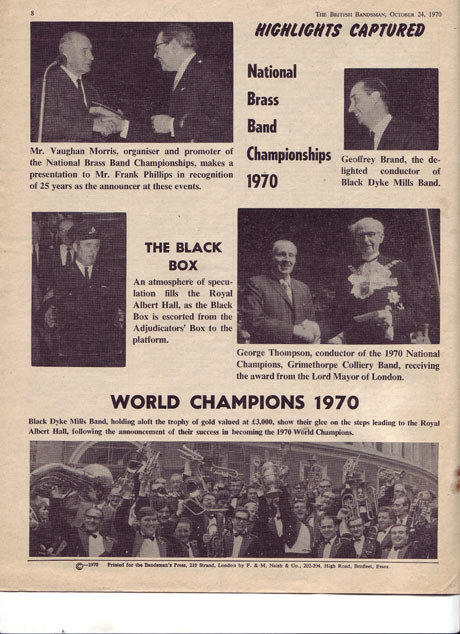 Final winners

A year later and the contest ran again (below right), with GUS (Footwear) conducted by Stanley Boddington winning on 'Energy'. The cup was presented to the great conductor on stage and GUS became the last recipients of the 'Champion of the World Challenge Trophy'.

Although not seen again on 'Blue Peter' the image of the trophy also reached a wider auduience when it was subsequently displayed on the cover of the band's LP recording, 'The World Champions play Marches & Waltzes'.

Rugby World Cup

A closer look at that cover reveals that the trophy is not unlike the William Webb Ellis Trophy now used as the Rugby Union World Cup. In a peculiar twist, that particular trophy is itself a modern copy of a 1740 Paul de Lamerie designed cup.

David Read, who played with GUS on the winning performance, would like to know what became of it. "I can't remember it being displayed at the factory, but we used to take it to concerts we played. I think it was returned to Vaughan Morris in 1972 after it became known that there would be no further World Championship contests."

In fact no one seems to know.

Even the programme for the 1972 National Championships only stated: 'The World Championship has been put 'on ice' – to be revived in a new format at a later date.'

It never came, and the trophy disappeared.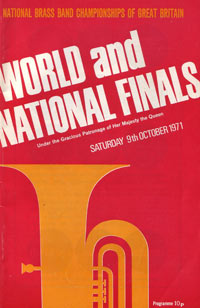 Mystery

Unlike the great Crystal Palace 'National' Trophy, which now resides in the Welsh Museum of Life near Cardiff, the World Championship Trophy's whereabouts are a complete mystery.

The man who possibly would have been the ideal person to ask was Vaughan Morris, but following his own retirement in 1971, he later moved to Australia, where he died aged 96 in 1997.

Blank

Peter Wilson who later became editor of 'British Bandsman' and was organising secretary of the Nationals in 1971 offers his help but can only draw a blank, whilst Geoffrey Brand, the winning conductor with Black Dyke and the man who effectively took over the running of the Nationals was intrigued by the prospect of finding the brass band relic.

"I've racked my brains, but can't be of help," he told 4BR. "Vaughan Morris was a very determined and resilient man who hoped he could resurrect the competition again, but even with my involvement with banding at the time, I cannot remember what became of the trophy after the championships were stopped."

European display

In 1997, there was a display of a number of brass band trophies as part of an exhibition at the European Championships at the Barbican Centre in London, but the World Championship Trophy was not amongst the silverware on show that day.

Walter Ainscough helped organise that event and is now a curator at the Brass Band Archives in Wigan. Even Arthur's 'Aladdin's cave' of memorabilia and his extensive knowledge of the history of the banding movement cannot reveal any clue. "You've got me now," he told 4BR. "I really don't know what happened to it, but it would be great to have it on display at the Brass Band Archive."

Newspaper archive?

Although the newspaper 'The People' still exists as part of the Trinity Mirror Group based in Canary Wharf in London, their extensive archive department could not shed any immediate light on the matter either.

"The archive material for 'The People' isn't very well organised, unlike the 'Daily Mirror'," they told 4BR. "We can certainly try and find out, as there is information held in Watford about the paper and its activities, but I wouldn't hold much hope. There is no museum or glass case full of artefacts."

And the current Virtuosi GUS Band, still nominally, the reigning 'World Champions' hasn't got the trophy either.

Band Manager Shawn Pagington told 4BR: "We have a number of old trophies the band won under Stanley Boddington such as the WD & HO Wills ones, and we do have the World Champion banner, but unfortunately the cup is not in our possession."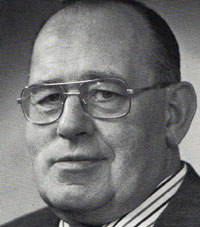 Culprit

Intriguingly, Bram Thompson, who was a close associate of Vaughan Morris at the time, may have the answer. He believes, just like the Jules Rimet Trophy, it was probably pinched and sold.

The culprit in his eyes is none other than one, Robert D. Alexander.

If that name is familiar then it should be – he was the man who in 1975 became the owner of the National Brass Band Championships, and nearly bankrupted it through his nefarious business dealings.

Now well in his 80's Bram's memories of the man are clear: "I wouldn't be surprised if he had got his hands on it then it would have been pawned off to pay his debts. He was a horrible man and a crook."

He added: "Vaughan Morris would have always acted honourably, even if he wasn't always popular. I don't remember him saying that the trophy had to be returned so I can only assume that if Alexander managed to get it in his possession, it soon disappeared."

Picked up for a song

And so, out there somewhere, the 'World Championship Trophy' could well be sitting on someone's sideboard, it's earlier identity etched away by a jeweller who rather inappropriately given its background, picked it up for a song.

Or, it could be in a safe or on the back of a shelf of an old newspaper archive stockroom gathering dust.

Roy Newsome would love to know what became of it: "It's an important part the brass band movement's heritage and it would be lovely to think that it could be returned once more and played for again."

Wouldn't we all.

Iwan Fox
4barsrest Classifieds
Harrogate Band
Cornet & 2nd Horn players required to join a thriving, dynamic and exciting 1st section band based in Harrogate, North Yo...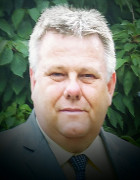 David Frame

Bass/Tenor Trombone Player, Adjudicator (Member of AoBBA) Occasional Conductor