2010 European Brass Band Championships - The Road To Linz Gallery
28-Apr-2010
Selection of photographs from this year's European Brass Band Championships
---
2010 European Brass Band Championships
4BR makes the journey to Linz in Austria

Pictures by Ian Clowes and Iwan Fox



The media coverage at Munich for 4BR?



When Louis met... Iwan Fox? Wishful thinking!

The journey coincides with Bayern Munich's own Euro glory

A stop over at Innsbruck

Tyrolean Band on parade

Tirol du Bist Mein Heimatland (Tyrol, You Are My Homeland)

Schau das Alpengluehn (See How the Alps Glow)

Not the Bavarian Stompers!

At rest before a Golden Roof concert

Linz

Gold Finger looks on - Mr Bayern in fact

The Venue - The Brucknerhaus Concert Hall in Linz
4barsrest Classifieds
Garforth Brass
If you are a conductor who is not involved with the upcoming round of Regionals, but would still like to keep your hand in, y...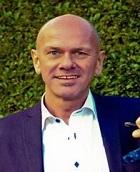 Paul Andrews

Conductor, Band trainer, Adjudicator, Instrument Repairer - Brasstoff