2010 European Brass Band Championships - Cory & Eikanger Bjorsvik
8-May-2010
Selection of photographs of Cory and Eikanger bands from this year's European Brass Band Championships.
---
2010 European Brass Band Championships
Cory & Eikanger Bjorsvik Bands

Pictures by Ian Clowes

More images at: www.pbase.com/troonly/brass

Tambourine men: Cory's perc team play the timbrels



Happy Man: Bob Childs enjoys himself



A look of Cory concern?



Full of Spirit for Bob Childs

Cory's cornet line up

Father and son: Bob & David Childs

The King of Norway: David King directs Eikanger into the runner up spot



Eikanger's classy flugel player Gyda Matland

A close up of class with Martin Winter

Pointing in the the right direction

Eikanger-Bjorsvik's percussion team take a bow

High Fives!
4barsrest Classifieds
Strata Brass
Eb/Bb BASS required in this fledgling Yorkshire Championship Band.. Rehearsals SUN/WED (some flexibility). Bandroom 5 mins fr...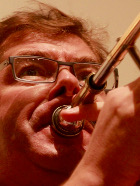 Nicholas B. Hudson
FTCL LGSMD (Hons)
Musician | Trombonist | Educator