Eliot James Darwin
B Mus
Conductor, Band Trainer, Private Tutor of Performance and Theory, Cornet / Trumpet player, Brass Specialist

More about Eliot James
Born in the village of Stannington, Sheffield in 1982 Eliot started to play the cornet at the age of 10, soon joining the local brass band - Stannington.
Within a year or so of playing, he had already won his first competition with many other successes soon following.
He attained his grade 8 on cornet at the tender age of just 14. After Continuing with his educational learning he accepted a place to study for a BMus degree at the University Of Huddersfield under the watchful eye of his Cornet tutor the famous Phillip McCann.
Eliot was a member of the National Youth Brass Band of Great Britain often appearing in the Harry Mortimer solo final and conducting many sectional sessions.
His experience and expertise in brass is not however only in his specalist field of brass bands, having played principal trumpet with the City Of Sheffield Youth Orchestra, a founder member of the Raging Horns - a funk/jazz band playing lead trumpet and also been a member of the Soul Stone Funk Project on which he also played lead trumpet
Not only is he a talented cornet/trumpet player he also plays the Flugel horn, Tenor horn, Baritone, Euphonium, Trombone and Piano.
Eliot has performed extensively in many countries, with many bands and in many concert halls, Spain, Switzerland, France, Austria, Belgium and closer to home the Royal Albert Hall, Birmingham's Symphony Hall, Sage centre Gateshead and Manchester's Bridgewater Hall - to name but a few!
As well as numerous television and radio broadcasts along with many CD recordings.
Recent highlights for him were leading Dodworth Colliery Band to become Yorkshire Area Champions and gain a place in the National finals, going on to directing the band to the title of National Champions of Great Britain but working along side the Maccabees, a rock band from London preparing their two 'b' side singles with Mike Kearsey the trombonist from Madness and the Jools Holland big band.
Eliot's conducting career has flourished during his time with Dodworth, the results speaking for themselves. He is still regularly playing having led Sellers Engineering Band, Ransome and Old Silkstone bands on principal cornet whilst guesting with many of the countries other elites whilst often working with local community groups and orchestras.
Eliot is in great demand as a conductor, player and brass tutor all over the world and enjoys performing as part of a group whether that be directing or performing himself, but especially enjoys his solo work.
He says his biggest highlight of all playing/performing is teaching, what he calls the 'people of tomorrow'.
Eliot has launched a training scheme he tutors in Dodworth for brass instruments to try and ensure continued success for Dodworth well into the future.
In 2006 conducting Dodworth he has taken the titles: Yorkshire Area Champions, Lancashire's Tameside Open Champions, and National Champions of Great Britain and also achieved a second place at The Pontins Championships.
Eliot was also nominated for Conductor of the Year Award 2006 which was run by the foremost Brass Band web based magazine 4barsrest.com, where he was voted into third place.
Should any further information be required please do not hesitate to contact Eliot.

4barsrest Classifieds
Middleton
Vacancies have arisen for a 2nd Trombone and front Row / Repiano Cornet player with this friendly and enthusiastic 2nd Sectio...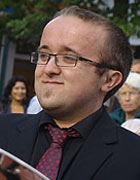 Stuart Black
BA (Hons) Music
Conductor, Teacher, Flugel soloist