Stephen Tighe
ARCM, LDBBA (Cert) PFS
Conductor, adjudicator, arranger, composer and teacher

Contact details
23 Helme Lane Meltham Holmfirth W.Yorks HD9 5PF
email: stephentighe@aol.com
website:
home: 01484 302364
mobile: 07970 458079
work:
fax:
More about Stephen
I am a Music Director, Conductor, Adjudicator, Arranger and Instrumental Music Tutor of considerable experience. My main instrument is the Trombone and I have many former pupils who now earn their living in the music profession. Some now play in Orchestras and professional bands in Britain and abroad.
Most of my first class playing experience was as a professional trombonist in Military Bands, Big Bands, Orchestras and Pit Bands. This gives me a very broad experience in different music genres, which has always stood me in good stead. I was a member of the 5th Dragoon Guards Band in the British Army and toured extensively through mainland Europe, Canada and the USA. I have recorded extensively and appeared on Radio and Television since the age of 17. I was also a member of both the National Youth Orchestra and the European Youth Orchestras in my early years.
I have an enormous passion for Music, and particularly Brass Band music which started at the age of 13 and has continued ever since. Being appointed as Solo Trombone of a Championship Section Band at the age of 15, gave me a love of quality music making which has never diminished. I have also been lucky enough to have played for some of the country's top brass bands including the famous Leyland Daf and Brighouse & Rastrick bands. But I decided to retire formally from first class playing in 1988.
I began my MD career by conducting the Freckleton Band while still at Leyland (helping them get promoted to Championship status), working with the late composer, John Golland. However, my last "proper playing job" as a player was a concert with the world famous Brighouse & Rastrick Band in the Royal Albert Hall with a 1,000 strong male voice choir.
I am well known in North West England as a successful and respected musician, with the ability to improve bands and gain success quickly through hard work, commitment and real attention to detail. My interpretations tend to focus very much on making Music. I have been Music Director of some very good bands before finally being asked to go to the Every Ready Band, (the perennial Northern Area Champions), where I worked with the late Maj. Peter Parkes again, (he auditioned me for the Army in 1975). After a successful stint there and conducting the band at the All England Masters Championships, I moved on to the Carlton Main Frickley Colliery Band as their professional, conductor. Here I helped them re-build and become a force to be reckoned with again. I took the band on tour in Europe, (even playing for the President of the European Union), and did regular stints in some of London's famous venues, such as the Hackney Empire, where the band performed with Nigel Kennedy.
I have conducted many other famous bands over the years as a guest conductor. I have conducted and adjudicated at most of the major contests including the Areas, the National Finals, the Mineworkers Final and the All England Masters Championships. I am proud to say that no band has been unsuccessful under my leadership and I have always helped bands improve.
I am also an arranger and composer and my music has been used for the national "Music for Youth" Festival. "Pennine Music Publications", publish some of his brass band arrangements. My band arrangements offer a wide selection from John Rutter to Michael Buble. This skill can be very useful for a band that wants to have something different to offer!
I hold the "Licentiates Diploma in Brass Band Adjudication" (LDBBA), awarded from Salford University and was mentored by the late Dr Roy Newsome and David Read MBE. I was only the fourth ever, and the first person from the North West Area to receive this award. I have been a full member of the Association of Brass Band Adjudicators (ABBA) since 2001 and I am an approved adjudicator for the National Brass Band Championships of Great Britain.
Having returned to live in the North, I am looking to form a partnership with a local band or bands and help them become better by applying my experience and knowledge.

4barsrest Classifieds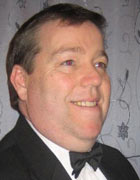 Andrew White
MA(Ed Man), B Ed (Hons), BBCM, ADNCB, PGCE, Cert Ed
Conductor, Arranger, Adjudicator & Educationist