David W Horsfield
F.C.L.
Adjudicator, conductor and music publisher

More about David W
A lifetime involved in music has given David much pleasure as brass player, conductor, adjudicator, music publisher and record producer.
His playing career spread well over thirty years with Clifton & Lightcliffe, Brighouse & Rastrick, Black Dyke and The James Shepherd Versatile Brass. In his youth, time spent as a member of the Huddersfield Youth Orchestra, a chamber orchestra and big bands gave him invaluable experience.
Titles won include 3 National Championships, 2 British Opens, The Quartet Championship of Great Britain and numerous solo contests during his years in brass banding.
At the age of fifteen he made his debut as Principal Cornet player with B & R at the British Open. During his career David played under many distinguished conductors, including Eric Ball, Harry & Alex Mortimer, Walter Hargreaves, Geoffrey Brand and James Scott.
A founder member of JSVB, he became its featured flugel horn soloist.
David is a Liveryman of the Worshipful Company of Musicians and also a Freeman of the City of London, and attends many prestigious events in the City.
He created The Brighouse Lions Festival of Brass in the year 2000 since when it has become a top event in the banding calendar.
Each year David travels to the Isle of Man to work with the Castletown Metropolitan Silver Band, where he is Associate Musical Director.
Recent years on the adjudicating front, have seen him working at the UK Regional & Finals Contests, The NBK Championships of Holland, The French Open, The Belgian Nationals, The Swiss Nationals and the English Nationals.
A recent highlight was working on the jury in Queensland at the Australasian Brass Band Championship. His total adjudicating appointments to date have passed the two hundred mark in 2012 which covers all levels of band contests and music festivals.
For the past thirty years his Company Kirklees Music has given him the experience of working with composers and arrangers at the very top level of music publishing and the Company provides music to bands around the world.
The Salford University/Kirklees Award has given young composers the chance to get their music played and recorded by many bands. The musical family tradition is carried on now by his sons Graham and Martin and grand-daughter Charlotte.

4barsrest Classifieds
Cheshire Constabulary Band
We are looking for a good cornet player who can make a real difference to our otherwise full band. Our smart friendly band ha...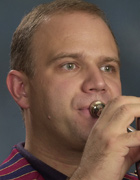 David Daws

Cornet tutor, Conductor