Positions vacant / International
Showing 0 to 0 of 0 vacancies
Most recently posted vacancies are shown first.
---
No vacancies found for this search
First | Previous | Next | Last
---
4barsrest Classifieds
Roberts Bakery Band
Roberts Bakery Band are seeking a percussionist - specifically a kit specialist. The band is making real strides under MD Sim...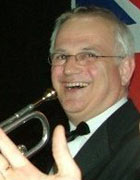 Adrian Morton

Instrument repairs, brass teacher, conductor,adjudicator, trumpet player